Nov 2, 2008, 20:59

Post: #1
Keith Alan
Moderator


Posts: 912
Joined: Mar 2006
Reputation: 0
Air Show
I have enjoyed air shows since I was 3 years old, and today was no exception.
The Thunderbirds (US Air Force demonstration team--flies F-16 Falcons) was at the show two years ago, but this year we got the Navy's Blue Angels (FA-18 Hornets).
There were also the expected planes on the ground, including C-17 and C-5 cargo planes, KC-10 aerial refueling tankers, helicopters, an AWACS, a WWII-era P-38, and a pair of F-22 Raptors that flew but were kept well away from the public due to their scarcity and secretive nature--they have vectored exhaust and can do maneuvers that seem all but impossible.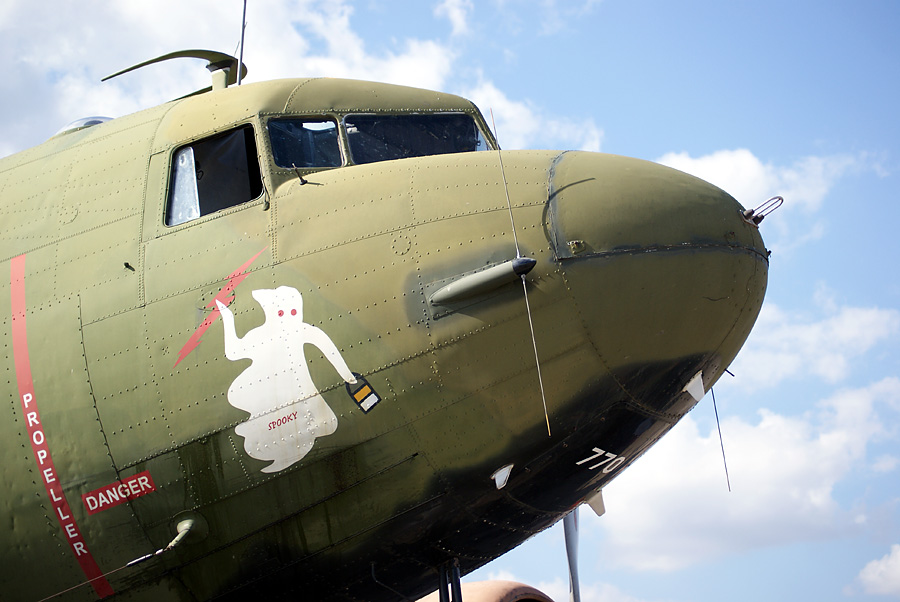 This is a re-creation of the AC-47 "Spooky" gunship from the VietNam war.
Some smart guy took an old passenger/cargo plane (the Douglas DC-3, which was the first plane to turn a profit for the airlines back in the 1930s) and put 3 General Electric Vulcan gatling guns into it, pointing out the left side. By flying a "pylon" turn to the left and sighting through a crude device in his side window, the pilot could spray targets on the ground with up to 18,000 rounds of 7.62 ammunition per minute!
Mostly used for truck-busting on the Ho Chi Mihn trail, they also successfully defended thousands of villiages and fire bases.
12 were shot down during the war, including my father's in Laos in 1966.
We gave the rest to the South Vietnamese.
(We didn't find out his fate until the mid 1990's, and buried him and his crew's meager remains at Arlington National Cemetary in 2004).
The complexity of modern helicopters is staggering:
Some members of the Civilian Air Patrol put on a rifle drill, using fancy looking but quite fake rifles:
The Blue Angels put on a modified show--one pilot and a crew member were kicked off the team this week for having an "innappropriate relationship", so plane number 4 was missing--there aren't any backup pilots.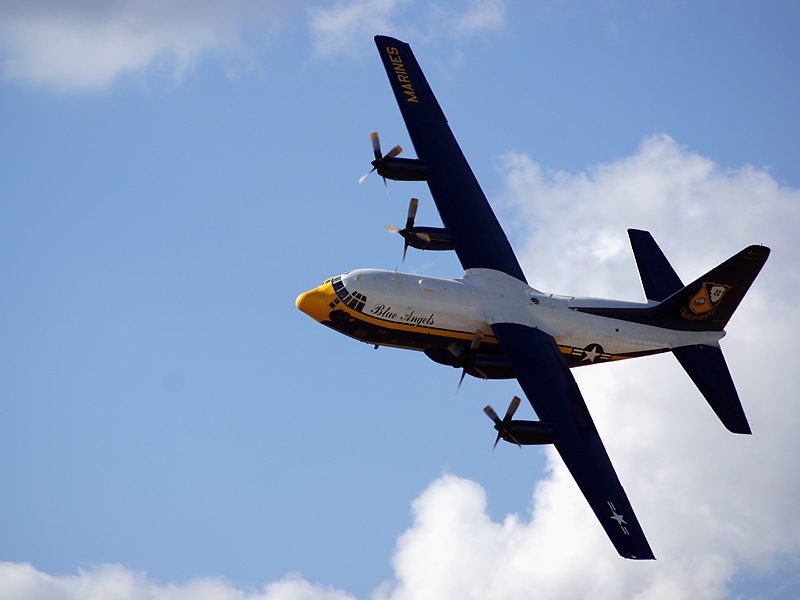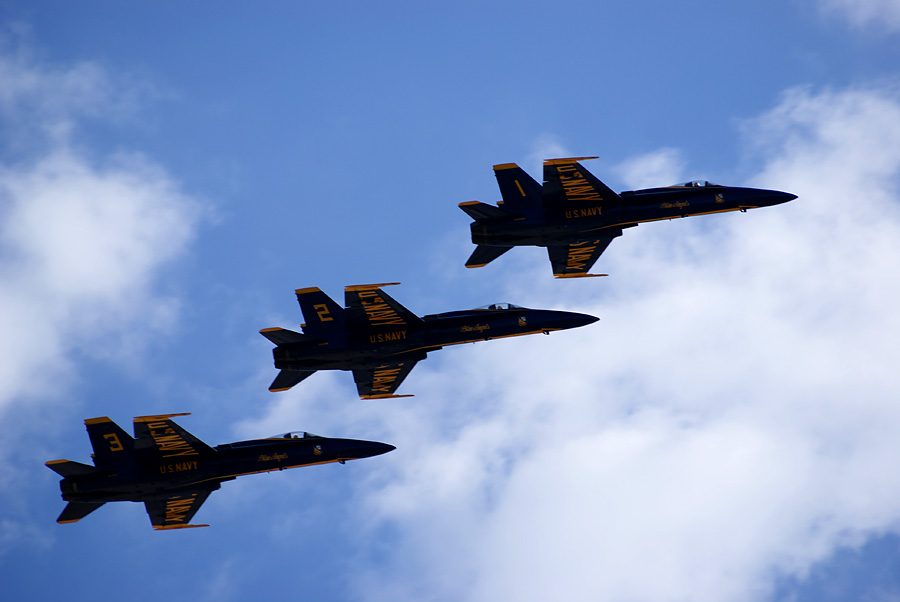 In this next photo, the planes are in fact flying directly from right to left--their noses are pointed up in order to stay balanced because their forward progress is
very
slow.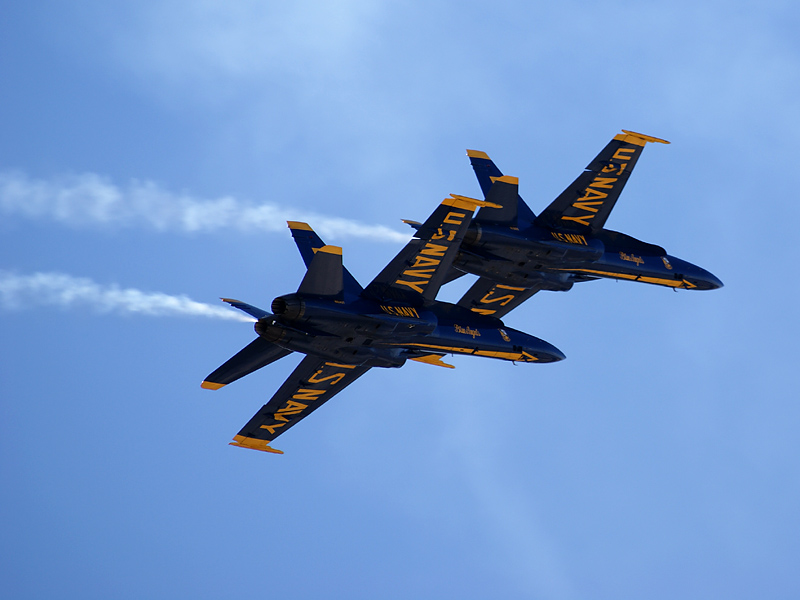 ---
Views Of Texas
Loud Nine (my former band)
Matthew's Reviews

| | | |
| --- | --- | --- |
| | Advertisement | |
Nov 2, 2008, 22:23

Post: #2
Air Show
Great photos, Keith. Sorry to hear about your dad. It must have been a relief to you and your family to finally find out what happened to him.
Nov 3, 2008, 11:26

Post: #3
Air Show
Terrific shots. I love air shows too. I go see the Blue Angels every time they're at Millington Naval Base, which is about every two years. That's a great shot of Fat Albert (I never get tired of seeing the JATO), and that last shot of the three planes is beautiful. Thanks for sharing the photos and the remarkable history.

Possibly Related Threads...
Thread:
Author
Replies:
Views:
Last Post
I'll Show You My Tree If You'll Show Me Yours
BrandyMaeD
10
556
Dec 12, 2012 08:14
Last Post: Photopro
"September Garden": The Photo Show
Don Schaeffer
0
432
Sep 15, 2012 16:28
Last Post: Don Schaeffer
Mid-March: Photo Show
Don Schaeffer
0
339
Mar 18, 2012 04:58
Last Post: Don Schaeffer
Alone at the Claremont Show Grounds
Kombisaurus
8
980
Nov 21, 2011 07:34
Last Post: Toad
Audience for the Sea Lion Show
Don Schaeffer
2
1,161
Aug 27, 2011 18:47
Last Post: Don Schaeffer
Show Girl :)
nia
4
1,731
Mar 18, 2011 08:43
Last Post: nia
Cells: A Photo Show
Don Schaeffer
4
1,999
Mar 4, 2011 15:51
Last Post: Don Schaeffer
Pictorial Visualization: Photo Show
Don Schaeffer
0
395
Aug 30, 2010 11:57
Last Post: Don Schaeffer
Stereo Slide Show
Don Schaeffer
2
774
Aug 5, 2010 09:22
Last Post: Don Schaeffer
Serious: A Photo Show
Don Schaeffer
7
924
Nov 29, 2009 14:55
Last Post: Don Schaeffer
User(s) browsing this thread: 1 Guest(s)