Assignment #83: New Material Only
Aug 26, 2008, 05:28

Post: #1
matthew
Shuttertalker


Posts: 3,036
Joined: Jun 2005
Reputation: 3
Assignment #83: New Material Only
Which of my photographs is my favorite? The one I'm going to take tomorrow.
- Imogen Cunningham
We all have archives, and we all have photos on our wall. We've all taken some great shots that we're really proud of. This isn't the place for them.
For this assignment, go out and shoot something new. And by "New" I need two things: one, it was taken after you read this message. Two, it's a photo that makes you want to take more photos. It doesn't matter what the subject is. It doesn't have to be a masterpiece: in fact it's better to experiment and play and truly create something new.
And for anyone who's thinking of including a great photo that they took just a couple of days ago, don't do it. Give it its own thread in one of the photo forums instead.

| | | |
| --- | --- | --- |
| | Advertisement | |
Aug 27, 2008, 19:14

Post: #2
enviroguy
Dennis


Posts: 264
Joined: Jul 2008
Reputation: 0
Assignment #83: New Material Only
Early Morning Dew on a Spider Web
This photo was taken this morning (complies with criterion1) as part of a test of my new camera (Canon Rebel XSi). I took some more shots in a deserted playground to test the colour tones, sharpness and image quality of the processor and lens. I'll want to do lots more with this camera (complies with criterion 2).
.....Dennis
Aug 28, 2008, 05:58

Post: #3
Assignment #83: New Material Only
Enviroguy, it looks like we've both been testing our new cameras for this assignment. This is a shot I took yesterday afternoon. I love these little birds. I started photographing them last year, and got some okay shots with my Sony, but nothing great. This is one of the first shots I've taken of a hummingbird with my new camera, and I am very happy with it. I enjoy taking pictures of birds in general, and this shot makes me want to go sit out in my backyard again today and shoot some more birds (photographically speaking, of course).

Aug 29, 2008, 18:32

Post: #4
matthew
Shuttertalker


Posts: 3,036
Joined: Jun 2005
Reputation: 3
Assignment #83: New Material Only
Something I've been working on recently is multi-image photos. And when I say 'recently', I mean this morning.
(six images combined to create a 28MP file)
(three images combined to create a 17MP file)
And even though this one is from a single photo, it's still a very new experiment for me as my interests are shifting more to graphic designs and type.
Sep 18, 2008, 23:00

Post: #5
Irma
Posting Freak


Posts: 5,148
Joined: Oct 2004
Reputation: 1
Assignment #83: New Material Only
Great pictures all, and so different all of them.

Here I have something different too. This is a beautiful tree I can see from my window in the livingroom. I like to see it very much around 6.30 p.m. when the sun makes it shine and all its colors burst. Yesterday I tried something different. I took a picture with long exposure and moved the lens. The idea is to have the subject sharp in the background and also give a bit of movement. A bit crazy, I think... I don't know whether I will arrive to some really Wow! pictures but I keep trying.
I think I will need to have a rather long exposure, let's say 5 sec and after 2sec move the lens so the subject in the background will have more definition... Meanwhile I cheated in this one with a sharp picture of the tree behind and reduced opacity in the blured layer.
I like the effect.
Here are two more I took few days ago with the same idea, no cheating here, just a bit of color post processing in LR.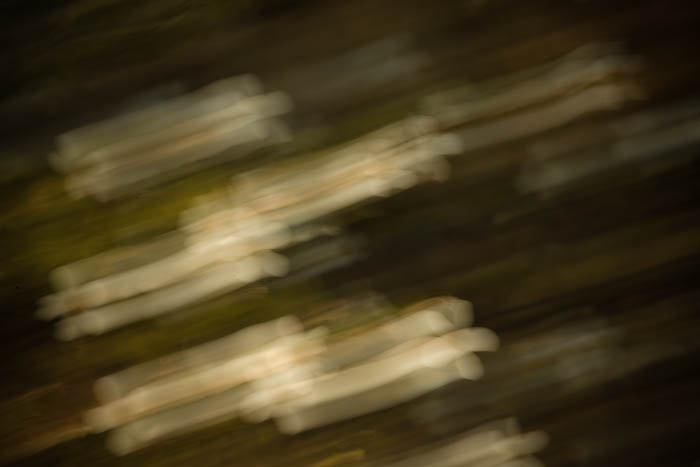 Sep 25, 2008, 22:17

Post: #6
Irma
Posting Freak


Posts: 5,148
Joined: Oct 2004
Reputation: 1
Assignment #83: New Material Only
Yesterday was a good day. I got some more pictures with this new (at least to me) concept.
#4
#5
#6
Sep 28, 2008, 17:35

Post: #7
matthew
Shuttertalker


Posts: 3,036
Joined: Jun 2005
Reputation: 3
Assignment #83: New Material Only
Irma, I really like these. The idea of the multiple-image compositions works really well. Of the ones you've posted, #5 is my favourite. I love the colours and the different directions of the movement in the lines.
Have you read any of Freeman Patterson's books? (I know we had a discussion that included them a while back, but I can't find it right now.) I think you'd really like him.
I'm just back from Niagara Falls, which is a major tourist attraction and a difficult place to take a new photo. I don't think I've succeeded, but at least I think I'm funny. Here's the view:
Sep 29, 2008, 03:58

Post: #8
Irma
Posting Freak


Posts: 5,148
Joined: Oct 2004
Reputation: 1
Assignment #83: New Material Only
Thanks Matthew.

I like very much to see where you are heading to with your new material. Despide of it is quite different from what I am trying, there are aspects from your pictures that will help to improve my work, as it could be the framing/croping.

I was today just thinking whether I should try a more drastic format as a square format and or panorama format, kind of golden rectangle.... I will see.

Yes, Patterson's Photography and the Art of Seeing is the one I bought and I like it very much. However, I blame this style/technique to Brenda Tharp's Creative Nature & Outdoor photography.

Both books with different approach to nature photography worth to try. While one is more in the field of experimenting, leaving room for things to happen, step out the conventionalism, imagine, imagine and see what you find, the other one is more in the field of thinking and planning. Thinking about your subject and what you want to say about it and why, and see what technique is the best to express your idea. What kind of equipment you need to get what you want too. She gives all the merit of a photograph to the careful planning of the photographer, because he/she was, at the end, the one that had the chance to choose all to make the photograph creative and expressive. I like this book a lot too.

I am reading both at the same time, and I haven't finished them yet. I am sure both will continue giving very useful advice, and help to answer my question... What is the way you want to approach your photography? Experimenting, imagining and leaving room for things to happen or a more thoughtful and planned strategy.

The funy thing is that #5 meant to be a well planned reflection with nice vertical stripes, the thing was that at the moment I set my camera to take the picture (10 seconds of the timer and 15sec of the shutter speed) a duck was crossing my frame, I just said thanks! you have destroyed my picture.... when I saw it in the camera I wanted the duck to cross the frame again to take another one... So I think after all, casualty has a roll to play in a nice picture.

Possibly Related Threads...
Thread:
Author
Replies:
Views:
Last Post
Assignment #81: Reflection
matthew
32
15,835
Apr 10, 2013 05:59
Last Post: PhotoPlay
Assignment #92: Decay
matthew
5
4,181
Nov 7, 2012 09:20
Last Post: jinko
Assignment #85: Stability
matthew
6
4,369
Mar 15, 2012 18:10
Last Post: NT73
Assignment #94: Infrared Conversion
matthew
6
4,109
Jan 16, 2010 15:30
Last Post: matthew
Assignment #93: The Kitchen
matthew
6
4,800
Jul 9, 2009 01:52
Last Post: nia
Assignment #91: Complexity
matthew
1
3,012
Feb 17, 2009 09:45
Last Post: Pavel
Assignment #90: Keeping it Simple
matthew
3
3,644
Feb 1, 2009 22:07
Last Post: matthew
Assignment #88: Digital Art
matthew
12
6,649
Jan 30, 2009 10:17
Last Post: EnglishBob
Assignment #89: The Cut
matthew
4
3,733
Jan 2, 2009 11:49
Last Post: Kombisaurus
Assignment #87: Flowers
matthew
15
8,365
Nov 26, 2008 05:56
Last Post: Wedding Shooter
User(s) browsing this thread: 1 Guest(s)