Sep 7, 2008, 12:48


Post: #1
matthew
Shuttertalker


Posts: 3,036
Joined: Jun 2005
Reputation: 3
Assignment #84: Music
Music is a treasure, a love, and a delight. It clears peoples souls and lifts them high.
- Bedouin Soundclash,

Rodigan State Address
Music is a part of all of our lives. It's the score in a movie, it's the radio in the car, it plays in stores and restaurants - even more than photography, music is an art form that fills the environments that we're in. This is especially true on Shuttertalk where we have several members who have musical hobbies or professions.
For this assignment, bring music out of the background and find a way to photograph it. Performers and instruments are wonderful subjects, but there are others as well. Be creative and find a way to express music through your photos, no matter how you choose to show it.
As always, new photographs are encouraged, so take this as an opportunity to experiment and even see a performer live. However, I do ask that you be mindful of other's rights to control their own image and respect those who don't want their photo taken or shown. Photos from your personal archives are also welcome, but please include a few words - or lyrics - about it.
Make your camera sing!
Sep 10, 2008, 22:09


Post: #2
Keith Alan
Moderator


Posts: 912
Joined: Mar 2006
Reputation: 0
Assignment #84: Music
My interpretation of 'music' is very literal since I shoot my bands every week.
These are all from before this Assignment was posted but represent what I try to achieve every time:
A combination of color and expression and movement under low available light that generally flatter my subjects.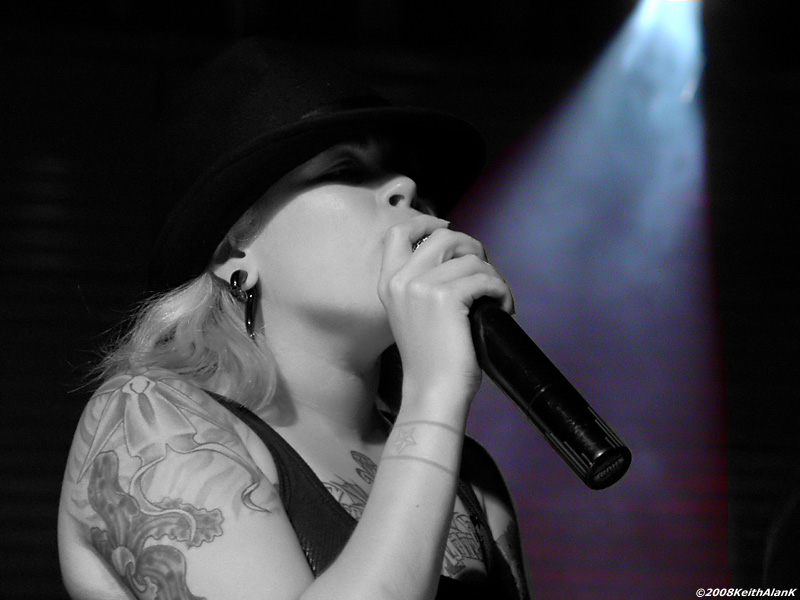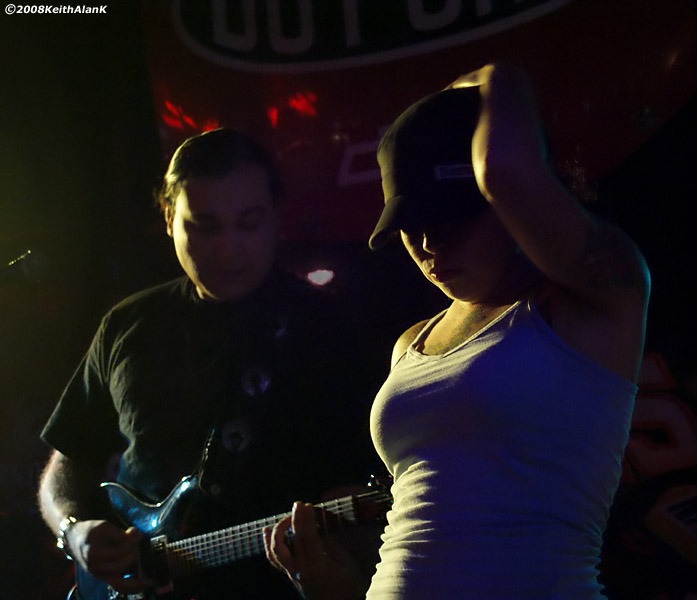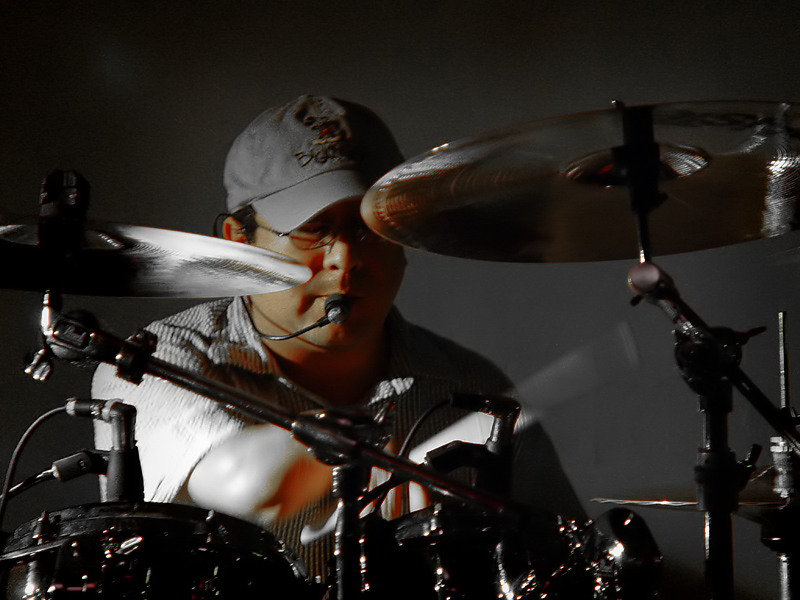 The clone tool, 'liquify', and the negative-spherize trick all get called into play sometimes since my musicians are mostly over 30 and the free beer & shots don't do nice things to the waistline...but these examples are all un-retouched for girth.
Vain female singers present the most trouble.
I've found that the motion-blur of a 1/30 shutter is still my favorite despite the fact that a higher number of shots at that speed are unusable. Waiting for pauses is my game.
If I had a faster lens to combine with the good iso1600 results I now enjoy, or could find a cost-effective way to double the output of our stage lights, things might be different.
Be advised that club/concert lights aren't really as bright as they appear to your eyes.
Once the exposure meter scale drops below -2EV you are on your own.
The last photo offers up a chance for sharp-eyed viewers to ponder if it is a Photoshop Disaster or if something else is responsible for the way my drummer's arm looks.
Steve has only two fingers and a thumb, and his right arm is very short and bent oddly.
It's a birth defect that has never slowed him down one bit.
In fact, he's the very best drummer I have
ever
worked with (including many international stars) and the two bands we're in right now are the fifth and sixth we've shared long-term associations with over the past two decades.
He's into jazz and prog-rock like
YES
and plays it extremely well, but the real money locally is in hard rock/pop. Despite his lack of interest in heavy music his playing is truly thunderous with delicate chops thrown in for spice.
Imagine Jeff Porcaro's tight & tasty licks combined with John Bonham's sublime feel and Vinnie Paul's attack, all on a perfectly tuned Pearl jazz drumkit with clean and bright Paiste cymbals and Sennheiser mics.
His dream is to someday play with The Outfield (Steve is a great singer btw) or YES.
---
Views Of Texas
Loud Nine (my former band)
Matthew's Reviews
Sep 18, 2008, 22:30


Post: #3
Irma
Posting Freak


Posts: 5,148
Joined: Oct 2004
Reputation: 1
Assignment #84: Music
I like very much the picture of the lady singing with the micro covering her mouth. Very clever!! Taking pictures of singers needs a lot of practice, I think.
This accordion player was in the Summer festival in Eutin. When she saw me taking her pictures, she posed for me with her instrument while she was performing. Very kind indeed...

This is one I like very much, the empty chair and the way her face is hiding somehow, and the trees in the background. Something unusual I think. However, it looks also as if it were taken by chance and not really well thought. The color version was a bit boring so I worked a bw pp here. I like it much better.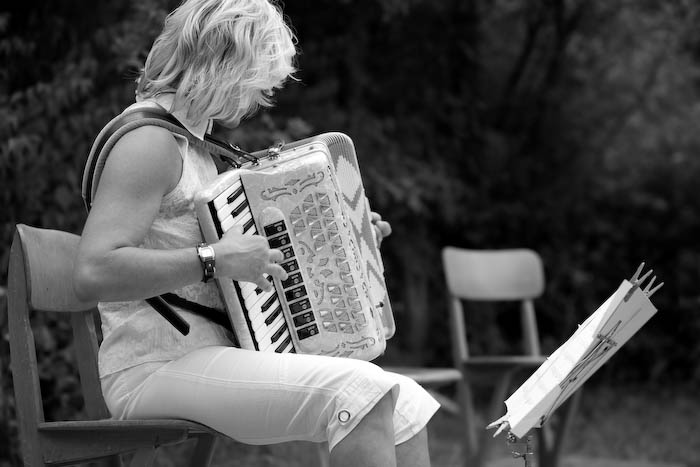 Possibly Related Threads...
Thread:
Author
Replies:
Views:
Last Post
Photo Share Assignment (Types of Photography): Black & White Photography
Barbara G.
167
7,221
May 9, 2016 13:54
Last Post: MrB
Photo Share Assignment & Discussion - HDR Photography
Barbara G.
49
4,902
Jan 23, 2016 09:26
Last Post: MrB
Photo Share Assignment & Discussion - Travel Photography
Barbara G.
14
1,926
Nov 24, 2015 04:49
Last Post: EdMak
Photo Share Assignment (Types of Photography): Fashion Photography
Barbara G.
3
1,335
Aug 21, 2015 13:08
Last Post: Barbara G.
Photo Share Assignment (Types of Photography): Wedding Photography
Barbara G.
0
710
Aug 16, 2015 12:58
Last Post: Barbara G.
Photo Share Assignment (Types of Photography): Nature Photography
Barbara G.
12
1,734
Aug 12, 2015 10:12
Last Post: MrB
Photo Share Assignment (Types of Photography): Wildlife Photography
Barbara G.
19
2,593
Aug 11, 2015 11:21
Last Post: Freeman
Photo Share Assignment (Types of Photography): Beauty Photography
Barbara G.
0
604
Aug 2, 2015 04:09
Last Post: Barbara G.
Assignment #35: Colour
matthew
20
8,853
May 27, 2015 09:38
Last Post: MrB
Assignment #15: Black and White
matthew
65
30,284
May 27, 2015 05:24
Last Post: MrB
User(s) browsing this thread: 1 Guest(s)