Jun 4, 2005, 13:19

Post: #1
slejhamer
Posting Freak


Posts: 1,716
Joined: Aug 2004
Reputation: 0
B&W infrared for crit
Here's a shot I took last week, submitted for discussion: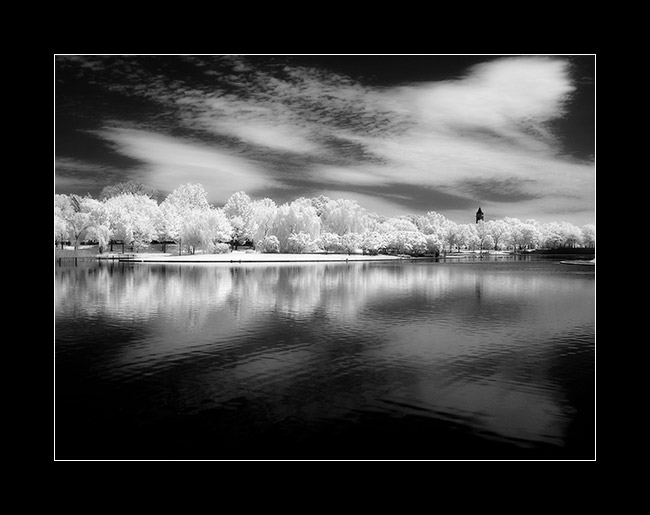 Usually when I'm "not sure" I tend to just move on, but in this case I sort of like it though there are a couple of reasons why I don't.
What do you think?
Vitals: G1m; B+W IR filter; 1/100s, f/5.6, ISO 50.

| | | |
| --- | --- | --- |
| | Advertisement | |
Jun 4, 2005, 15:28

Post: #2
Petographer
Posting Freak


Posts: 3,620
Joined: Aug 2004
Reputation: 0
B&W infrared for crit
I can see that you wanted to keep the line of trees off center by having them 2/3rds the way up but I think cropping the image to remove the black area on the bottom right where the reflection starts would look better. I tried it by scrolling the page. The only issue there is that it changes the size ratio of the image. I suppose some could be removed from either side of the image to compensate.
Jun 4, 2005, 16:48

Post: #3
EnglishBob
Moderator


Posts: 2,647
Joined: Oct 2004
Reputation: 1
B&W infrared for crit
I wouldn't change anything. Love it.
Jun 4, 2005, 18:01

Post: #4
Toad
Posting Freak


Posts: 5,737
Joined: Aug 2004
Reputation: 2
B&W infrared for crit
Disagree with cropping. The solid black area is a great use of negative space, and in this case the dead center horizon line works with the symetrical composition. The texture on the water is pleasantly unexpected with infared.

In a perfect world, I would like to see a more distinct focal point for the photo, although the trees and the steeple are very close.

A solid performance - maybe not spectacular because of the lack of a clear subject as in your infared gazebo series, but still a solid 8 out of 10..
Jun 4, 2005, 23:55

Post: #5
guerito
Posting Freak


Posts: 1,457
Joined: Sep 2004
Reputation: 0
B&W infrared for crit
I'm not much of an expert in B/W and infrared but I like this picture very much. I love the dreamy sky and the reflection. I'd really like to see a very large version of it, I can imagine that there is much more detail to discover. Hmm, I've read on this forum that infrared needs long exposure times, maybe the details are blurred then... Anyway it is beautiful.
Jun 5, 2005, 00:26

Post: #6
Russt
Posting Freak


Posts: 1,029
Joined: Feb 2005
Reputation: 0
B&W infrared for crit
I have to agree with the above comments.........I really like the shot.
I am amazed with the amount of detail still in the trees even though they are like a burst of light through the middle. Maybe if they were toned down just a fraction to reveal just a little more detail.......... :/ dunno because it's a big part of what I like about the shot! When they first loaded in I thought it was some rolling clouds.

Cheers
Jun 5, 2005, 19:50

Post: #7
loopy
Member


Posts: 95
Joined: Mar 2005
Reputation: 0
B&W infrared for crit
Mate I agree, I think it's awesome

The only really minor comment I can think of is that the trees look a little over-exposed, but I'm pretty sure that's a function of the filter? Nice shot, none the less.
Cheers,
Brad
Jun 6, 2005, 02:22

Post: #8
slejhamer
Posting Freak


Posts: 1,716
Joined: Aug 2004
Reputation: 0
B&W infrared for crit
Thanks all for your thoughtful comments.

Jun 7, 2005, 16:36

Post: #9
shuttertalk
Shuttertalker


Posts: 9,733
Joined: May 2004
Reputation: 6
B&W infrared for crit
Superb stuff mitch! I love the shot as is. I especially love how the shadow area around the outside of the image acts as a frame for the lighter trees.
Well done!

---
Minigizmo - Gadget News and Reviews
BookHoot - Ebook News
Jun 8, 2005, 11:44

Post: #10
Kombisaurus
Moderator


Posts: 1,504
Joined: Feb 2005
Reputation: 0
B&W infrared for crit
Love it Mitch,

My only minor quibble is that the tops of the trees tend to get a little lost where they meet the clouds. Perhaps not enough contrast there.
But at the same time, I like the lightness of both the trees and the clouds. I think the ideal would be if the clouds did not go so low as to go behind the trees.
I wonder what it might look like with a crop that excludes some of the bottom and both sides.. giving the sky more significance and making the trees appear larger (although not showing as wide an angle)?
I gotta get out there and do some more IR stuff.. keep it coming Mitch, it will inspire me to get off my butt!

Cheers
Adrian
---
Adrian Broughton


My Website: www.BroughtonPhoto.com.au
My Blog: blog.BroughtonPhoto.com.au
You can also visit me on Facebook!


"Everything should be made as simple as possible, but no simpler."

- Einstein.

User(s) browsing this thread: 1 Guest(s)