Jul 29, 2010, 12:37

Post: #1
Don Schaeffer
Posting Freak


Posts: 8,035
Joined: Sep 2004
Reputation: 3
Bees and Flowers
How come so many people get nice sharp macros and I get these? I am using the Sigma 18-200 mm lens at f 5.6 or so.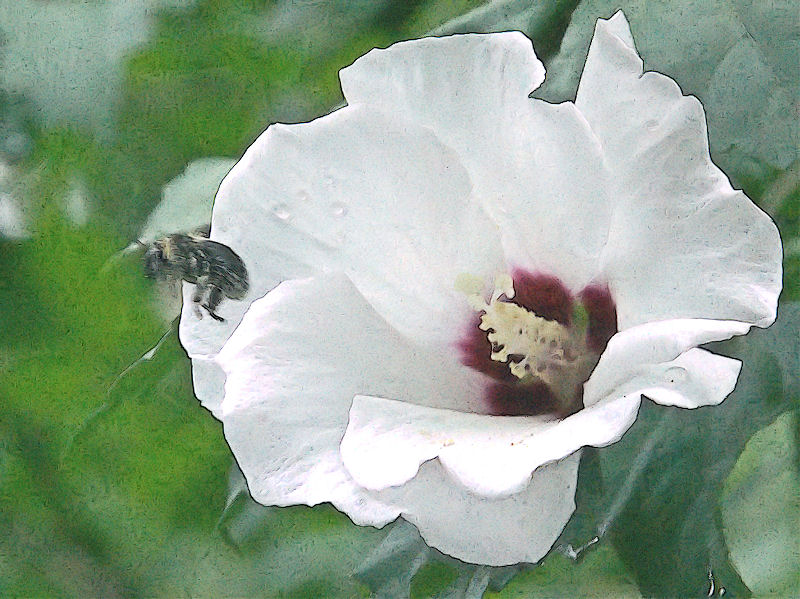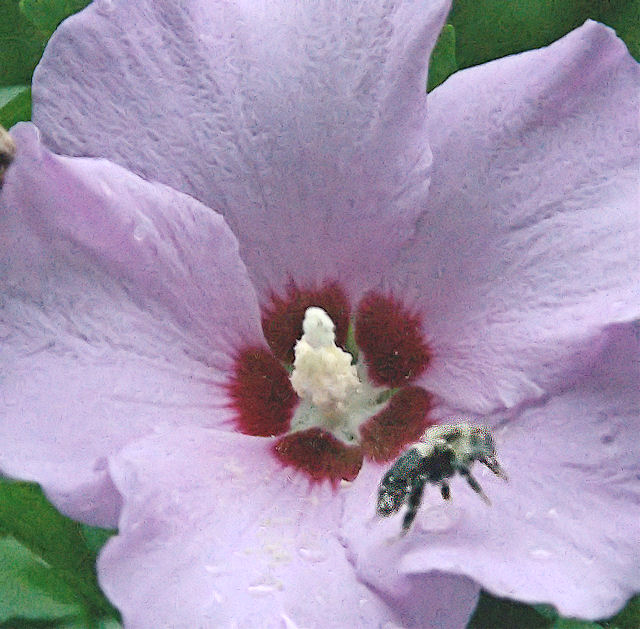 | | | |
| --- | --- | --- |
| | Advertisement | |
Jul 29, 2010, 14:26
(This post was last modified: Jul 29, 2010 14:28 by canonkid.)

Post: #2
NT73
Posting Freak


Posts: 3,222
Joined: Jan 2006
Reputation: 0
Bees and Flowers
Try single spot focussing, or manual.
Or find a big insect.

---
Lumix LX5.
Canon 350 D.+ 18-55 Kit lens + Tamron 70-300 macro. + Canon 50mm f1.8 + Manfrotto tripod, in bag.
Jul 29, 2010, 14:47

Post: #3
Don Schaeffer
Posting Freak


Posts: 8,035
Joined: Sep 2004
Reputation: 3
Bees and Flowers
lol
Jul 29, 2010, 23:19

Post: #4
Zig
Posting Freak


Posts: 2,123
Joined: Aug 2005
Reputation: 1
Bees and Flowers
I wouldn't be hard on yourself Don: depth of field at macro distance is always going to be narrow, with f5.6 narrowing it down even further.
Also depth of field narrows the longer your lens is: thus, a 50mm macro will give you a wider depth of field(with more in focus) than a 90mm at the same aperture.
By the time one is doing a macro shot at 200mm, say, the depth of field at even f16(or smaller) will still be so narrow as to require razorlike precision.
Prime macro lenses are obviously ideal: they are optimised for close work and autofocus is generally very precise.
A "cover-all" lens like a 18-200mm is quite far from ideal for macros. Actually, f5.6 IS probably your sharpest aperture setting on that lens, though it's also not renowned for its macro capabilities. Given all this, I reckon you've done darn well to get these!

One sort of "workaround"(far from ideal, but fun) I do, is to try using my best prime lens at the closest focus I can get away with(macro or not) at the widest aperture. For me, this would be slapping on the 21mm, throwing the tripod away, sticking the lens right up the nose of a flower,etc; staying at f2.8 or 3.5 so as to avoid camera shake, and blatting away till I got one shot that worked. I might have about 3 keepers in 70 shots this way but that's fine.
I'd guess that if you put the Nikon lens on and shot at f1.8 or f2-ish, you'd be quite excited by the results.
I know it's a pain but depth of field is one of those yawny subjects it does help to do a lot of research about. Lots of fog to begin with, but the breakthroughs are worth all the hard work.
I'd even go beyond NT's succinct(but spot on) advice and say find a dead insect! Place it on a sheet of white paper in even light, dial in +2 stops of exposure compensation(as your camera will want to make the white paper 18% grey), either stand above it or use a tripod, experiment with distance and aperture settings with your sharpest lens(I'm assuming that is the Nikon 50mm, Don)
By way of example, I took this shot of a fly in exctly the same way as I described above. Not quite the pastoral idyll, if you like, but worked as an experiment.
I still reckon you've done pretty well with that lens, to be honest.

Jul 30, 2010, 04:44

Post: #5
Don Schaeffer
Posting Freak


Posts: 8,035
Joined: Sep 2004
Reputation: 3
Bees and Flowers
Thanks. My "macro" is the Nikkor 50mm f1.8 with a Raynox Macco adapter attached. I couldn't get that close to the bee. I just used tIhe Sigma 18-200 and did the best could.

Possibly Related Threads...
Thread:
Author
Replies:
Views:
Last Post
Flowers and Leaves
Don Schaeffer
7
245
Oct 25, 2013 12:31
Last Post: Don Schaeffer
Insects and Flowers
Don Schaeffer
0
285
Sep 2, 2013 16:29
Last Post: Don Schaeffer
Flowers in the Veggie Garden
Don Schaeffer
2
441
Jun 7, 2013 06:56
Last Post: Don Schaeffer
Mother's Day Flowers
Don Schaeffer
3
283
May 16, 2013 05:05
Last Post: Barbara G.
Small Flowers
Don Schaeffer
2
356
Apr 28, 2013 07:00
Last Post: Don Schaeffer
Flowers Young and Old
Don Schaeffer
6
506
Apr 6, 2013 06:53
Last Post: Don Schaeffer
Flowers in the Window
Don Schaeffer
2
390
Feb 3, 2013 05:54
Last Post: Don Schaeffer
End of Summer Flowers
Don Schaeffer
0
474
Sep 3, 2012 09:42
Last Post: Don Schaeffer
"Not Wasting the Flowers"
Don Schaeffer
0
312
Apr 30, 2012 11:06
Last Post: Don Schaeffer
New Flowers
Don Schaeffer
3
428
Mar 16, 2012 05:52
Last Post: Don Schaeffer
User(s) browsing this thread: 1 Guest(s)