Sep 18, 2007, 13:02

Post: #1
Irma
Posting Freak


Posts: 5,148
Joined: Oct 2004
Reputation: 1
Family portrait.
My sister asked me to take some pictures of the family. She insisted on wearing white shirts and jeans all family... Only because she saw a picture like that in a magazin... I thought but it was taken in a studio!! and I have nothing here!!

So... I thought it would be best to take the picture in the house and help a little with my flash ... As I was afraid to blown out the white of the shirts I wrapped my flash in a white plastic bag, as I didn't have a wall to bounce the light... Anyway... Here is my try....
She wanted a b/w version so I did it this way...
I also worked this one in color....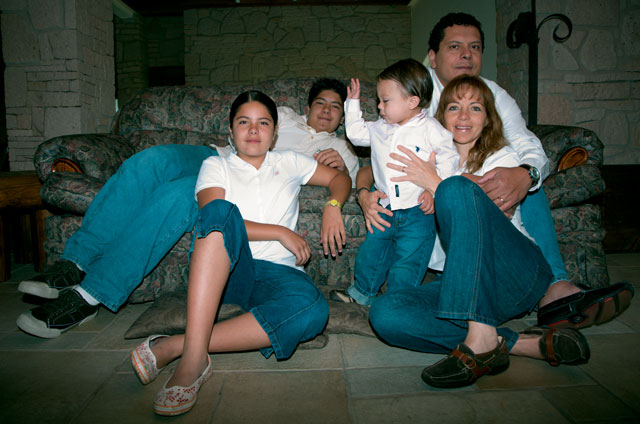 I was thinking that probably removing the foot of the lamp would be in order.
And my very own version ....
Advice and suggestions are welcome...


| | | |
| --- | --- | --- |
| | Advertisement | |
Sep 18, 2007, 13:40
(This post was last modified: Sep 18, 2007 13:41 by paskelius.)

Post: #2
Toad
Posting Freak


Posts: 5,737
Joined: Aug 2004
Reputation: 2
Family portrait.
The first 2 look rather formal - but the third one looks very natural... (Well done!)

All kidding aside, I like the pose in #1 better - the balance of the shot is nicer.

In #2 - in order to get the teenage boy's legs in the photo, you need to sacrifice the balance. You have a stack of faces on the right, and nothing much on the left. The young girl looks really good in #2 though, so I can see why you like it.
Sep 18, 2007, 15:31

Post: #3
wulinka
Posting Freak


Posts: 1,302
Joined: Dec 2005
Reputation: 0
Family portrait.
I agree, I like #1 the best. the BW works well, although I would like to see the color, as it looks nice and natural in #2.
What I don't like about 2 so much is the light (halo, from which the father's head is excluded), and the slightly skew crop. makes it look like they are on a slinging boat and having to hang on to the sofa for a grip

Uli
Sep 18, 2007, 15:48

Post: #4
Banded Drake
Posting Freak


Posts: 1,184
Joined: Jul 2005
Reputation: 0
Family portrait.
I like the first shot too Irma ,Im not much on the second shot . But i will say i have heard ( read ) that one big thing that sepperates a " snap shot " from a family portrait is matching clothes , and i am a big fan of white shirts and blue jeans , i think it has a nice appeal too it .

Well done Irma .

..... Shawn
Sep 18, 2007, 16:32

Post: #5
Family portrait.
Hi Irma,

I don't know how dark it was - but I feel that the background looks underexposed. Perhaps that was the look you were going for. I agree - number 1 is the best.
Sep 19, 2007, 19:49

Post: #6
Irma
Posting Freak


Posts: 5,148
Joined: Oct 2004
Reputation: 1
Family portrait.
Thanks so much for your comments...

Toad you are right about the balance in the second one... It was my trouble all the time... Iker legs!! They were always out of the frame.
Shawn, I didn't know about clothes in a picture like this, but you are right. Clothes is very important!
Uli, I'll try to post the color one for you to see. I also like the colors in the #2...

You are right about #2 the vignette is affecting the color of the father...

Chirs, yes I wanted to have the background a bit dark as it was a bit cluttered... so I thought a bit dark might look better...
Btw, all my recognition to photographers to take this kind of pictures, it was so difficult to get the proper arrangement, pose and to get the right expression from all of them...
Sep 23, 2007, 15:55

Post: #7
matthew
Shuttertalker


Posts: 3,036
Joined: Jun 2005
Reputation: 3
Family portrait.
#2 looks like a nice moment, but the poses show too much light fall-off for the people in the back. #1 is very well done and controls the exposure very nicely.

#3 is going to haunt my dreams. :/
Sep 23, 2007, 21:15

Post: #8
rcuevas50
Junior Member


Posts: 2
Joined: Sep 2007
Reputation: 0
Family portrait.
Very nice job, by the way i want to ask you for some help, how i can shine some shoes from a B/W Photo That I'm converting to color? Do you have some idea? Thanks in advance
Sep 23, 2007, 21:54

Post: #9
Irma
Posting Freak


Posts: 5,148
Joined: Oct 2004
Reputation: 1
Family portrait.
Matt... Thanks so much for your comment..

Sorry about #3...

I am still working with this post processing....

rcuevas50
I really don't know how to do it, but we have a forum here "fix me up" If you want you can post your picture and some of us might give it a try.
I worked this picture #3 with the high pass filter, that is why is a bit shiny, but I wouldn't know if that worked with your picture.

Possibly Related Threads...
Thread:
Author
Replies:
Views:
Last Post
Washing Day Portrait
alberm
2
243
Nov 19, 2013 07:04
Last Post: Korry
Family Time
thistle
14
313
Nov 7, 2013 05:33
Last Post: thistle
Portrait
Vik
5
264
Oct 20, 2013 02:04
Last Post: EdMak
K-9 Senior Prom portrait
Jimbo9948
3
481
Jul 4, 2013 01:16
Last Post: Korry
A Family Session
BrandyMaeD
6
463
Dec 12, 2012 07:27
Last Post: photokev
Family Session w/ 4 Kiddos
BrandyMaeD
4
421
Dec 3, 2012 09:33
Last Post: BrandyMaeD
A black and white portrait: step by step
Zig
6
1,166
Dec 22, 2010 21:01
Last Post: Toad
Family Fishing
Don Schaeffer
0
460
Sep 30, 2010 10:44
Last Post: Don Schaeffer
The Scooter Rider: Self Portrait
Don Schaeffer
2
705
May 31, 2010 19:26
Last Post: Don Schaeffer
Off Camera Flash Portrait
smarti77
8
2,259
Apr 30, 2010 05:23
Last Post: Zig
User(s) browsing this thread: 1 Guest(s)