Jul 5, 2006, 09:03

Post: #1
Zig
Posting Freak


Posts: 2,123
Joined: Aug 2005
Reputation: 1
HDR and non-HDR
I thought it useful to provide examples.
Clearly the extended dynamic range in the scene would usually necessitate what Toad referred to as "brute force": layers, masks, curves, etc;
The scene's range is a typically high-contrast challenge: around about 2.5 stops, so that the equipped snapper would go for, say, an ND grad so as to hold back the sky detail.
The digital domain usually registers a higher dynamic range than film, certainly more than slide film; when I was taking this(too cold for me to rummage for a grad at the time) I exposed for the foreground, reasonably confident that the sensor would be able to snaffle "in the raw" some sky detail too.
If I'd merely burned the sky in, I'd have picked up all sorts of casts...which is why some of you may remember my mono version of the original, as I could get away with layering a grey grad afterwards.
By processing the shot as 2 conversions which were 2.6 stops apart, I was able to save myself a lot of work, not only in the obvious bits like the sky, but also in the shadows: snow is more clearly visible on the mountainside, as is detail in the fishing-net on the extreme right.
As I've mentioned before, I felt as if I had more "leeway" with the extended range combo for all the normal array of usual tools, able to avoid "contrast traps" in burning-in with a bit more foresight.
I'm sure you'll agree(and thanks Keith for pointing out the usefulness of the comparison) that the extended dynamic range version has still turned out not-too-evidently processed.
The shot, by the way, was taken at around f16 with the Canon 10-22(20? I never remember!)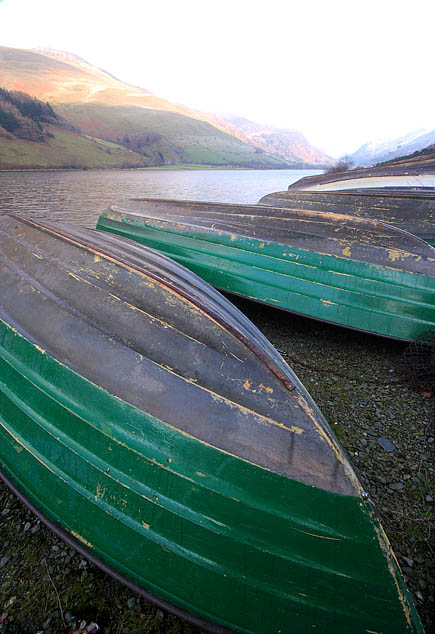 | | | |
| --- | --- | --- |
| | Advertisement | |
Jul 6, 2006, 01:58

Post: #2
NT73
Posting Freak


Posts: 3,222
Joined: Jan 2006
Reputation: 0
HDR and non-HDR
I have much to learn.:|
---
Lumix LX5.
Canon 350 D.+ 18-55 Kit lens + Tamron 70-300 macro. + Canon 50mm f1.8 + Manfrotto tripod, in bag.
Jul 6, 2006, 03:10

Post: #3
Polly
Senior Member


Posts: 703
Joined: Aug 2004
Reputation: 0
HDR and non-HDR
That's very impressive, Zig - nice example of what's possible and also a nice end result imho. I feel it can be an excellent post-processing tool for helping recreate what the eye actually saw but cameras can't quite manage to capture ...... yet.

I used the freebie myself some time ago, before the PC got trashed. Your example has reminded me I need to go for it again and reinstall as it's not possible to merge to hdr using multiple conversions of the same image in CS2 -it'll only merge images with different exif data ..... though the TM plugin works as usual when the freebie hdri is opened into CS2.


Pol

User(s) browsing this thread: 1 Guest(s)