Dec 20, 2007, 14:09

Post: #1
Irma
Posting Freak


Posts: 5,148
Joined: Oct 2004
Reputation: 1
Luebeck...
Last weekend we went to the Christmas market in Luebeck. I didn't get many good pictures, but I got this one. I took from the parking place we left the car. My composition is very centered, but the thing is that I used the bench to take a long exposure so I couldn't do it different....
Here you have my two versions... No HDR but only worked my pp with mask...

#1
#2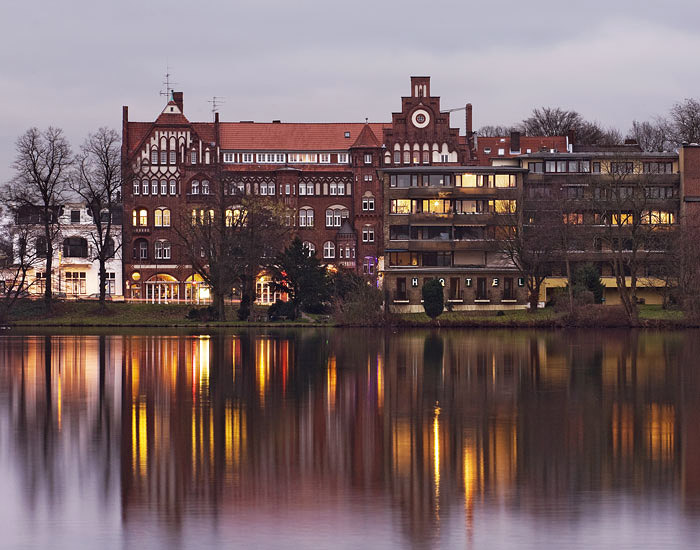 Hope you like it...


| | | |
| --- | --- | --- |
| | Advertisement | |
Dec 20, 2007, 14:36

Post: #2
Toad
Posting Freak


Posts: 5,737
Joined: Aug 2004
Reputation: 2
Luebeck...
Ecellent work. #1 for me.
Dec 20, 2007, 17:29

Post: #3
Luebeck...
A very beautiful photograph Irma - I love them both. I think somewhere between the two would be the best.
Dec 20, 2007, 23:58

Post: #4
Irma
Posting Freak


Posts: 5,148
Joined: Oct 2004
Reputation: 1
Luebeck...
Thanks so much for your comment Toad, Chris thanks for your advice too....

My version of the picture was #2, then G saw it and told me ... but the place was not like that! .... and we started a discussion about reflections, light in the reflection and the incongruent blue sky and still bright lights... Well, I never thought about all that when I was treating my picture... I just let my artistic sprit to work freely... I thought... anyway... I tried something a bit more realistic, believable...
Dec 22, 2007, 03:37

Post: #5
wulinka
Posting Freak


Posts: 1,302
Joined: Dec 2005
Reputation: 0
Luebeck...
I like when you get the sort of "pseudo-daylight" effect by relative extreme brightening as in #2,

nice shot!

Uli

User(s) browsing this thread: 1 Guest(s)