Dec 28, 2005, 02:34
(This post was last modified: Dec 28, 2005 02:36 by Graceology.)

Post: #1
Schellamo
Posting Freak


Posts: 1,097
Joined: Jul 2005
Reputation: 0
Recent portraits
(By the way in case your wondering, her hair is actually fluro green and yellow

)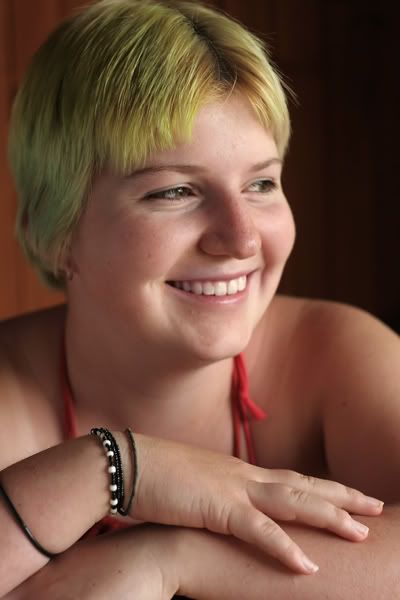 ...and of course, one of the littlun

| | | |
| --- | --- | --- |
| | Advertisement | |
Dec 28, 2005, 04:42

Post: #2
XeoX
Member


Posts: 130
Joined: Dec 2005
Reputation: 0
Recent portraits
Imho you could have used a wider aperature to get the person in focus. Now the shoulders and neck are bit blurred. But hey, nice shots anyway.

Dec 28, 2005, 17:09

Post: #3
Schellamo
Posting Freak


Posts: 1,097
Joined: Jul 2005
Reputation: 0
Recent portraits
okay, thnx Xerox
Dec 28, 2005, 18:44

Post: #4
Petographer
Posting Freak


Posts: 3,620
Joined: Aug 2004
Reputation: 0
Recent portraits
XeoX makes a good point. I prefer #2 as your subject looks more relaxed and unaware of the photo being taken. The lighting and exposure are great. Some may argue about the shadow to the right (our left) of her face but it is unobtrusive.

Good shooting.
Dec 29, 2005, 02:47

Post: #5
Irma
Posting Freak


Posts: 5,148
Joined: Oct 2004
Reputation: 1
Recent portraits
I personally like a lot what you did on your first two pictures... I just love the softness of the showlders and the red string(?) of her blouse... this sort of effect in portraits like these ones works well, but also I think it is matter of liking...
The pose in both is nice... just in the first one a mischievous look and smile would have helped a lot not to feel her look serious... the light is great...
#2 has a lovely smile, your picture tells a lot and makes me smile as well... I love that...

However, I would be one of the bunch to complain just a bit about the shadow, and I would do it, because the back part of her showlder looks dark and some detail in her blouse is missing... The black wristband parted from the rest is a bit distracting... Having them all together is a nice decoration and adds a lot...
The light in the background is uneven ... one side is dark and the other one is light... It would be best to have a more even color/light there as well...
#3 is lovely... I think the environment of the foam and bathtub makes him look pale, so I would work a bit in his skin color to have a bit more contrast in the picture and make him to stand out...
Hope this help

Dec 29, 2005, 03:01

Post: #6
XeoX
Member


Posts: 130
Joined: Dec 2005
Reputation: 0
Recent portraits
Schellamo, it's XeoX.

But I would have used vertical format in the 3rd shot instead of landscape, because there is hardly any detail in the background to show and You wouldn't lose anything using vertical format.

Dec 29, 2005, 03:39

Post: #7
shuttertalk
Shuttertalker


Posts: 9,733
Joined: May 2004
Reputation: 6
Recent portraits
I think I have a natural liking to more candid portraits, espeically when the subjects are relaxed, as with #2. Cute photo as always of your little one...

---
Minigizmo - Gadget News and Reviews
BookHoot - Ebook News
Dec 29, 2005, 16:16

Post: #8
Schellamo
Posting Freak


Posts: 1,097
Joined: Jul 2005
Reputation: 0
Recent portraits
Thanks for your comments, guys.
Sorry Xeox, my mistake!
I did use a reflector (a blank artists canvas actually

bit of improv there) to try to fill the shadows, but I had trouble positioning it so it wouldn't fall down. I could have positioned her facing the window, but I was sort of playing with the split lighting.
But I can see what you mean about the loss of detail in the shadow and the background Irma. I didn't notice the black armband, but now that I see it, it bugs me, so I will try to clone it out!
Baby's skin tones do look a bit pale, he had a green colour cast from the flash bounching of the pale green walls (and I didn't shoot raw) so I think I lost some colour in editing the photo.
Here is another more candid shot. This one really captures her personality I think,

Possibly Related Threads...
Thread:
Author
Replies:
Views:
Last Post
Fisheye lens for portraits
vlad
13
1,033
Nov 14, 2013 13:38
Last Post: EdMak
Recent break
Dean
8
345
Aug 22, 2013 00:12
Last Post: Dean
recent images
Dean
14
1,092
Jun 30, 2013 23:16
Last Post: kNox
Sus' portraits, lighting reviewed
Irma
15
2,503
Mar 7, 2013 14:49
Last Post: melvin
Glamour-ish portraits
vlad
17
1,698
Feb 11, 2013 11:20
Last Post: vlad
Sus' portraits. Did I improve? (8 pics)
Irma
13
2,858
Dec 16, 2009 09:49
Last Post: Wedding Shooter
Mrs. M portraits
Irma
7
2,097
Dec 6, 2009 22:30
Last Post: Irma
Two Portraits from the Forks
Don Schaeffer
1
866
May 31, 2009 11:50
Last Post: jericho
Some more recent stuff
Pavel
6
1,906
Mar 13, 2009 15:24
Last Post: Pavel
Informal Corporate Portraits - Thoughts?
Kombisaurus
8
2,381
Jun 30, 2008 11:47
Last Post: Pavel
User(s) browsing this thread: 1 Guest(s)