Mar 26, 2012, 23:18


Post: #1
squirl033
Member


Posts: 161
Joined: Oct 2008
Reputation: 0
Second Beach sunset
drove out to La Push on the Washington coast to shoot sunset at Second Beach. yeah, i know, the name isn't terribly original, but hey, that's not what people go there for! i arrived about 4:30, poked around a couple of other spots, had some supper, then hiked the 3/4 mile from the parking area to the beach. got there about 7:30, with a couple of hours to kill. there were probably 30 or so people there. by dusk, there were 4 - three other photogs and myself. i was the only one with a tripod, so it was obvious the others weren't planning to stick around. sure enough, as soon as the sun went below the horizon (very brassy sunset, not pretty at all, IMHO), the others left, but i stuck around, and was rewarded about 25 minutes later as the sky lit up in phenomenal colors...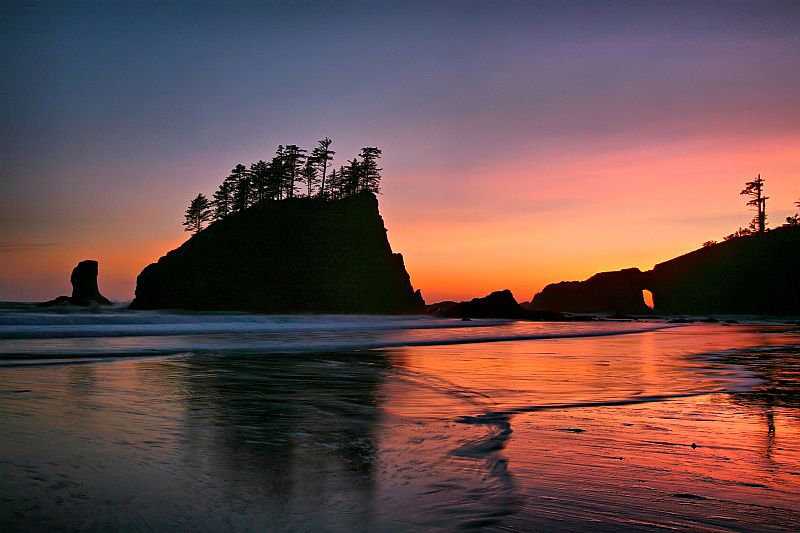 Mar 27, 2012, 04:39


Post: #2
shuttertalk
Shuttertalker


Posts: 9,733
Joined: May 2004
Reputation: 6
RE: Second Beach sunset
Beautiful silhouette - I love the details of the trees and the little land bridge that the rock formations make. This is absolutely the right stuff for silhouette work - so well done. The rich colours are fantastic too.
---
Minigizmo - Gadget News and Reviews
BookHoot - Ebook News
Mar 27, 2012, 06:23


Post: #3
Toad
Posting Freak


Posts: 5,739
Joined: Aug 2004
Reputation: 2
RE: Second Beach sunset
Another magnificent Pacific Coast sunset.
Mar 27, 2012, 15:40


Post: #4
squirl033
Member


Posts: 161
Joined: Oct 2008
Reputation: 0
RE: Second Beach sunset
thank you, gentlemen!
Mar 27, 2012, 21:14


Post: #5
Kombisaurus
Moderator


Posts: 1,504
Joined: Feb 2005
Reputation: 0
RE: Second Beach sunset
Gorgeous silhoette and colours. Well done.
---
Adrian Broughton


My Website: www.BroughtonPhoto.com.au
My Blog: blog.BroughtonPhoto.com.au
You can also visit me on Facebook!


"Everything should be made as simple as possible, but no simpler."

- Einstein.
Mar 28, 2012, 03:04


Post: #6
NT73
Posting Freak


Posts: 3,291
Joined: Jan 2006
Reputation: 0
RE: Second Beach sunset
Agreed, with all the above.
---
Lumix LX5.
Canon 350 D.+ 18-55 Kit lens + Tamron 70-300 macro. + Canon 50mm f1.8 + Manfrotto tripod, in bag.




Possibly Related Threads...
Thread:
Author
Replies:
Views:
Last Post
Westneck Beach
Don Schaeffer
6
412
Mar 16, 2016 04:28
Last Post: Don Schaeffer
Three Kayaks off Goldstar Beach
Don Schaeffer
2
508
Oct 6, 2015 10:49
Last Post: Don Schaeffer
Goldstar Beach
Don Schaeffer
4
833
Sep 24, 2015 15:24
Last Post: Don Schaeffer
The Woods Near the Beach
Don Schaeffer
2
723
Sep 21, 2015 08:38
Last Post: Don Schaeffer
rocky beach in florida
cuilin
3
653
Jul 16, 2015 19:48
Last Post: cuilin
Centerport Beach
Don Schaeffer
2
608
Jun 27, 2015 03:47
Last Post: Don Schaeffer
Makama Beach
Don Schaeffer
6
763
May 31, 2015 09:26
Last Post: Don Schaeffer
West Neck Beach
Don Schaeffer
2
518
Mar 25, 2015 09:01
Last Post: Don Schaeffer
Winter Sunset
MrB
5
988
Dec 21, 2014 09:44
Last Post: MrB
Sunset on a Cold Day
Don Schaeffer
4
1,198
Oct 9, 2014 08:49
Last Post: Don Schaeffer
User(s) browsing this thread: 1 Guest(s)