Southbank / Crown Casino by night
Feb 22, 2007, 04:08

Post: #1
shuttertalk
Shuttertalker


Posts: 9,733
Joined: May 2004
Reputation: 6
Southbank / Crown Casino by night
One of my favourite desinations for photo outings is a eating/entertainment strip which runs along the Yarra river, called Southbank. It's on the fringe of the Melbourne CBD, so it's a popular destination for visitors and locals alike. By day, visitors are attracted to the neighbouring arts centre, art galleries, craft shops, and is easily accessible by public transport. By night though, the reflections on the Yarra river make for magnificent shooting, provided you bring your tripod!
View of Southbank from the Flinders St Bridge
Southbank is also home to Crown casino, which is a haven for people seeking nightlife and restaurants. There's a cinema hidden somewhere in there too.
Flags in front of Crown Casino. The tower is an expensive five star hotel.
When darnkness falls, they put on a show every hour with these great big flame towers, which spew forth balls of flame. It's truly a sight to behold, as night temporarily turns into day. These gas explosions not only fills the area with light, the heat is very warm on the skin - it almost feels like summer.
Great balls of fire!
When the show starts, everyone stops to watch - it's uncanny. If you look closely in the foreground, you might even spot our famous Adam with a certain 30D and tripod!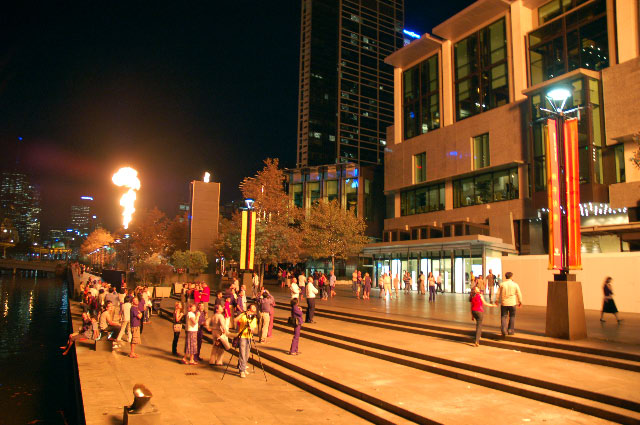 Night turns to day
Thanks for looking, hope you enjoyed the pics!
---
Minigizmo - Gadget News and Reviews
BookHoot - Ebook News

| | | |
| --- | --- | --- |
| | Advertisement | |
Feb 22, 2007, 07:58

Post: #2
EnglishBob
Moderator


Posts: 2,647
Joined: Oct 2004
Reputation: 1
Southbank / Crown Casino by night
Great series, I love night shots.
Feb 22, 2007, 09:33

Post: #3
Irma
Posting Freak


Posts: 5,148
Joined: Oct 2004
Reputation: 1
Southbank / Crown Casino by night
Your pictures are beautiful and go excellent with your description of the place. Melbourne looks so alive at night...

Feb 22, 2007, 16:46

Post: #4
Southbank / Crown Casino by night
I like the opening shot ST.
Feb 22, 2007, 20:29

Post: #5
shuttertalk
Shuttertalker


Posts: 9,733
Joined: May 2004
Reputation: 6
Southbank / Crown Casino by night
Thanks Craig, Chris and Irma...
Irma - it's a pretty nice place to hang out...

---
Minigizmo - Gadget News and Reviews
BookHoot - Ebook News

Possibly Related Threads...
Thread:
Author
Replies:
Views:
Last Post
Night in the City
nia
2
951
Aug 31, 2011 09:35
Last Post: nia
The Bosphorus at Night!
nia
6
2,200
Jul 21, 2011 05:05
Last Post: Irma
Toad's Italy: Venice by Night
Toad
9
2,378
Jun 14, 2011 16:41
Last Post: Toad
Night Macros
Don Schaeffer
6
1,062
Aug 22, 2010 07:15
Last Post: Don Schaeffer
Trees Dancing In The Night
nia
2
1,598
Jan 29, 2010 08:58
Last Post: nia
Walking At Night
nia
12
5,336
Jan 14, 2010 01:28
Last Post: nia
Night at the Bosphorus
nia
4
2,167
Nov 28, 2009 10:17
Last Post: nia
Good Night Earth
Don Schaeffer
0
456
Oct 7, 2009 08:00
Last Post: Don Schaeffer
Friday's / Night Shots
nia
3
2,053
Sep 7, 2009 06:36
Last Post: nia
First Night Shots!
nia
14
7,468
Jul 30, 2009 22:59
Last Post: nia
User(s) browsing this thread: 1 Guest(s)