Toronto Skyline near dusk
Jul 20, 2008, 12:00

Post: #1
enviroguy
Dennis


Posts: 264
Joined: Jul 2008
Reputation: 0
Toronto Skyline near dusk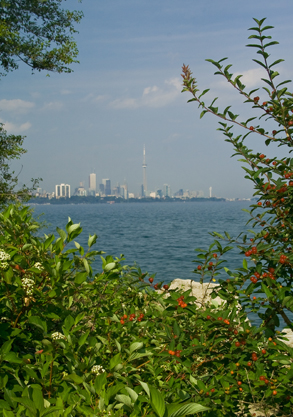 I tried to rescue this photo taken under hazy conditions using a bit of postprocessing. Any comments on the overall results?....Dennis

| | | |
| --- | --- | --- |
| | Advertisement | |
Jul 20, 2008, 16:57

Post: #2
Pavel
Posting Freak


Posts: 1,067
Joined: Jun 2008
Reputation: 0
Toronto Skyline near dusk
Hello Dennis, sweet nice Toronto - from Humber Bay Park. Judging from the colour of the leaves, I would guess the photo is from mid last week (Wednesday perhaps?). The colours are natural and pleasing and I like much about the composition. Eyes are eventually sent to explore the CN tower, but not before they spend a bit of time on the leaves and the berries. I would crop about 5 to 7 mm off the bottom and if you can, I would go a bit wider on the sides, especially on the left, where the tree keeps on comming in and out of the photo. I would have liked to have seen more of the berries too.

The intended ceneter of attention is the skyline and the foreground is meant to frame, but in this photo, the reverse seem to be the case. The foreground has a nice exposure and contrast, but the skyline is a bit hazy and a little light. My intent would be to selectively draw attention to the skyline. If you can in your Elements, I would try to selectively increase the black levels and contrast of the skyline. If you can not do it selectively, I would apply it to the whole image. This could make your foreground a little dark and contrasty, but it is not so bad, as you may wish to de-emphasize the foreground. Try and see what you get.

I noticed that your image is only about 400 pixels tall. It is easier to review sharpness, contrast and possible artefacts when the image is larger. It is really hard for me to see details at this size. May I suggest that you use something close to about 1800 pixels along the long side of the image and let the short side end up what it may. To squeeze under 250K, adjust the image quality. I do not know if you have anything like "save for web", but under this heading in PS3 what I suggest is really easy to do.

Angela took a peak over my shoulder and said that she would prefer this photo as a landscape and I tend to agree. I would have liked to have seen more of the berries.

It may be that my advice will not work out Dennis, but there are people around here which could give you a more reliable advice (and give me hard tome for giving you hard time). So lets see what feedback you get.

Pavel
Jul 20, 2008, 17:25

Post: #3
enviroguy
Dennis


Posts: 264
Joined: Jul 2008
Reputation: 0
Toronto Skyline near dusk
Hi, Pavel! I'm trying to upload a larger image according to your suggestions. I just received my new comprehensive manual for Elements so there will be no holding me back. So much to do, so much to learn, so little time. Thanks for the detailed critique. I'll be trying your suggestions when I have figured out the necessary techniques. My landscape orientation versions had the foliage and berries slightly out of focus, so that's why I chose the vertical version. Regards.....Dennis
OOPS...I think I overdid the size, but I know you can zoom down. From the sublime to the ridiculous....
Jul 21, 2008, 01:04

Post: #4
Pavel
Posting Freak


Posts: 1,067
Joined: Jun 2008
Reputation: 0
Toronto Skyline near dusk
Hmm Dennis, It is hard to tell how much can be done with the skyline. It looks either hazy, soft or both. I would still try what I suggested. P

What f-stop did you use?
Jul 21, 2008, 17:32

Post: #5
blowup
Member


Posts: 62
Joined: Jul 2008
Reputation: 0
Toronto Skyline near dusk
Hi Dennis,
I hope that you don't mind, but I have taken the liberty of trying (in CS3) what Pavel has suggested for your photo, plus an extra twist. I started by selecting the sky, only, using the magic wand, and refining the selected area with the lasso tool, to include only sky. It's a bit of fussy work, and can't be perfect, but I think I got 99% of the sky. I then went into Image>Adjustments>Photo Filter, and used just a touch (15%) of the warming filter on the sky. I then went back to the photo and using the Lasso, added the skyline and far shore to the selection. Then clicked on adjustment layer in pallets and clicked on levels. I moved the black slider to the right, until the buildings and shore took on a more distinct look (about 35). The sky was darkened a bit, too, and I moved the center slider a bit (to 1.10) to lighten it, slightly. The skyline could have been darkened more, and some may like it better with a higher level of black. But I think that warming up the sky helps, too. Let me know what you think. By the way, I think that all of these adjustments should be possible in Elements.
Cheers,
Gary
PS - I see that when posted, there is a lot of jpeg artifact visible.
Jul 21, 2008, 18:37

Post: #6
enviroguy
Dennis


Posts: 264
Joined: Jul 2008
Reputation: 0
Toronto Skyline near dusk
Thanks, Gary! I certainly don't mind your efforts here. You apparently went to a lot of effort. The sky definitely looks better. I am inspired to try some of these techniques...magic wand?...lasso?..filters? adjustment layers?...the mind boggles!! I was relating to Pavel that I have just received a comprehensive manual for Elements and will soon begin to discover and try many new techniques (in an orderly manner) You guys are way ahead of me, but as I said, I'm inspired.
One thing I know for sure is that
you can't make a silk purse from a sow's ear!
ie you have to start with the best image possible.
In retrospect, I think the best part of the picture is the berries.
I see the artifacts now. They seem to be more noticeable after your reprocessing effort. I guess you win some and you lose some.
Best regards.....Dennis

Possibly Related Threads...
Thread:
Author
Replies:
Views:
Last Post
Toronto island
Pavel
6
1,988
Oct 18, 2008 08:19
Last Post: Irma
Toronto Sunset
matthew
9
2,308
Sep 19, 2008 16:34
Last Post: matthew
Which version and why" February in Bluffers Park Toronto
Pavel
3
1,747
Jul 12, 2008 07:21
Last Post: enviroguy
Two photos of Toronto at night
Pavel
8
3,318
Jul 2, 2008 10:28
Last Post: Pavel
Taillights at Dusk
Kombisaurus
8
2,202
Apr 8, 2005 00:17
Last Post: Peted
User(s) browsing this thread: 1 Guest(s)