Nov 3, 2004, 08:58
(This post was last modified: Nov 3, 2004 08:58 by litchilove.)

Post: #75
Don Schaeffer
Posting Freak


Posts: 8,031
Joined: Sep 2004
Reputation: 3
What Camera?
I have a Casio QV3-EX single focal length 3.3 meg camera and a Canon A70. The Casio was a gift. I bought the Canon because I liked the feel of it. These are low end cameras but I can't afford better right now. I have made a lot of improvements to the Canon, adding a magnified viewer hood (stolen from a Miranda Sensorex that I lost 10 years ago), an auxilary lens adapter with a .6x aux lens (saved form an old Kowa Camera which stopped functioning 30 years ago), and a polarizer (that was made for a cam corder and I bought cheap).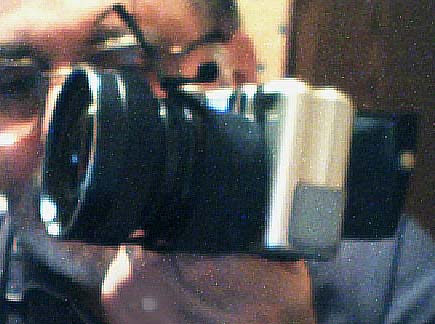 Possibly Related Threads...
Thread:
Author
Replies:
Views:
Last Post
Keeping a Back Up Camera - Do you?
Barbara G.
18
870
Dec 3, 2013 00:34
Last Post: EdMak
What Camera?? (Thread Two)
Barbara G.
12
1,465
Nov 27, 2013 06:18
Last Post: Barbara G.
Camera phones
Beckylouise
11
1,226
Oct 4, 2013 09:58
Last Post: Wall-E
Fuji x20 as a street camera
finn
0
464
Sep 30, 2013 11:01
Last Post: finn
Keeping Your Camera Still Without Tripod
Barbara G.
14
1,605
Sep 19, 2013 16:39
Last Post: Fritzm
Photography Camera lenses
bluenose
9
1,232
Sep 4, 2013 11:00
Last Post: bluenose
Camera bags
kulucriss
14
1,505
Sep 4, 2013 06:14
Last Post: spareno
Do I need a new camera?
Don Schaeffer
32
2,713
Aug 16, 2013 14:03
Last Post: Don Schaeffer
New Old Camera: Olympus SP-350
Don Schaeffer
6
802
May 22, 2013 10:25
Last Post: Barbara G.
Stable camera platform... need one?
jim truscott
2
948
May 20, 2013 14:56
Last Post: Barbara G.
User(s) browsing this thread: 1 Guest(s)