Jul 17, 2006, 10:08

Post: #1
Irma
Posting Freak


Posts: 5,148
Joined: Oct 2004
Reputation: 1
Wishes
I found this fountain in the restaurant we were yesterday...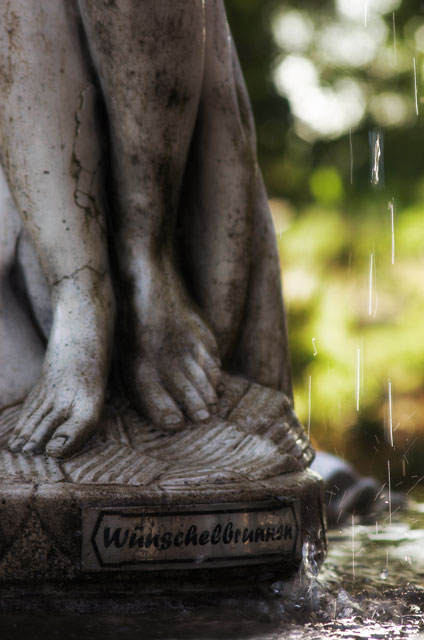 I named it wishes because I didn't know the proper translation... and I don't know if there is an expression to address this sort of fountains the ones you ask for your wishes...


| | | |
| --- | --- | --- |
| | Advertisement | |
Jul 17, 2006, 17:49

Post: #2
Wishes
Lovely composition and use of colour in the background Irma.
Jul 17, 2006, 19:11

Post: #3
Schellamo
Posting Freak


Posts: 1,097
Joined: Jul 2005
Reputation: 0
Wishes
That's lovely, if it were me I would probably be tempted to try and fit all the statue in the frame and it wouldn't have looked so wonderful. I really like the bokeh and the way you've focused on the smaller details.
Jul 19, 2006, 13:16

Post: #4
Irma
Posting Freak


Posts: 5,148
Joined: Oct 2004
Reputation: 1
Wishes
Thanks a lot for your kind comments

This is another composition of the same fountain... In this picture I find a more dynamic composition but I might be wrong... Anyway I like it as well...

Jul 19, 2006, 20:10

Post: #5
Wishes
More dynamic - but I like the first best.
Jul 20, 2006, 11:57

Post: #6
Toad
Posting Freak


Posts: 5,737
Joined: Aug 2004
Reputation: 2
Wishes
The first one is superb - I always feel the details can capture the essence of the whole - and this shot proves that.

User(s) browsing this thread: 1 Guest(s)