design from stained glass
Mar 6, 2008, 07:30

Post: #1
Zig
Posting Freak


Posts: 2,123
Joined: Aug 2005
Reputation: 1
design from stained glass
Wondering where to put these, thinking some of you might find this interesting and useful: decided on this forum because of amount of pp...the image is no longer a photo, I feel, but fun was to be had here.
First the raw image: from Malmesbury Abbey(window designed by Burne-Jones, I believe, or one of the Pre-Raffs anyway...):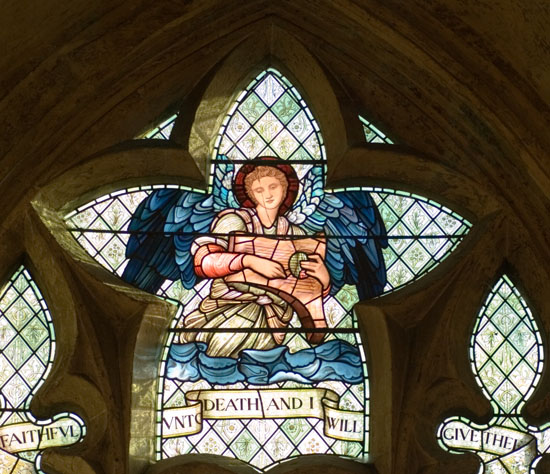 Allrightythen.
I was wanting an image both for cards and for my desktop. Worked on a black canvas, importing the angel as a layer then erasing as I went.
I adjusted saturation and contrast, using the dodge tool set to highlights at around 4% to bring out a bit of glow.
After flattening the image, I went into Liquify, pushing around the wings with various-sized soft brushes until I got the shape I wanted. I also pushed around the waves too.
I then copied to other layers: diffuse glow, also altering the saturation as I went along: blues needed much boosting, for instance, whereas reds came up a bit too strong and needed lightening and desaturating. Incidentally, should anyone fancy a bash at the same, greens need a considerable amount of dodging to brighten them up, so I found.
I copied the image to another layer, using radial blur set to zoom...the centre-point being the angel's head. I played about with the opacity of the layers(all set to normal), then flattened.
I tried to all the pre-diffusion work at 16-bit: as you know, CS2 diffuse glow requires a downsample to 8-bit, though I kept as a tiff( I love it when the CPU goes nutz!) until the final savepoint.
I quite like the result and possibly should save the workflow as an action, as I've been making a series of such designs.
Lemme know what you reckon by all means.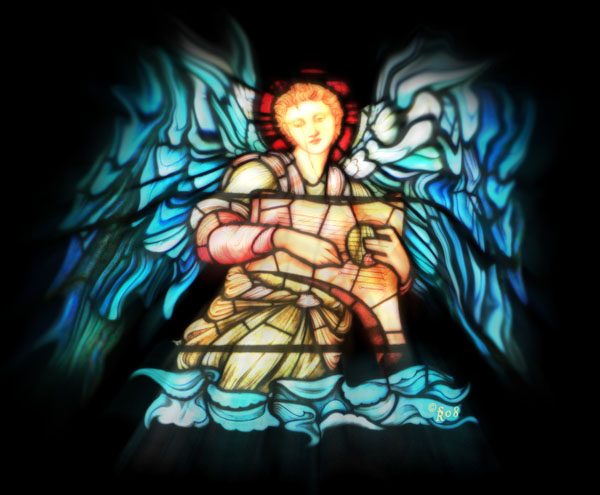 | | | |
| --- | --- | --- |
| | Advertisement | |
Mar 6, 2008, 07:33

Post: #2
Zig
Posting Freak


Posts: 2,123
Joined: Aug 2005
Reputation: 1
design from stained glass
Oh agh!
Yes, I forgot to mention the really important bit:
First off, I corrected the image to simulate the necessary adjustment in horizontal and vertical planes: thank goodness for CS2 as it's saved me the bother of buying a TS lens!
Mar 6, 2008, 12:56

Post: #3
Irma
Posting Freak


Posts: 5,148
Joined: Oct 2004
Reputation: 1
design from stained glass
Thanks so much for sharing your post processing of this one, Zig. I specially like what you did with liquify.
Black canvas works great too.
Mar 6, 2008, 13:51

Post: #4
matthew
Shuttertalker


Posts: 3,036
Joined: Jun 2005
Reputation: 3
design from stained glass
I like the soft effect and the colours, and admire the way you've turned something that usually ends as a snapshot into your own art.
I'm also a fan of PS perspective corrections -- the "lens correction" filter is almost worth the price of Photoshop alone. (At least the Education price. :lol

Mar 6, 2008, 16:15

Post: #5
design from stained glass
Beautiful Zig!

Possibly Related Threads...
Thread:
Author
Replies:
Views:
Last Post
Mirrorless vs DSLR Design
shuttertalk
0
716
Mar 14, 2012 02:53
Last Post: shuttertalk
Nikon D800 - is that a good camera if you have both Fx and DX glass?
Pavel
8
1,655
Oct 11, 2011 18:48
Last Post: shuttertalk
New/Old Glass
Don Schaeffer
2
362
Oct 10, 2011 07:17
Last Post: Don Schaeffer
A peculiar design
Zig
19
6,274
May 11, 2008 21:04
Last Post: Mchilly
Light and glass.
Irma
4
2,671
Mar 25, 2008 15:46
Last Post: wulinka
Lens glass smudge
inukshuk
2
976
Jan 5, 2008 14:01
Last Post: NT73
webpage design
wulinka
9
3,345
Feb 15, 2007 16:02
Last Post: wulinka
Webpage design II
wulinka
5
1,212
Feb 14, 2007 23:47
Last Post: Irma
New glass
Paul.R.Lindqvist
16
3,337
Dec 18, 2006 19:21
Last Post: Toad
Ordered New Glass.
EnglishBob
12
3,258
Mar 25, 2006 22:25
Last Post: EnglishBob
User(s) browsing this thread: 1 Guest(s)