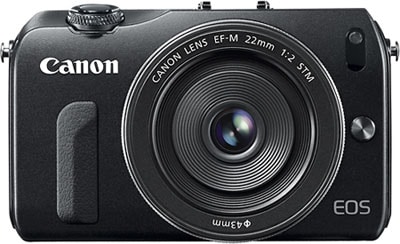 First Impressions
The new Canon EOS M will be priced at around $800 and is currently available for pre order in most countries. At this price tag it can definitely be considered a high end digital camera option, with the EOS M arriving in compact form rather than the bulkier DSLR EOS that came prior to this model. This compact design looks sleek and impressive when compared with the older EOS, and with a promising specification to boot, the EOS M certainly looks impressive at first glance:
18.0 Megapixel CMOS (APS-C) sensor, DIGIC 5 Image Processor, ISO 100-12800; expandable to 25600 (H)
Hybrid CMOS AF and Multi Shot Noise Reduction
EOS Full HD Movie mode with Movie Servo AF for continuous focus tracking of moving subjects
Compatible with Canon EF and EF-S lenses (Optional EF Lens Adapter is required)
Compatibility with SD/SDHC/SDXC memory cards, including new Ultra High Speed (UHS-I) cards
With a strong 18 Megapixel image capture and full HD video, the Canon EOS M looks like the camera to beat this Winter.
Design and Ease of Use
Given that it's difficult to determine how ergonomically capable this camera will be, we will simply have to do what we can with the resources available. A couple of digital camera media bases have already released first look videos of the EOS M and from these the touch screen interface looks as though Canon have truly excelled themselves. Easy to use for near enough anyone, you'll be able to quickly and effortlessly change settings on the EOS M. Look at the back of this new Canon and you'll see very few buttons, showing that it is heavily centred around this touch screen interface. While this does look good now, until the EOS M is released and fully field tested by some more reviewers we cannot be certain as to actually how well it will turn out.
Especially in black the Canon EOS M does look like a relatively attractive camera. While it may lack the charm of certain other compact cameras that have looked at a more retro design, the EOS M certainly appeals to lovers of simplicity. With no flashy design gimmicks the EOS M is not looking to attract users by how it looks, but rather what is underneath and the quality of images it can produce. More than this though, the Canon comes in a stainless steel finish that not only gives the camera a sleek look, but a durable exterior to boot. This way, heaven forbid you drop your $800 camera on the floor, the EOS M should be able to brush off at least a few falls.
Canon EOS M vs Samsung NX1000 vs Sony Alpha NEX-5R
| | Canon EOS M | Samsung NX1000 | Sony Alpha NEX-5R |
| --- | --- | --- | --- |
| Max Resolution | 5184 x 3456 | 5472 x 3648 | 4912 x 3264 |
| Effective Pixels | 18.0 | 20.3 | 16.1 |
| Sensor Type | CMOS | CMOS | CMOS |
| Sensor Size | APS-C (22.3 x 14.9 mm) | APS-C (23.5 x 15.7 mm) | APS-C (23.4 x 15.6 mm) |
| LCD Size | 3 | 3 | 3 |
| LCD Dots | 1,040,000 | 921,000 | 920,000 |
| Touch Screen | Yes | No | Yes |
| Live View | Yes | Yes | Yes |
| Viewfinder | None | None | Electronic (optional) |
| Max Shutter Speed | 1/4000 | 1/4000 | 1/4000 |
| Min Shutter Speed | 60 | 30 | 30 |
| Storage | SD/SDHC/SDXC | SD/SDHC/SDXC | SD/ SDHC/SDXC, Memory Stick Pro Duo/ Pro-HG Duo |
Picture Quality
It is in these categories that the Canon EOS M deserves its $800 price tag, and rightly so. This new Canon features a sensor and image processor from the more powerful DLSRs that keen photographers may prefer to use to provide them with sharper, better quality photographs. More interestingly, the specific processor used in the EOS M comes from Canon's top of the range models; namely the EOS 5D MK3. Therefore, the picture quality of this camera should turn out to be simply remarkable. Canon have already released some sample pictures from the EOS M and there are a few more floating around on the internet for you to take a look at.
Video Quality
Canon haven't simply stopped at a strong picture taking ability in the EOS M, as the 18 Megapixel camera has been backed up with HD video capture technology. From the few examples we've already seen of the EOS M the video looks crisp, incredibly clear and overall quite special for a compact digital camera. The video of the EOS M rivals that of a dedicated HD video camera. To take a look for yourself, Canon have also released video samples from the EOS M on the page linked to above. From the videos that Canon themselves have released then the EOS M once again looks to be well priced at $800. It will allow the user to take both fantastic quality images as well as top notch video whilst doing all this in a streamlined, compact shell.
Conclusions
Overall, this new offering from Canon is getting most reviewers and photographers across the world very excited indeed. The EOS M weighs in at just 298 grams – admittedly still relatively heavy for a compact camera. However, when you take into account the specification that comes along with this camera then at 298 grams it is incredibly lightweight. Most compact cameras don't even come close to the new EOS M and even some DSLRs will struggle to deliver the same quality as the EOS M. At $800 it could be considered cheap in the grand scheme of things for the images and video that it produces. If any serious photographer is looking for a compact camera to add to their collection for when they simply do not want to carry a bulkier camera around yet still want to capture incredibly crisp pictures – then you'll have to have a serious look to find a rival for the Canon EOS M.