Sand World is a tourist attraction in Travemünde at the Baltic Sea. They show sculptures made of sand... We've been there yesterday, early afternoon, sun high on the sky and temperatures around 35° (Celsius, measured in the shadow). I didn't think of using a sun blocker, so I got not only pictures, but also a hefty sunburn. Anyway it was quite a lovely day...

The motto of this year's exhibition is "Circus". The exhibition covers pretty much everything. A few examples are: The Roman circus, the Russian, Asian and American circus, and personalities like Oleg Popow and Houdini. The sculptures have a height of up to 6 meters. More information can be found at the
Sandworld homepage
.
These pictures show only a fraction of the exhibition. I hope Irma will post some more...

Elefants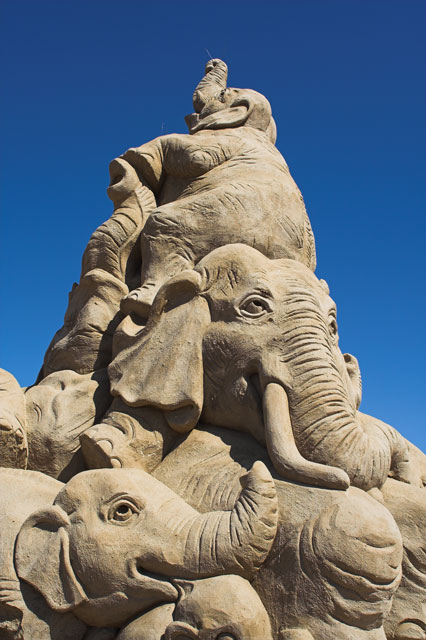 Asian Circus
Refreshments
It was a relief to be out of the sun

Photographer Kid
Roller Coaster
The artist obviously has some sense of humor

The building in the background is the Hotel Maritim in Travemuende.
Crow On Roller Coaster
Sculpture Maintenance