...er..continued, sort of:
These are 100% crops of the captures at f8. Straight conversions from raw, no sharpening or pp of any description.
Make sure you read my astonishing conclusion later..
Tamron, centre:
Canon, centre:
Tamron, edge left:
Canon, edge left: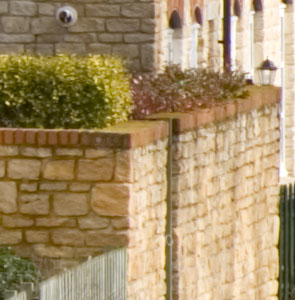 Tamron, lower: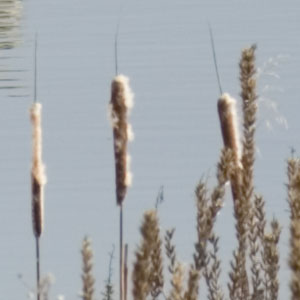 Canon, lower:
Astonishing Conclusion: The Tamron and the Canon are both nice.
General: If you want to scrape pixels(and there really is no point), you might notice the Tamron has the tiniest edge on resolution and detail at f8..the Canon does great but don't misconstrue its acuity and microcontrast for resolution.
Yet again, also bear in mind the following: the Canon does darn well compared to many primes here, hits the ground running at f4 and does even better at 70mm than at 90mm, sharpening up again by 135mm before softening at around 185mm onwards. Distortion is noticeable at 70mm on the Canon but is well controlled thereafter. Corner and edge sharpness are the compromise with the 70-200mm f4L(IS), becoming an issue if you want to stay uncropped from f8 in the top right when using lengths from, say, 90mm to 170mm. It's the best tele-zoom of the Canon line-up and is a whole lot lighter(and cheaper) than the f2.8 version, which is just about equally stonking.
The Tamron: if you think it's done well across the frame here at f8, it's even more of a ripper at f5.6, where it is, from my(limited) experience, easily as outstanding as any(possibly excepting the 35mm) Canon L prime. Appreciably softer at full aperture(f2.8), yes, but even by f3.5 it kicks into sharpness, again at f4, still holding its own at f11 before diffraction-softening begins: no big deal though.
Both the Tamron 90mm and the Canon 70-200f4L(IS) are excellent, both giving you a multiplicity of uses: the portraiture and landscape use of the latter, especially with IS, make it a winner, with its immediate full-aperture performance giving a sense of confidence. The Tamron is both a jack of several trades and master of them too: I often forget its raison d'etre as sharp short-macro it is, though its softness at f22 and smaller needs an eye to be kept out: I find it a scintillating lens for landscapes and portraits.
Finally, I've based my "observations" on a full-frame DSLR: the Canon's edge performance is obviously augmented in use on an APS-C camera, though the Tamron is stonking on both. Zones 1 and 2 with the Canon on full-frame, are "up there".
There we are then: a lot of Zig waffle and short on objective substance, but hey, we're friends, right? :|