Playing around with the D200 and I have to say that so far I am impressed. None of these shots are particularly good - they are quick grab snapshots that I used to test various performance characteristics of the D200 and the 18-200 VR zoom.
All photos are directly from the camera with no post processing except for resizing. All are taken at ISO 400.
Keep in mind - I don't know how to do technical camera tests properly so take everything I say with a grain of salt. On the other hand, these are probably pretty representative "real-world" shots.
Test 1 - exposure latitude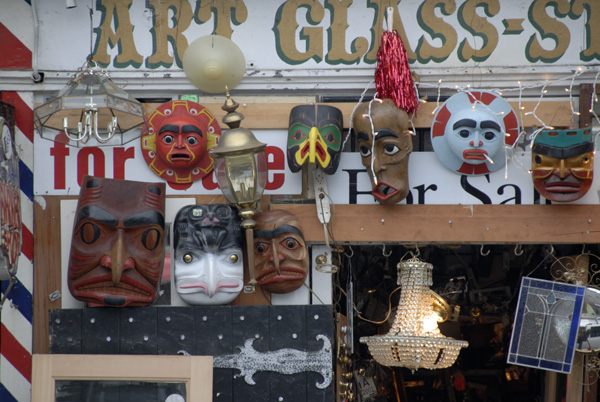 I'm impressed - the detail in the the light and dark areas is quite good - even in the darkened shop door, there is some detail present. The grey-white mask in the middle left has retained all of its detail in the bright areas. Edge to edge sharpness is good and very nice color depth and saturation. No unpleasant grain or nasty color noise in the dark areas.
1/60 sec at F5.6
Test 2 - exposure, resolution and slow shutter speed
Once again, I am taken with the exposure - which is perfect and the resolution of detail. The focus is a bit soft - but not very soft at all when you consider this was taken hand-held at
1/10 sec
@ F16. The VR on this lens really works.
Test 3 - Add Unsharp Mask
Same photo with just a breath of sharpening in Photoshop - opinions are welcome - but this indicates to me that photos taken at 1/10 sec can be made quite acceptable with very minimal work.
Test 4 - Handheld at really slow speed with a large depth of field
Again pretty soft - but this was taken hand-held and unsupported at an extraordinary 1/4 sec.
Bottom line: need more testing - but I am very impressed with the VR on the lens and the exposure latitude and resolution of the D200.
I am not really a pixel-peeping kind of guy - I have always believed it is the photographer and not the camera that does the work - Given this first few shots, I am convinced that the D200 will be more than sufficient for my needs.
best
Toad