There were some requests about how to make HDR pictures, here is a little Howto. I'll try to do this in my own words, so bear with me.

Technical
HDR (High Dynamic Range) pictures try to overcome the limitations of digital cameras with the recording of high contrasts. We all know pictures with some limited detail in the shadows but a blown out sky, or a barely acceptable sky with black silhouettes as a foreground. Most sunsets follow this pattern. Night shots too are hard to get right when you have street lights in the picture. HDR really helps to improve these types of pictures. What HDR technically does is making a composition from a set of identical pictures with different exposures, where each color value (RGB) is not an integer, but a decimal number. For example, you might have a pixel with 25.78R, 150.32G and 266.30B. The actual HDR image can't be viewed properly with regular devices like screen and printer, but you can create a conventional image from the HDR by tone mapping. Both the HDR creation and the tone mapping can be done in PS CS2, although I prefer Photomatix. In the following tutorial I will show the process with Photomatix.
Taking pictures
For an HDR image you need to take identical pictures with different exposures. That means there is no way around a tripod. You can do it just with two exposures (as I will show you in this tutorial) but you can use 7 or 8 exposures as well, and the experts say the results are better. I mostly use the bracketing of my camera, it allows me to bracket from -2 to +2 f-stops with 3 exposures. It's best to vary only the shutter speed, so I've heard. Varying the aperture would result in a different DOF of the exposures.
When you take the pictures, be aware that the exposures will be combined. You should avoid moving elements if possible, otherwise you are in for a long cloning session later. The best subjects are landscapes, city scapes and stilllifes. Be careful to handle your camera without even the slightest movement, otherwise the exposures have to be aligned - with the finer details it might not be possible at all. If you have a heavy tripod, use it. If you have mirror lockup, use it. If you have a remote or cable control, use it.
Check the histogram when you take the pictures. Make sure that nothing is blown out in the darkest (shortest) exposure of the series. You need at least one picture where absolutely nothing is blown out. In the darkest exposure you want to see detail in the lightest parts of the picture. From the darkest exposure you go up with shorter exposure times until the picture shows detail in the darkest areas. Nevermind that the brighter parts of the longer exposures are blown out. HDR will repair that.
Here are the two pictures I took for the "Moelln Evening" picture:

Post Processing
The post processing is quite simple, actually. In Photomatix, you can load your images first and then generate the HDR, or you can load them from the disk and generate the HDR in one go. You will have to tell Photomatix the relative exposure of each picture, for example: -2, 0, +2. The program will then combine the pictures and create an HDR image. With PS it's similar, the function can be found in File - Automate - Merge To HDR.
Now you have an HDR image, and it looks rather ugly. Don't worry! This is because your monitor can't show HDR images.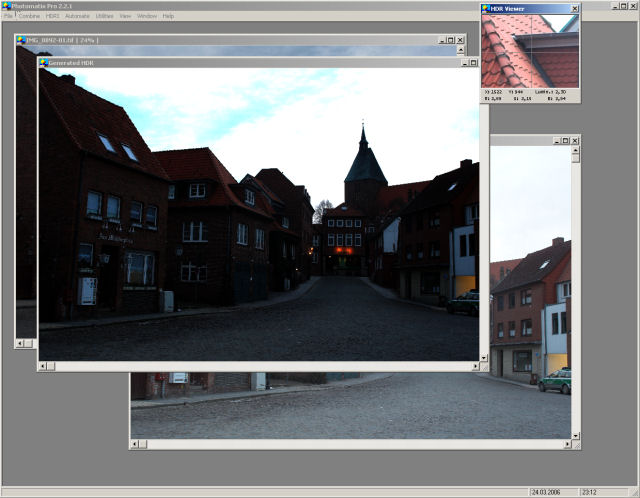 The next step is tone mapping. In Photomatix it looks like this:
You have to play with the controls to find settings you like. In PS, the tone mapping dialog pops up when you convert the image from 32 to 16 or 8 bit. The tone mapping in PS is not as tweakable as it is in Photomatix, but basically it does the same thing. Well, we're nearly finished! Convert the image to 8 or 16bit TIF and you're done.
I found that the tone mapping does not always yield optimal results. Snow in the picture tends to become rather grayish, so it's sometimes a good idea to play with the image in PS a little more. With snow, I usually blend in some areas of a properly exposed image of the original series.
Well that's it! I hope you have a lot of fun with this technique. I certainly do!

Links:
Photomatix Home
Irma's HDR Showcase