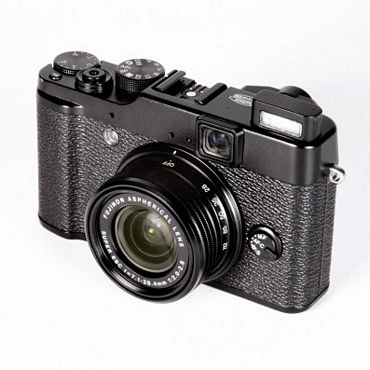 Overview
When you first look at the Fuji X10 nothing remarkable really jumps out at you. The simple, elegant and retro design causes to camera to look as though it has jumped straight out of the 1950's when portable camera use really took a hold of the masses. Priced at around $450-$550 across the internet, the Fuji X10 is encroaching upon a high end portable camera price tag and for that Fujifilm needs to back up its new portable digital camera with a set of specifications to match:
12MP 2/3″ EXR CMOS sensor
28-112mm equivalent F2.0-2.8 lens
Optical viewfinder (85% coverage)
2.8″, 460,000 dot LCD
Extensive manual control
Raw shooting and in-camera Raw conversion
Continuous shooting up to 7fps at full resolution (10fps at 6MP)
The Fuji X10 is aimed at the more serious photographer, as you would expect for a digital camera priced at over $500. Note that while Fujifilm have opted for a more classic design, they have most certainly added a modern edge to the camera itself. The 2.8″ LCD screen on the back is clear and easy to use; though lacking an LCD viewfinder (as we have been accustomed to with other Fujifilm series) in favour of a simple optical viewfinder could be a potential negative for the Fuji X10. Overall, upon first inspection the Fuji X10 looks promising and for those with a passion for a retro feel could turn out to be an incredibly handy little portable camera.
Ease of Use
When you first handle the camera it falls into a fairly odd spot as far as physical size goes. Sold at 117.0(W) x 69.6(H) x 56.8(D) mm / 4.6(W) x 2.7(H) x 2.2(D) in, the Fuji X10 is classed as a portable camera and is aimed to be a smaller option for on the go photographers who do not wish to use a bulkier DSLR every single day. However, when you analyse the physical size of the camera, or pick one up for yourself, you will realise that it is simply too big to be pocket sized. While it would slip easily into most handbags, the Fuji X10 just isn't quite the up market portable camera that you might have been expecting.
The Fuji X10 does of course have USB 2.0 connectivity, as you would expect from a modern digital camera, so I do not feel the need to go into its functionality with a computer to great depth. Moving away from this to the layout and functionality of the camera, the Fuji X10 continues with the simple design of the front face that Fujifilm have introduced to the X10. The camera itself is fairly void of buttons, with a dual dial system at the top to select picture type and another to control zoom. The simplified ease of use that Fujifilm seems to have gone for with the X10 really shines through, anyone and their grandmothers could operate this camera yet the more experienced among us still have the option of detachable lenses – it is more than just a point and shoot camera. The X10 seems very well built with few plastic parts and truly does feel pleasant to use.
Olympus VH-515 vs Canon PowerShot SX500 IS vs Fujifilm X10
| | Olympus VH-515 | Canon PowerShot SX500 IS | Fujifilm X10 |
| --- | --- | --- | --- |
| Image Ratio | 4:3, 16:9 | 1:1, 4:3, 3:2, 16:9 | 1:1, 4:3, 3:2, 16:9 |
| Effective Pixels | 12.0 | 16.0 | 12.0 |
| Sensor Type | BSI-CMOS | CCD | EXRCMOS |
| Sensor Size | 1/2.3" (6.17 x 4.55 mm) | 1/2.3" (6.17 x 4.55 mm) | 2/3" (8.8 x 6.6 mm) |
| LCD Size | 3 | 3 | 2.8 |
| LCD Dots | 460,000 | 461,000 | 460,000 |
| Touch Screen | Yes | No | No |
| Live View | Yes | Yes | Yes |
| Viewfinder | None | None | Optical (tunnel) |
| Max Shutter Speed | 1/2000 | 1/1600 | 1/4000 |
| Min Shutter Speed | 4 | 15 | 30 |
| Storage | SD/SDHC/SDXC | SD/SDHC/SDXC | SD/SDHC/SDXC |
Picture Quality
You must take into account with the X10 that it is designed as a point and shoot camera and as such the performance has been affected somewhat with hardware in the camera that will be beaten by a DSLR. Using a smaller sensor, the Fuji X10 can fall foul of delivering noisier images than one might expect under certain circumstances. To really get a feel of the quality of images that the Fuji X10 can take, I recommend checking out the Fujifilm sample images page here.
As you can see after taking just a quick glance at some of the images captured by the Fuji X10, it really is a quality camera. If you had been wondering if it was worth the $500 price tag before, you can see why Fujifilm demand this for the X10. The images it delivers when handled correctly are simply sublime; they are sharp. Of course we must take these sample images with a pinch of salt, being published by Fujifilm themselves with well informed photographers behind them. However, if the Fuji X10 can deliver images up to this quality then you know it truly is a good quality camera.
Video Quality
The Fuji X10 also supports video capture, as one would expect in a digital camera nowadays, especially in the point and shoot market that Fujifilm has entered this camera into. Though at heart
this camera is only supposed to be exactly that: a camera. You get the impression from the video footage that it churns out that this was only added as a means to satisfy the more casual user of
the Fuji X10, rather than the budding photographers among us. If you want to get a feel for the video yourself, a quick Youtube search will give you more than your fair share of video tests carried out by owners of the camera. Overall the video produced by the X10 would be deemed merely satisfactory by most. When put in perspective this isn't really all that bad a negative as the Fuji X10 is not intended to be used as a solid video capture device.
Conclusions
The Fuji X10 may be out of the casual digital camera user's price range at around the $500 mark, however for a keen photographer who is looking to carry around something slightly more portable than a chunky DSLR for everyday use, then the Fuji X10 may be something to consider. The Fuji X10 does the basics well – a simple design provides ease of use while its picture taking capabilities can't really be faulted considering its place in the portable camera market. All things considered Fujifilm have produced a good quality little point and shoot camera here.