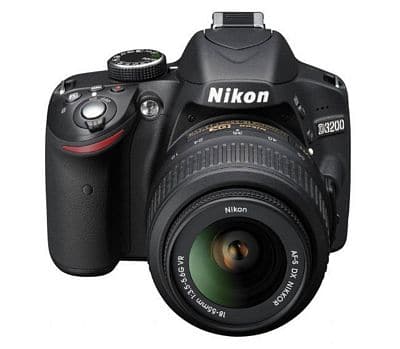 Overview
The Nikon D3200 is the entry-level D-SLR for the company, and has been viewed as an upgrade from its predecessor, the D3100, most notably in the camera's resolution. In addition to that, the D3200 boasts features that many view to be a great choice for those who are looking for their first interchangeable lens camera.
Upon closer inspection, you'll find that the D3200 has very similar components to the D3100. For example, the viewfinder and autofocus system are exactly the same. This isn't a bad thing, especially for the autofocus system. Nikon did a great job with their scene-recognition technology, and when using the D3200, you'll get the same benefit as the implementation used on the D3100. Additionally, this camera has basically the same body of the D3100. It's very light and not very big. It feels a bit too cheap, as it relies heavily on plastic in its composition.
Unfortunately, the D3200 carries more of the complaints generally received about the D3100. The viewfinder of the D3100 wasn't exactly heralded as being the best, even in this class. It uses small focus points that only illuminate just before you press the shutter. This can amount in a bit more work if you're not used to it.
Nikon D3200 vs Canon EOS Rebel T4i vs Sony SLT-A65
| | Nikon D3200 | Canon EOS Rebel T4i | Sony SLT-A65 |
| --- | --- | --- | --- |
| Max Resolution | 6016 x 4000 | 5184 x 3456 | 6000 x 4000 |
| Image Ratio | 3:2 | 1:1, 4:3, 3:2, 16:9 | 3:2, 16:9 |
| Effective Pixels | 24.2 | 18.0 | 24.3 |
| Sensor Type | CMOS | CMOS | CMOS |
| Sensor Size | APS-C (23.2 x 15.4 mm) | APS-C (22.3 x 14.9 mm) | APS-C (23.5 x 15.6 mm) |
| LCD Size | 3 | 3 | 3 |
| LCD Dots | 921,000 | 1,040,000 | 921,000 |
| Touch Screen | No | Yes | No |
| Live View | Yes | Yes | Yes |
| Viewfinder | Optical (pentamirror) | Optical (pentamirror) | Electronic |
| Max Shutter Speed | 1/4000 | 1/4000 | 1/4000 |
| Min Shutter Speed | 30 | 30 | 30 |
| Storage | SD/SDHC/SDXC UHS-I compliant | SD/SDHC/SDXC | SD/SDHC/SDXC/Memory Stick Pro Duo/ Pro-HG Duo |
Image Quality and Performance
When you put the D3200 head-to-head against competition, you're going to get average results. The camera does have the ability to match the results of most cameras, but you won't find that it exceeds many of them. JPEG images look pretty good well through ISO 400, though it does taper off at a good clip through 3200. It also doesn't provide advantages when shooting raw until you hit ISO 1600.
While the image quality is a point of debate, the performance is definitely something that's a lot better than the D3100. It's nimble to power on and shoot, shooting at less than 0.3 of a second. This isn't too bad, especially for this class, and definitely isn't something that will make it a dealbreaker. Also, when shooting continuously, you'll find that it runs at about 3.9 frames per second, which is generally good enough for those who aren't going to be shooting professionally.
On the subject of autofocus, there was a problem. It's not as nimble as you might expect, even with the improved technology. If the light isn't very good, you can actually feel the kit lens moving sluggishly, which is nothing short of a disappointment. The same can almost be said about the autofocus in video, as well as the Live View autofocus. They're both a bit cumbersome and sluggish, and in the case of the autofocus in video, it pulses and doesn't really take hold to unmoving objects. Unfortunately, the same can be said about many D-SLRs.
Features and Button Layout
Nikon D3200 has a programmable Fn button that you can set to control the quality of the image, white balance, Active D-lighting menus, ISO sensitivity, and other parameters that will result in an optimal shot. The top mode dial has automatic, manual, and semi-manual modes, much like D3100. It also keeps the Guide Mode that provides some assistance for some shoots. The Easy Mode provides some quick help for some options. In short, it doesn't really break too much new ground, though that's not particularly a bad thing.
The button layout is a bit cumbersome. Nikon moved the record button the left. D3100 had the button right under the right thumb. Now, this relegated the Live View button to the back. This wouldn't be a problem if you didn't have to press this button to record. It becomes cumbersome to have to first press the button on the back, then the record button on the top just to start shooting some video.
Conclusion
All in all, there doesn't really seem to be anything that sets Nikon D3200 apart from the mold. It does do some things better than the D3100 – it's faster, shoots better video, and has a better LCD – but it doesn't really take better pictures. Unfortunately, there are cheaper cameras out there that have better features. That said, if you're looking for your first DSLR will find D3200 to be more than suitable.