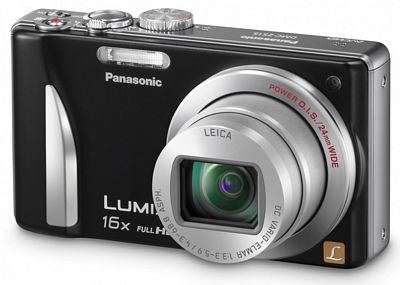 As far as budget-saving, consumer-friendly cameras go, Panasonic has been putting out a wide range of cameras that have great appeal to the amateur audience. The Lumix DMC-ZS15 falls into this same category. It has a 12 megapixel sensor, 16X zoom lens, a very simplistic movie mode, and no GPS capabilities. With 70 MB of memory in this camera, consumers will find it works perfectly fine without an SD card as an emergency camera, but they will likely want to pick up a 2 GB or 8 GB memory card for picture storage. It is, on the whole, a good little camera with enough bang to allow the user to feel he or she has gotten themselves a good piece of technology, but it's user-friendly enough to not scare beginners away.
Panasonic DMC-ZS15 vs Nikon Coolpix P7700 vs Canon SX500 IS
| | Panasonic DMC-ZS15 | Nikon Coolpix P7700 | Canon SX500 IS |
| --- | --- | --- | --- |
| Max Resolution | 4000 x 3000 | 4000 x 3000 | 4608 x 3456 |
| Effective Pixels | 12.1 | 12.2 | 16.0 |
| Sensor Type | CMOS | CMOS | CCD |
| Sensor Size | 1/2.3" (6.17 x 4.55 mm) | 1/1.7" (7.44 x 5.58 mm) | 1/2.3" (6.17 x 4.55 mm) |
| LCD Size | 3 | 3 | 3 |
| LCD Dots | 460,000 | 921,000 | 461,000 |
| Live View | Yes | Yes | Yes |
| Viewfinder | None | None | None |
| Max Shutter Speed | 1/4000 | 1/4000 | 1/1600 |
| Min Shutter Speed | 15 | 60 | 15 |
| Storage | SD/SDHC/SDXC, Internal | SD/SDHC/SDXC | SD/SDHC/SDXC |
With a start up speed of about 1.5 seconds and a shot-to-shot speed of less than one second both with and without flash, the Lumix DMC-ZS15 is an above-average performer that won't leave its user wanting for more. As a compact ultra-zoom, this camera is effective all the way up to ISO 800 with both natural and night time light, though the dark lighting at night causes a fair bit of detail loss at the higher ISO sensitivities.
Full HD video can be recorded (1920X1080) in Panasonic's Motion Picture mode, though the claim that the camera is recording at 60 interlaced frames per second isn't entirely accurate. The sensor is actually outputting 30 frames/second, which means the recording isn't true 60i. There is also the option of recording at 720/60p, which gives you smoother video output.
This is a camera which features point-and-shoot video recording with no manual controls outside of a wind filter. The camera picks movie scene modes for users when they are in Intelligent Auto mode. The camera's Creative Filters are also accessible for those amateur video operators. Regardless of what mode you're in while recording video, the camera will stop recording at 4 GB, so it's important to remember there's only so much room you can use to record.
The body of the camera is made largely out of metal, though there is a rather flimsy-feeling mode dial. The most significant feature of the camera is its 16X optical zoom lens. There is an "active" mode for the camera, which reduces a fair bit of camera-shake, though you should keep in mind no image stabilizers on the planet will eliminate the movement of the subject itself. There's also a 3-inch LCD screen with fairly good outdoor viewing characteristics, provided Power LCD mode is on.
As a whole, the Lumix DMC-ZS15 is a versatile compact ultra-zoom camera which gives consumers a lot of options when it comes to both indoor and outdoor photography. It's a durable, solid little camera which can stand up to pretty much any conditions that can be thrown at it, while still giving users lots of options for camera and color effects, in addition to both standard picture and Motion Picture modes. This allows users to explore the wide range of effects and options that the camera provides. On the whole, this latest entry from Panasonic is a solid entry which will please users for years to come.