Introduction
This summer, I had the opportunity to take a long-awaited photo safari to the south of France. My agenda included a lot of rambling through hilltop villages and steamy city streets, and with temperatures in excess of 100 degrees Fahrenheit (38° C), I wanted a small, light bag that would fit all my essential gear, but would not be a burden during those long, hot walks.
In addition to my DSLR body and a trio of lenses, I wanted to be able to accommodate a flash, circular polarizer, lens cleaning kit, iPod and cable (for bulk photo storage), flash cards, batteries, a monopod, and other odds and ends in my photo bag.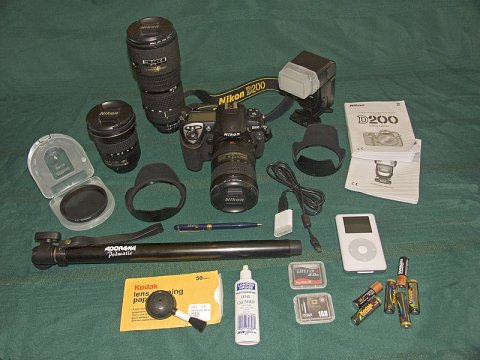 I currently own a Kata R-102 photo backpack, that can easily hold this gear and more, but I was concerned that a backpack would be awkward to access in the crowds that I expected to encounter on this trip. I also own a modified Kata T-212 torso pack that I use as my standard walk-around bag at home, but the T-212 is too small for this amount of equipment.
I am a big believer in having the right tool for the right job. I have been a fan of Kata camera bags for years, and so I decided to try the new Kata T-214 torso pack.
Design top
If you are not familiar with Kata, they are an Israeli company that designs and manufactures body armor for Israel's elite forces. They also produce a line of photo and video bags favored by photo journalists. Kata's experience with body armor is reflected in the construction of their camera bags which are light and extremely rugged. The padded ribs on the T-214's front panel provide great impact resistance without adding significant weight. All of the stitching is solid, and all the buckles and connections click securely into place as advertised.
The T-214's military pedigree is also reflected in the styling of the bag – which I describe as S.W.A.T. meets RoboCop. The T-214 is a combination of black and gray, with black zippers and buckles.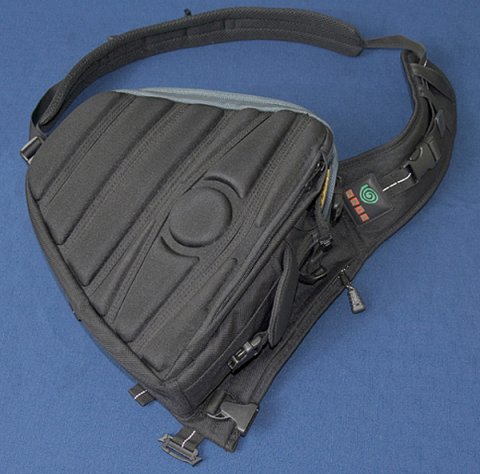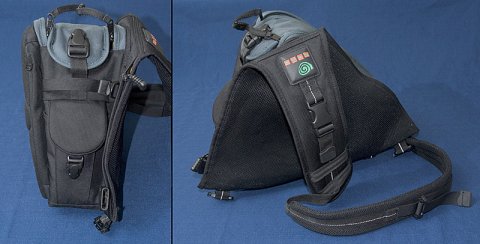 Usability top
The T-214 can be worn in one of 2 ways – as a standalone sling bag, or connected to one of the Photo Backpacks of the Kata EPH system such as the R-102 or R-103.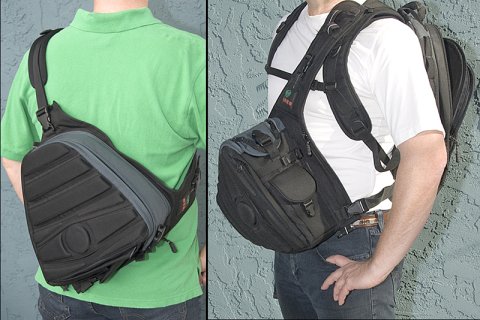 I use the T-214 almost exclusively in standalone mode, but for those people who have a LOT of gear to carry, the combination of the T-214 and a Photo Backpack will provide massive carrying capacity.
In my previous reviews of the R-102, and T-212, I describe the carrying capacity of those bags, and details of how the EPH system bags can be used in combination. Readers interested in these details should refer to those reviews as background:
Review of the Kata R-102 Photo Rucksack
Review of the Kata T-212 Torso Pack and the W-92 Waist Pack
The beauty of a sling style bag is that it can easily be moved from back to front for rapid gear access (or for security in a crowd). The T-214 also includes a detachable anchor strap that prevents the bag from shifting position when biking or rock climbing.
The shoulder strap on the T-214 is well padded, and very comfortable – even with a full load. It can be adjusted to suit your height and positioning preferences.
Like all Kata bags, the T-214 comes with a bewildering array of straps, connectors, and buckles, but with very minimal instructions. Given the versatility of these bags, and the number of ways that they can be configured, I feel that a detailed user manual should be provided with the bags. Some information can be found on their website, and occasionally, a brief sheet of basic instructions is included, but you are still pretty much on your own to figure out how everything fits together. I can easily see how it might be challenging for some.
I also feel that a lot of the straps that Kata supplies on these bags are too long. I find that I am always tucking them in or looping them back so that they do not dangle. While I realize that many people are taller than me, and that there may be other uses for the straps that I have not yet determined, I would still like to see shorter straps or some convenient method of keeping the excess neatly coiled.
Compared to the T-212
The T-214 appears to be an update to the T-212, but external appearances aside, they are very different bags. The dimensions of both bags are identical except for depth, but that additional depth is a significant difference. Where the T-212 is ideal as an accessory bag or as a casual walk-around bag (typically holding my Nikon D200 and attached 18-200 zoom), the T-214 is a full-fledged camera bag that holds almost as much as my R-102.

The T-212 shipped with an unusual triangular web strap that wraps around your back for use as a standalone bag. I eventually modified my T-212 to a more versatile sling-style bag by removing the web strap and attaching a shoulder strap to it as shown above. I was delighted, therefore, to see that Kata had abandoned the web strap, and opted for a sling when they released the T-214.
The other significant improvement to the T-214 over the T-212 is the closure system of the main compartment. The T-212 has a single zipper (with 2 pulls) that spans the top and both sides of the main compartment. The problem with this design is that it risks the contents spilling out if the zipper is opened fully.
The T-214 replaces the single zipper with a pair of zippers, a Velcro strip, and a security buckle. The two zippers can be opened or closed simultaneously by pulling on a strap that connects the zipper pulls. The strap occasionally separates in the middle, but is easily reconnected via its central buckle. This design completely eliminates the spill-out problem of the T-212 and adds significantly greater content security.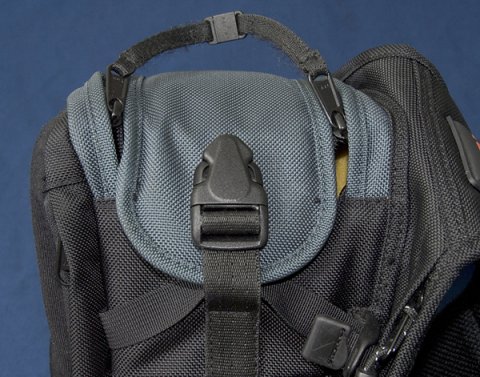 Storage Capacity
The interior of the T-214 is one large sub-dividable compartment. Two removable partitions are included that can be positioned as required to fit your gear configuration. The partitions are hinged at the top, so that they can fold down over smaller lenses for additional protection.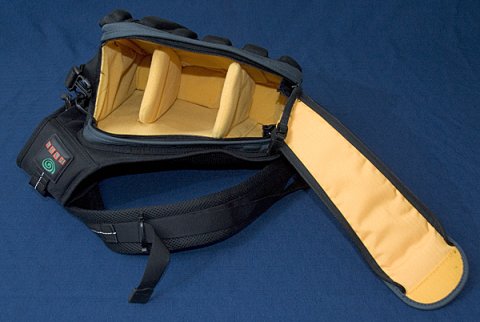 In my configuration, I use the central pocket of the main compartment for my DSLR body with attached zoom, and the other 2 pockets for lenses. If you own an SLR larger than the D200 – or use an extended battery pack, you may need to experiment with other configurations.
Because the T-214 is triangular in shape, one side of the bag is significantly taller than the other. Longer lenses can be stored in the tall side as in my configuration below.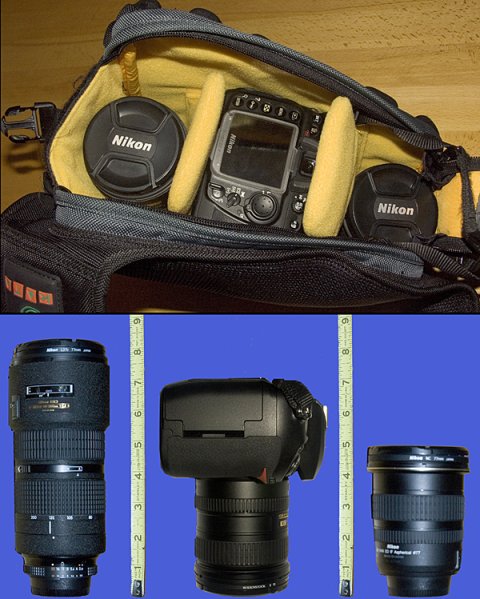 It is possible to fit lenses in the T-214 that are somewhat longer those I show here. There is approximately 11 inches of clear height at the tall end of the bag. The constraint in my configuration is the diameters of the lenses.
Exterior Storage
The T-214 also includes 3 exterior storage pockets.
A flat pocket suitable for manuals, filters, cables, and similar gear covers the entire back of the bag. After I published my T-212 review, I was asked if a small notebook computer would fit in this pocket. The answer is no – the triangular shape of the T-214 doesn't allow for it.
A smallish expandable pocket on the front of the bag can be used for additional storage, which I use to keep my Nikon SB-800 flash in.
A buckled pocket on the side of the T-214 is ideal for a cell phone, iPod, or lens cleaning kit. My Dell Axim X51V PDA in a hard shell case fits perfectly in this pocket.
Above the buckled pocket is a short loop strap that can be used to attach something to the side of the T-214. In a perfect world, I would be able to attach the belt loop of my SB-800 pouch or a small lens case here, and tighten it to the bag. Unfortunately, because the strap has a rubber end terminator, it is a closed loop, and cannot be used to connect other closed loop pouches. This strap would be more versatile if it had a snap buckle that would allow objects to be attached and removed more easily.
In The Field
So How Did the T-214 Work in France? My quibbles about straps aside, it was exactly what I was looking for, and I liked it a lot. It is small, light, and holds a lot of gear. It was ideal in crowds, and on long, hot hikes.
Almost all of my essential gear fit in the T-214. I had a small problem finding an adequate space for the lens hoods, and I eventually ended up storing them in the space beneath my D200.
My monopod did not fit on or in the T-214 at all. I tried to jerry-rig a couple of connectors to strap it to the bottom – but I wasn't satisfied with any solution that I came up with. In all fairness though, that sort of carrying capacity would probably fall in the realm of backpacks.
The T-214 fit easily under my airline seat on a very long Trans-Atlantic flight without crowding my feet.
Conclusion top
The Kata T-214 is a top notch travel bag for those that place a premium on size and weight, but still want to carry a reasonable amount of gear. I find the sling bag an ideal compromise between volume and portability.
The bag is attractive, comfortable and provides exceptional protection. This would be an ideal bag for rock climbing, cycling, or other sports that require your gear to be securely anchored but still be readily accessible.
At $95 US, the T-214 isn't the cheapest bag on the block, but neither is it outrageous given its build quality and versatility.
I give it two thumbs up!
Positives
Highly durable and well constructed
Large carrying capacity
Easy access to eqiupment
Flexible storage configuraiton and options
Handy external pockets
Negatives
Extra-long straps can be fiddly
No facility for carrying a monopod
| | |
| --- | --- |
| Features: | (9/10) |
| Usability: | (9/10) |
| Build Quality: | (10/10) |
| Value: | (8.5/10) |
Was this article helpful? Feel free to leave any feedback or comments.
As I say to all my family, friends and readers – reviews usually comprise of one person's opinion. Do yourself a favor by visiting your local camera shop and try the product out for yourself. If possible, bring your gear with you to make sure that everything fits. This will give you a better idea whether it is suited to your needs.