Gordy's Camera Straps are a fine example of what camera straps could be – natural, stylish, unique looking, and a far cry from the common nylon and faux leather variety emblazoned with the usual manufacturer names. The straps from Gordy are handmade in Washington, USA by either Gordy or his helper, which they have been doing since 2005. Made from strips of California Latigo belt leather originating from toughened steer hides, they are tied off with a 1mm diameter waxed polyester cord.
Today, their range of camera strap products encompasses wrist straps, neck straps – both adjustable and non-adjustable; and tripod straps as well, and they come in a variety of designs and colours. When ordering online, you can choose your preferred colour for the leather and wrapping cord, and in some cases the type of attachment as well including metal split rings, string, or tripod socket mounts.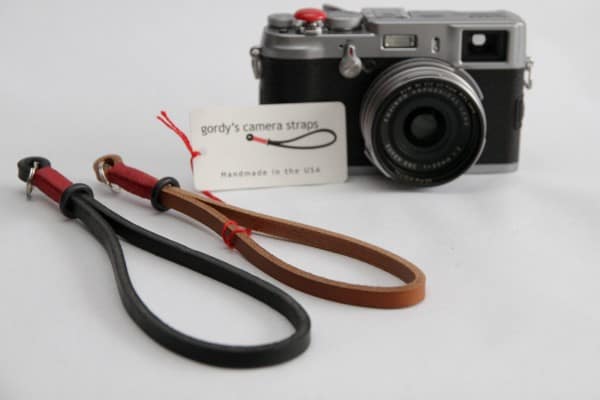 Gordy was kind enough to send us some lug mount hand straps and non-adjustable neck straps, both with and without the wrist and neck pads.
Wrist Straps
Wrist straps are a great way of carrying cameras, without the customary neck strap getting in the way. When wearing them around, your camera is always on hand (pun intended) and securely attached to your wrist to prevent accidental drops. If your camera is light enough, you could even let it dangle if you need a free hand. They're also very easy to tuck away in your camera bag or case.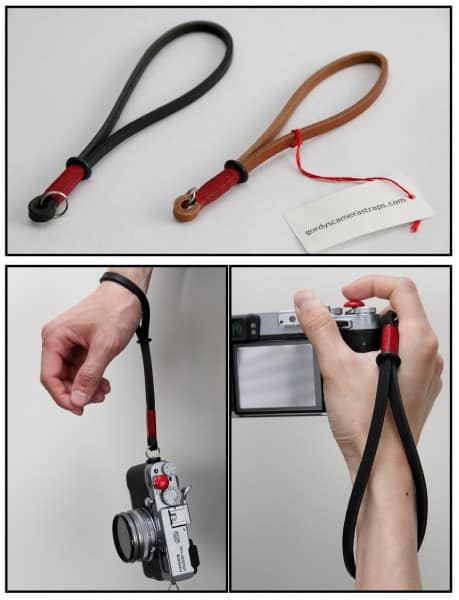 The straps we received were made of russet coloured and black coloured leather, both finished with red cord. Both looked very handsome and striking, and I personally really liked the natural appearance especially when paired with a classic looking camera such as the Fuji X100. Attachment of the strap to the camera was via a metal split ring, and some rubber O-rings were thoughtfully supplied to prevent the metalwork of the camera from being scratched.
The leather strips are roughly a quarter inch wide and a sixth of an inch thick, and I tried an impromptu strength test by literally grabbing hold with both hands and trying to pull the strap apart with all my strength. Long after I wore myself out, the strap itself showed no sign of breaking, and surprisingly, no signs of tearing or deformation either. I would have no qualms at all about the durability of Gordy's straps.
On initial use of the straps, the leather does feel a bit hard and rough against the skin. After a day or so of normal use though, the leather began to soften, and it actually becomes more pliable and comfortable to wear.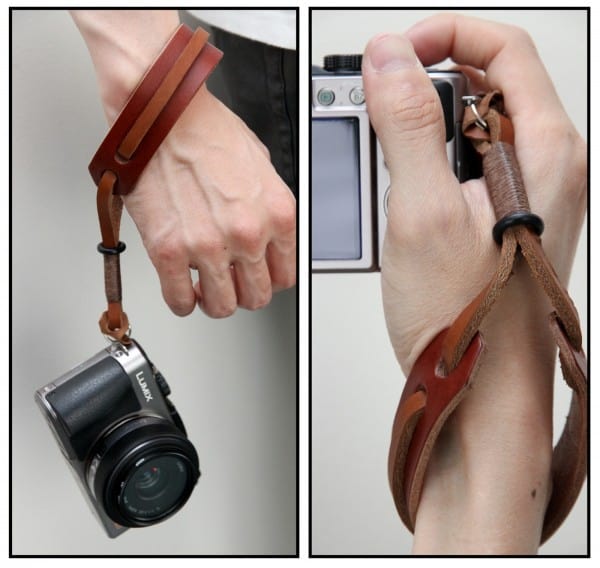 We were also supplied with a model with an inch wide wrist pad constructed of the same leather. This has the added benefit of evenly distributing the weight and providing more surface area to grip your wrist, leading to increased comfort and stability. I'm on the fence about this one – it's definitely more comfortable to wear but the sleek, streamlined look is somewhat marred, especially when attached to a compact camera.
Neck Straps
The neck straps from Gordy are a longer version of the wrist straps, only with the coloured nylon wrapping and metal split ring attachments at the both ends of the leather strip. These would be more suited towards DSLRs or maybe mirrorless compact camera systems with larger lenses, and they allow the camera to be slung around your neck or shoulder.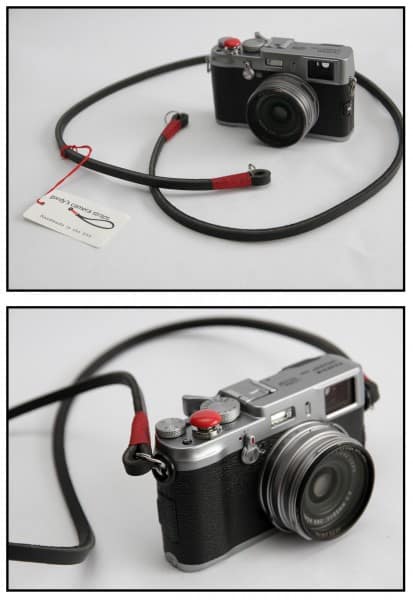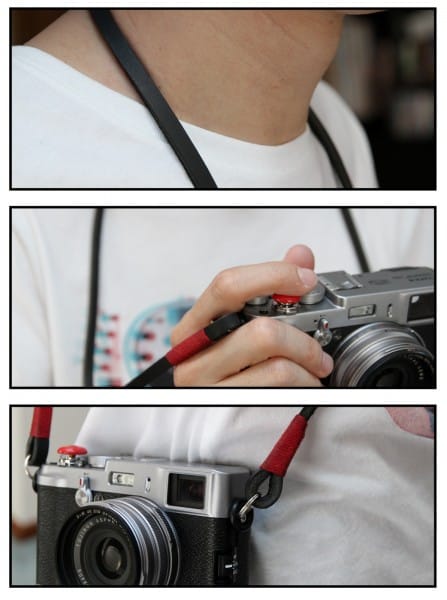 The versions we were supplied were the non-adjustable variety and were 45 inches long – but you can actually specify your desired length when ordering. This is a nice touch but obviously you are limited if you decide to use a different lens configuration or body, or perhaps loan the camera to a taller friend.
One might have reservations with regards to durability especially when carrying heavier gear, but on Gordy's site he actually does some amusing tests such as suspending an old 25 pound CRT computer monitor without any problems.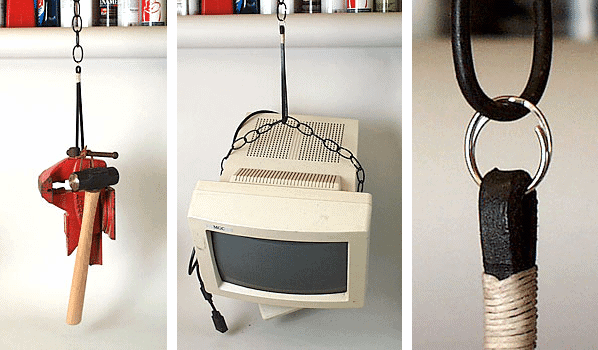 The model with the neck pad uses the same 1 inch wide strip for padding behind your neck and it actually works very well. Once again, the weight is more widely distributed, leading to less stress on your neck. I tried both pad and padless versions with my Canon 7D DSLR and I must say that the padless version cuts into your neck and gets very uncomfortable very quickly, especially if you're used to wide padded straps.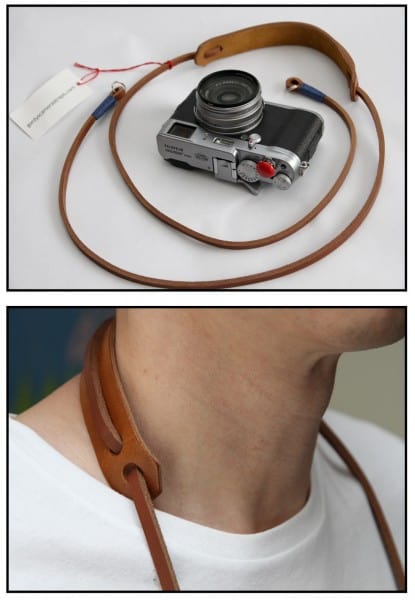 Conclusion
Gordy's Camera Straps are certainly a very stylish way to carry your equipment. Their handmade, natural look adds character to your camera, especially if you have a vintage or retro styled body. The straps themselves are very well made, durable, and comfortable as well.
Personally, the hand strap without the wrist pad is a clear winner for me in terms of quality and value. With regards to the neck straps, I would definitely opt for the strap with the neck pad if you have a heavier DSLR camera, but if you have a lighter camera like a compact or Micro Four Thirds camera, then you could probably get away without a neck pad.
The lug-mount wrist straps are priced at $18 USD, with an extra $13 USD for the wrist pad.
The lug-mount horizonal neck straps are priced at $27 USD, with an extra $13 USD for the neck pad.
Note that international shipping is included in the price, which makes it very cost effective especially for those living on other continents like us.
Find out more about the full range of Gordy's Camera straps on their website.