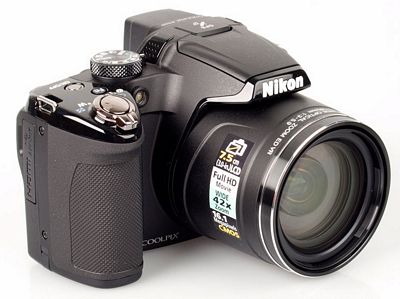 Nikon's Coolpix P510 follows up on the success of its 36x P500 camera. With a whopping 42x optical zoom the Coolpix P150 is a small camera with a big range. The Coolpix P150 is in the "superzoom" category of point and shoot/compact cameras. While the camera looks like a small version of a DSLR its lens is neither removable nor interchangeable. The Coolpix P510 is marketed to people who want higher quality pictures without the learning curve of a full DSLR set-up. At a price of $429 it sits alongside other cameras like the Nikon One, Canon Sureshots and the Sony Alpha.
The Coolpix P150 is equipped with the following:
42X zoom (24-1000mm)
16.1 megapixel sensor
3-inch tilt able 921k-dot LCD
PASM shooting modes
1920 x 1280 video mode (high definition)
GPS geotagging
The full kit (in the box) comes with a lithium-ion rechargeable battery, charger, user manual, CDs with software and a strap.
Weight and Dimensions
One of the selling points for cameras in this class is size. A superzoom camera is made to be lighter than DSLR and to be much smaller. The Coolpix P150 weighs 19.6 ounces with the battery and SD card (not included) into the camera. At 4.7″ x 3.3″ x 4″ the camera isn't going to be a pocket-carried device but it is going to be much easier to tote around than a full DSLR rig.
Battery
The enclosed lithium-ion battery is tested to deliver up to 250 pictures per full charge. Nikon says that the battery can accept up to several thousand charging-cycles until a decrease in power is noticed. Anyone doing extended outdoor photography away from a power source will want to purchase at least one extra battery pack to ensure adequate power for the shoot session.
Panasonic DMC-LZ20 vs Nikon Coolpix P510 vs Fujifilm SL300
| | Panasonic DMC-LZ20 | Nikon Coolpix P510 | Fujifilm SL300 |
| --- | --- | --- | --- |
| Max Resolution | 4608 x 3456 | 4608 x 3456 | 4288 x 3216 |
| Image Ratio | 1:1, 4:3, 3:2, 16:9 | 1:1, 4:3, 3:2, 16:9 | 4:3, 3:2, 16:9 |
| Effective Pixels | 16.1 | 16.0 | 14.0 |
| Sensor Type | CCD | BSI-CMOS | CCD |
| Sensor Size | 1/2.33" (6.08 x 4.56 mm) | 1/2.3" (6.17 x 4.55 mm) | 1/2.3" (6.17 x 4.55 mm) |
| LCD Size | 3 | 3 | 3 |
| LCD Dots | 460,000 | 921,000 | 460,000 |
| Touch Screen | No | No | No |
| Live View | Yes | Yes | Yes |
| Viewfinder | None | Electronic | Electronic |
| Storage | SD/SDHC/SDXC, Internal | SD/SDHC/SDXC | SD/SDHC/SDXC |
42x Zoom
The obvious selling point of the Coolpix P510 is the 42x optical zoom. Compare this to others in this category like the Nikon One or the Canon Sureshots and the Coolpix P510 is the stand out. When using the full 42x zoom it is imperative that a balancing tripod or tool be used. The further out the zoom is used, the more susceptible to shakes and vibrations, thus making photos blurry. Photos taken at full zoom sometimes suffer from "haze". This is especially true for outdoor shooting in high heat.
The P150 has a default setting of 24mm (wide angle) focal setting length. The focal length goes all the way up to 1000mm, the longest and best for this category. This alone makes the P150 stand out in the saturated camera superzoom market.
Nikon Coolpix P510 vs Sony DSC HX200V
| | Nikon Coolpix P510 | Sony DSC HX200V |
| --- | --- | --- |
| Max Resolution | 4608 x 3456 | 4896 x 3672 |
| Image Ratio | 1:1, 4:3, 3:2, 16:9 | 4:3, 16:9 |
| Effective Pixels | 16.0 | 18.2 |
| Sensor Type | BSI-CMOS | BSI-CMOS |
| Sensor Size | 1/2.3" (6.17 x 4.55 mm) | 1/2.3" (6.17 x 4.55 mm) |
| Optical Zoom | 41.7 | 30 |
| LCD Size | 3 | 3 |
| LCD Dots | 921,000 | 921,600 |
| Touch Screen | No | No |
| Live View | Yes | Yes |
| Viewfinder | Electronic | Electronic |
| Max Aperture | F3.0 – F5.9 | F2.8 – F5.6 |
| Storage | SD/SDHC/SDXC | SD/SDHC/SDXC, Memory Stick Duo/Pro Duo/Pro-HG Duo |
Manual and Auto
Any shooter who wants control over the P150 has the opportunity to switch the camera over to the full manual setting. This then allows the user to focus off the lens or through the control panel on the back of the camera. Aperture and focal settings allow for customized sessions and photocompositions much like a full DSLR.
When quick shots are necessary flip the switch back to the auto setting and the P150 takes over. Press the shutter button halfway to focus and then down all the way to get the shot. If burst shots are required the P150 handles 4.3 fps when set to burst.
Ergonomics and Design
The P150 has a large palm rest that is reinforced with slip-proof rubber. With the palm rest and the button positions the camera is easily mastered with one hand. There is a 3-inch LCD screen on the back that can be used as the viewfinder, or, when more detailed composition is required can be turned off so the eye-viewfinder is the main focus and composition area.
A set of buttons and dials control photo display, auto settings (nighttime, face, macro, infinity and several others), editing, trash and replay viewing. The SD card slot is next to the battery compartment and is hinged with a smooth holder that slides easily to access the slots. Fashionistas have the option of red or black camera bodies. Anyone who is familiar with Nikon's menu hierarchy will find the P150 easy to use right out of the box. Newcomers to the Nikon set-up will be delighted over the fact it is near instantly intuitive in the controls and dials.
Memory
The Coolpix P150 accepts SD, SDHC, SDXC memory cards up to 64GB. There is a slight lag between shooting and recording on the memory card. A cable to connect the camera to a computer or HDTV is included.
Photo and Video
As mentioned earlier, when the P150 is set to high optical zooms it is important to use a stabilizer. At the maximum setting the edges of photos show a little noise and blur, common for such cameras. This can be edited in the camera using the basic software or by using an aftermarket computer application for sophisticated photo manipulation. Colors are highly accurate and easily calibrated internally or with post-shooting software. There is a tripod adaptor on the base of the camera so it is ready right out of the box to be set-up for stability. A series of pre-set commands allow the camera to quickly go from portrait to landscape settings without going through manual override. There is even a setting for snow/surf and fireworks.
The video abilities of the P150 are suitable for a camera of this level. It is great for family functions or amateur clips but is not on the level of a prosumer or full-on DSLR camera equipped with video abilities. It is more than capable for capturing clips of pets, kids or vacation footage.
LCD
The back LCD screen pops out to an angle of 180-degrees that allows for difficult angles and photos. The screen has glare-guard so it can be used in bright sun and outdoors. Like all cameras in this class, when the screen is open and out the camera is vulnerable to damage. Hold it tight when open, as it becomes the structural weak-point on the set-up.
Bottom Line and Final Verdict
The Coolpix P150 is a definite jump up from point and shoots. The full range of video and stills allows families to use the P150 for everything from vacations to parties. The camera is priced right for the amount of power and punch it carries.