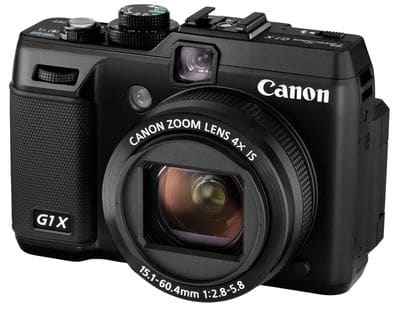 The power of a DSLR in the body of a point and shoot is the notion behind the Canon PowerShot G1 X. This little 14.1 megapixel powerhouse has a lot of punch behind its sensible facade. The Canon PowerShot G1 X has a price tag of a DSLR, making it an odd camera in a saturated market. Its competitor, the Nikon One, is priced at about $200 lower than the Canon. The question to ask is if the Canon PowerShot G1 X and all its features worth the price.
Canon outfits the PowerShot G1 X with the following features "out of the box":
14MP 1.5″ CMOS sensor (18.7 x 14mm)
28-112mm F2.8-5.8 lens
Full optical viewfinder
ISO speeds between 100 to 12,800
3.0″, 920,000 dot swiveling LCD
Manual Override Controls
RAW shooting to 14-bits
4.5 frames per second shooting (fps)
6.8Wh NB-10L battery with up to 250 shots per cycle
Out of the Box Function
When Canon decided to produce its own mirrorless sensor camera, it had the option to use interchangeable lenses like the Nikon One. Canon recognized that most people who buy "prosumer" level DSLR cameras never take the stock lens off, let alone use it to switch to a different lens. It is because of this that the PowerShot G1 X does not allow for swapping out lenses. Canon instead outfits the G1 X with an optical zoom and a 4x zoom lens. To accommodate those who want to shoot with the benefits of multiple lenses, Canon has a dazzling array of manual override dials and buttons for full manual shot composition ability. This is unheard of in a point and shoot camera and is a plus for any shooter who wants full function in a small package.
On the back of the G1 X is a pop-out screen that moves to the right. This works with the eye housing so shooters can go with either the LCD 3-inch screen or the eye-view finder to focus and compose shots. Structurally, when the pop-out LCD screen is open, the camera seems vulnerable to jolts or drops. This makes the G1 X a little dicey in field conditions.
Sensitivity and Photo Quality
Photographers that like to shoot in low light, or are in routine situations of low light, will be a little disappointed with the G1 X's F2.8-5.8 focal lengths. However, this does give a full range of settings equal to DSLR cameras. If low light is a concern, the Canon PowerShot G1 X has editing software to do quick edits and fixes off the camera. It is also possible to do light corrections in the studio during the post sessions.
In comparison to the Nikon One, the PowerShot G1 X's sensor is 2x the size giving it a definite edge over the competing camera. The actual size of the G1 X sensor is 18.7 x 14mm, large for this category of camera, but still small when compared to full size DSLR offerings.
The built-in flash tends to wash out most indoor shots. It is recommended that any shooter needing more precise lighting use the manual override and light sensor to alter the auto washouts from the G1 X. Additionally, the LCD screen/viewfinder is not as clear or accurate as more sophisticated DSLR displays. For complicated shots and compositions use the eye-viewfinder to manually compose and set up photo shots.
Leica X2 vs Canon PowerShot G1 X vs Fujifilm FinePix X100
| | Leica X2 | Canon PowerShot G1 X | Fujifilm FinePix X100 |
| --- | --- | --- | --- |
| Max Resolution | 4928 x 3264 | 4352 x 3264 | 4288 x 2848 |
| Image Ratio | 3:2, 16:9 | 1:1, 5:4, 4:3, 3:2, 16:9 | 3:2, 16:9 |
| Effective Pixels | 16.2 | 14.3 | 12.3 |
| Sensor Type | CMOS | CMOS | CMOS |
| Sensor Size | APS-C (23.6 x 15.8 mm) | 1.5" (18.7 x 14 mm) | APS-C (23.6 x 15.8 mm) |
| LCD Size | 2.7 | 3 | 2.8 |
| LCD Dots | 230,000 | 920,000 | 460,000 |
| Touch Screen | No | No | No |
| Live View | No | Yes | Yes |
| Viewfinder | Electronic (optional) | Optical (tunnel) | Electronic and Optical (tunnel) |
| Max Shutter Speed | 1/2000 | 1/4000 | 1/4000 |
| Min Shutter Speed | 30 | 60 | 30 |
| Storage | SD/SDHC card | SD/SDHC/SDXC | SD/SDHC/SDXC |
Size and Weight
The Canon PowerShot G1 X is placed in the point and shoot/compact category. That is a bit of a misnomer though, as it is bigger than traditional point and shoots and feels heavier. The G1 X's weight with the battery pack inserted comes in at 19 ounces, not exactly a lightweight but not a heavy weight either. This is not a camera that casually gets stuffed into pockets or side compartments on backpacks but it also does not require a full hard case or bag like most DSLR cameras do. The G1 X is three-inches at its widest (from the end of the lens to the back of the pop-out screen) and has a 1.9-inch taper at the top and bottom. The dial and button placement is near perfect for most hand sizes and is incredibly intuitive to learn. The ergonomics of the G1 X makes it handy to carry and easy to use with one or both hands.
Memory, Battery and Storage
The Canon PowerShot G1 X accepts SD cards up to 64GB. The memory speed allows for near instant data transfer even when shooting at the burst speeds of 4.3 fps. The G1 X's 6.8Wh NB-10L battery gets up to 250 shots per charge cycle. This is not a great battery life, especially when shooting outside or when away from a power source. Extra battery packs are recommended for extended shooting in the field or away from power. Canon claims the 6.8Wh NB-10L battery will go through several thousand charging cycles with no degradation.
In the Box
The Canon PowerShot G1 X comes with the battery pack, charger, USB to camera data transfer cord, strap, camera and a set of software applications on CD. The retracting lens uses a sliding and contained lens cap versus an old style removable cap. This is either a great function or a real pain, depending on your shooting needs. For casual use and simple point and shoot uses this is no problem. If you take the G1 X into the field it can prove to be slow, awkward and ill placed.
Price and Value – The Final Verdict
At a recommended price of $800, the Canon PowerShot G1 X is more expensive than DSLR cameras like the Nikon D3100 or D5100 and the Canon Rebel series. The G1 X is a fantastic camera for amateur point-and-shooters who want to take their photos to the next level without having to go through the learning curve of a full body DSLR. However, the G1 X is limited and at this price point it should be a shade more functional.