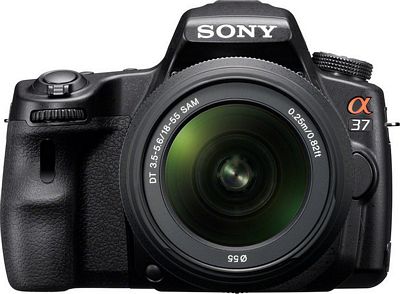 Sony introduced the SLT-A37 in June 2012 as a part of the Single-Lens Translucent series. The Translucent Mirror Technology makes it different from the bulkier DSLR because it uses a fixed semi-translucent mirror as compared to a moving non-translucent one. Since sufficient light reaches the sensor through the mirror, the lens does not need to move. Some light is even reflected onto an auto-focus array for constant phase-detection, thereby allowing DSLR-like high-speed focusing and shooting, even with video.
Sony SLT-A37 can take pictures with a resolution of 16.1 megapixels using a 7 fps shooting rate in burst mode. The 18 to 55 mm interchangeable lenses give an aperture range of f/3.5 to 5.6. Light sensitivity ISO levels range from 100 to 16000, giving 15 focus points. Even higher speed of 25600 is possible; this quasi-speed is obtained when 6 JPEG frames are combined. Sensor-shift image stabilization is built into this camera as with other Sony models, setting it apart from Nikon and Canon models. This takes care of minor shaking of the camera while shooting and minimizes image blur.
Sony SLT-A37 vs Nikon D3200 vs Pentax K-r
| | Sony SLT-A37 | Nikon D3200 | Pentax K-r |
| --- | --- | --- | --- |
| Max Resolution | 4912 x 3264 | 6016 x 4000 | 4288 x 2848 |
| Image Ratio | 3:2, 16:9 | 3:2 | 3:2 |
| Effective Pixels | 16.1 | 24.2 | 12.4 |
| Sensor Type | CMOS | CMOS | CMOS |
| Sensor Size | APS-C (23.5 x 15.6 mm) | APS-C (23.2 x 15.4 mm) | APS-C (23.6 x 15.8 mm) |
| LCD Size | 2.6 | 3 | 3 |
| LCD Dots | 230,400 | 921,000 | 921,000 |
| Touch Screen | No | No | No |
| Live View | Yes | Yes | Yes |
| Viewfinder | Electronic | Optical (pentamirror) | Optical (pentamirror) |
| Max Shutter Speed | 1/4000 | 1/4000 | 1/6000 |
| Min Shutter Speed | 30 | 30 | 30 |
| Storage | SD/SDHC/SDXC/Memory Stick Pro Duo/ Pro-HG Duo | SD/SDHC/SDXC UHS-I compliant | SD/SDHC |
Manual and Auto Focus
The Focus Magnifier zoom levels of the manual focus are 5.9x and 11.7x; these help to identify the exact point of focus in the frame. Focus Peaking levels of low, medium or high get the focus on high-contrast areas. This in combination with the Focus Magnifier allows any part of the subject to be put into distinct focus. All this is possible with video as well, offering photographers so many possibilities to showcase their creative and innovative ideas.
There is an Auto+ mode similar to the Sony Cyber-shot series; this detects the best scene mode (twilight, sports, macro etc.) for a frame, gives Shooting Tips display and enables high speeds with lower image noise. When the shutter is pressed half-way down, focus and exposure settings are automatically adjusted and the focus points are highlighted in green on the screen. The unique Auto Portrait Framing mode has face detection which crops the rest of the image. Sony's Pixel Super Resolution Technology ensures that the image still has the 16.1 megapixel resolution. The original image is also stored for comparison.
Display Options
An adjustable LCD screen measuring 2.6 inches is placed at the rear of the camera body. It has a 230400 pixel resolution and a 4:3 wide-angle image ratio. The brightness level of the screen can be controlled. A very useful feature is that the LCD can be tilted to a great extent because it is bracketed at the bottom; a full 180° tilt is possible with 135° upwards and another 55° downwards. This is a big improvement over the A35 model since it makes it easy to take weird-angled shots while viewing the LCD display. However, the screen cannot be turned sideways or inward / outward.
The SLT-A37 has a small Electronic Viewfinder (EVF) rather than the bulky optical viewfinder used in DSLRs. Sony's Tru-finder EVF gives a live view with 100% field coverage and 1.09x viewfinder magnification. This comes with a high-resolution 19 mm eye-point having 1440 kilopixel resolution for a better display; the 5 display modes of the LCD are also possible here. The Sony SLT-A37 works well in indoor low light conditions, without the grainy image found in other cameras having EVF. With the help of a smart sensor, the rear screen display is stopped when eye is brought close to viewfinder and vice-versa. If the camera is turned for a portrait shot, the display automatically moves 90°.
Advanced Video Features
Video shooting can achieve a resolution of 1080p at a high-speed shooting of 24 frames per second. Continuous phase-detection auto-focus and exposure control are possible in video, which is a plus point over DSLRs and other compact cameras like Panasonic Lumix GH. Moreover, one can change the auto-focus area within a frame; shifting between the background and the foreground gives the advanced Rack Focus effect. The noise which focusing adds to the audio output can be minimized by using an external stereo microphone, which is optionally available. Video Formats available are AVCHD and MPEG-4, limited by 29 minutes and 2GB respectively. There is an optional HDMI mini-cable that connects into the HDMI port to play the video from the camera on HD TV.
Physical Body Layout
The SLT-A37 has a plastic outer body with rubber flaps over all ports. A handgrip is provided in the front of the camera for steady shooting, especially with video. It also comes with a strap that attaches to metal eyelets on both sides of the body. There is a socket for attaching a tripod at the bottom. A single control dial is provided above the handgrip bar, for adjusting various settings, options and modes. This is in addition to the 4 control buttons in the rear that need to be tabbed through; the control dial gives faster access. A slider is provided to change between auto and manual focus. The battery and memory card slots are placed under the same flap at the bottom of the camera.
Technical Specifications
Choice of two Image Ratios, between 3:2 and 16:9
Exmore APS CMOS Sensor -C of size 23.5 mm by 15.6 mm
ISO range of 100 to 25600 with 15 focus points
2.6 inch LCD screen of 230400 pixels and 4:3 aspect ratio; can tilt 180°
3D Sweep Panoramas
Electronic Viewfinder of 1440,000 pixels, with 100% field coverage and 1.09x viewfinder magnification.
Support for RAW uncompressed format, normal and fine levels for JPEG images as well as RAW+JPEG
2x clear image digital zoom
D-Range Optimizer to handle difficult exposure situations such as unbalanced foreground and background lighting conditions
Sensor-shift image stabilization
6 presets for white balance
Multi-frame noise reduction
Pop-up flash up to 12 meters. External hot-shoe or wireless flash can be connected for improved visibility in the dark.
Self-timer settings of 2 or 10 seconds
NP-FW50 rechargeable battery of lithium-ion. Lasts for 500 CIPA in Live View or 450 CIPA in EVF display
Total body weight just over 0.5 kilograms / 1.12 pounds
USB connector and optional remote control