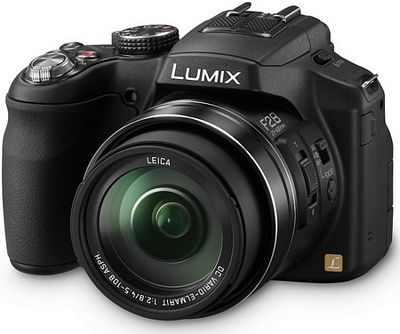 On July 18 Panasonic introduced three new cameras, the DMC- LX7, DMC-G5, and the DMC-Z200. The FZ200 is a versatile, powerful camera that will come on the market in September, 2012 and is an upgrade to the Lumix FZ- series that was introduced back in mid 2004 with the FZ3, FZ15, and FZ20 boasting at the time the less powerful 12x zoom. Panasonic has found just the right balance between size and lens optics with the new Lumix Z200. This versatile compact camera has a maximum F2.8 constant aperture Leica Dc Vario- Elmarit lens that remains constant throughout its zoom range of 25mm wide angle to its 600mm-equivalent telephoto. It makes it possible to capture moving objects with clarity even at a distance with its 24x zoom. The newly developed 12.1 megapixel High Sensitivity MOS sensor and high performance image processing LSI Venus Engine provides the Z200 with a high speed response, high sensitivity recording, and great image quality even in low light. These features make this DSLR appealing for those looking for just the right travel zoom or for the sports enthusiast.
Main Technical Specifications
The body types is SLR-like (bridge)
The maximum resolution is 4000 X 3000
12.1 megapixels
Sensor type is CMOS and sensor size is 1/ 2.33 inches
ISO settings from auto, 100 to 6400 with boost
5 white balance presets
File formats JPEG, RAW and MPO
Autofocus 7 settings with an autofocus assist lamp
4x digital focus and manual focus
23 focus points
3 inch LCD screen
60 second minimum shutter speed with a 1/4000 second maximum shutter speed
9 exposure modes
17 scene modes
2 full HD video modes MPEG-4 and AVCHD
Built- in pop up flash with 5 modes
Both internal storage and SD/SDHC/SDXC
Lithium-Ion rechargeable battery and charger
Battery Life 540 pictures per charge
Weight is 1.30 lbs. including batteries
Dimensions 4.9 x 3.4 x 4.3 inches
The Body
The Panasonic Lumix FZ200 is a bit smaller than the usual entry-level dSLR and feels unexpectedly light. It has a textured skin and large handgrip that makes it easy to grip with one hand. It has a 3-inch LCD video screen with a free angle 460,000 dot Intelligent screen with AR Coating wide viewing angle to ensure comfortable monitoring in all shooting positions. The newly developed .2 EVF (Electronic View Finder) features a 1,312,000 dot high resolution with a 100% field of view and minimum screen freeze. The focus is easily changed with the side lever so that users can now concentrate of the shutter operation and that perfect photograph. There is an easy to use tripod mount, USB port, a composite standard-def output, and a Mini HDMI output as connectivity options.
The Zoom lens is a powerful 24x optical zoom that can be increased to 48x with the Intelligent Zoom function that takes advantage of the Intelligent Resolution technology to preserve the picture quality. The Optical Image Stabilizer provides correction accuracy to minimize blur while the Active Mode suppresses handshake movement in both the still and video modes. The Panasonic's Nano Surface Coating technology minimizes the light reflection for the total zoom range. The battery is in a battery pack with a Lithium-Ion rechargeable battery that will hold 540 pictures per charge.
The Modes
There are nine different exposure modes ranging from manual to Intelligent Auto. You can shoot in Program, Aperture Priority, Shutter Priority, Custom, Creative Video, Creative Control or Scene mode. The Creative Control mode features 14 filter options. Newly added are the Soft Focus, Dynamic Monochrome, Impressive Art, One Point Color, Low Key, Cross Process, Toy Effect and Star Filter. The effects that are still present from previous models are the conventional Expressive, Retro, High Key, Miniature Effect, Sepia, and High Dynamic. Also, there is Photo Style for users to create more artistic photographs using Standard, Vivid, Natural, Monochrome, Portrait, Scenery and Custom options.
The seventeen scene modes cover just about anything you could want. There are three portrait modes: Portrait, Soft Skin, and Night Portrait. Also there are Scenery, Panorama, Sports, Panning, Night Scenery, HDR, Food, two Baby modes, Pet, Sunset, High Sensitivity, Glass Through, and 3D modes.
The five flash modes are Auto, On, Off, Red-ye, and slow Sync. The built in pop-up flash range is 13.5 meters but with the Hot-shoe allows for more choices with the external flash (DMW-FL220/ FL360/FL500)
There are three drive modes with the common Single drive mode and there is a Self-timer mode that is set at two or ten seconds. The Continuous drive mode ranges from 12, 5.5,and 2 fps.
The metering modes are Multi, Center-weighted or Spot with a +-3 EV at 1/3 EV steps. There are nine white balance modes: Auto, Daylight, Cloudy, Shady, Flash, Incandescent, two Manual modes and a direct color temperature setting.
Pentax X-5 vs Panasonic DMC-FZ200 vs DSC-HX200V
| | Pentax X-5 | Panasonic DMC-FZ200 | Sony DSC-HX200V |
| --- | --- | --- | --- |
| Max Resolution | 4608 x 3456 | 4000 x 3000 | 4896 x 3672 |
| Image Ratio | 1:1, 4:3, 3:2, 16:9 | 1:1, 4:3, 3:2, 16:9 | 4:3, 16:9 |
| Effective Pixels | 16.0 | 12.1 | 18.2 |
| Sensor Type | BSI-CMOS | CMOS | BSI-CMOS |
| Sensor Size | 1/2.33" (6.08 x 4.56 mm) | 1/2.33" (6.08 x 4.56 mm) | 1/2.3" (6.17 x 4.55 mm) |
| LCD Size | 3 | 3 | 3 |
| LCD Dots | 460,000 | 460,000 | 921,600 |
| Touch Screen | No | No | No |
| Live View | Yes | Yes | Yes |
| Viewfinder | Electronic | Electronic | Electronic |
| Max Shutter Speed | 1/1500 | 1/4000 | 1/4000 |
| Min Shutter Speed | 4 | 60 | 30 |
| Storage | SD/SDHC/SDXC | SD/SDHC/SDXC, Internal | SD/SDHC/SDXC, Memory Stick Duo/Pro Duo/Pro-HG Duo |
The Video
The video format records at 30p (NTSC) and 25p (PAL) in MP1 recording. The sound will only be recorded with a miniature effect for 1/10 of the time period. If taping for ten minutes, the resulting motion picture recording will be approximately one minute long. You can record for up to 30 minutes and MP4 can be recorded for up to 4 GB. The speaker records in mono while the microphone records in stereo. The resolutions for recording are 1920 x 1080 pixels and 1280 x 720. There is 70 MB of internal storage.
The Options
There is a telephoto conversion lens (DMW-LT55) that will add 1.7x magnification to the camera's optics, boosting the capabilities to a 1020mm zoom range. There is an external flash unit as mentioned above, a stereo microphone (DMW-MS1), a corded shutter release, as well as special effects filters.
The Conclusion
While the reviews are just starting to come in, it seems remarkable that so many features and modes can be found in a camera priced in the $600 dollar range. With the 2.8 full range aperture at 600mm and the 24 optical zoom and ability to shoot 12 frames per second, and 12.1-megapixel-image sensor, this Lumix DMC FZ200 compares with cameras worth thousands of dollars more. It is the right balance between camera size and lens optics.