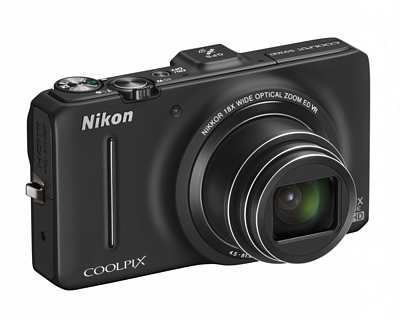 If power, function and a little bit of fashion is what you require out of your digital camera then the very fashionable and functional Nikon Coolpix S9300 is the ticket. Sitting securely among the elite in the point and shoot camera category, the Coolpix S9300 builds on the success Nikon has found with the entire Coolpix line. Nikon goes the distance with the S9300, giving it near every modern function that could be found on a digital camera.
For the fashion conscious, the Coolpix S9300 is available in a sharp metallic red, gunmetal grey or a matte-black. Every color choice comes with the same features, a highlight of which is the huge 16-megapixel mirrorless sensor. To get the camera to excel at long-distance and telephoto shots, Nikon equips the S9300 with an 18x digital/optical zoom.
Samsung NX210 vs Nikon Coolpix S9300 vs Sony DSC-RX100
| | Samsung NX210 | Nikon Coolpix S9300 | Sony DSC-RX100 |
| --- | --- | --- | --- |
| Max Resolution | 5472 x 3648 | 4608 x 3456 | 5472 x 3648 |
| Image Ratio | 1:1, 3:2, 16:9 | 4:3, 16:9 | 1:1, 4:3, 3:2, 16:9 |
| Effective Pixels | 20.3 | 16.0 | 20.2 |
| Sensor Type | CMOS | BSI-CMOS | CMOS |
| Sensor Size | APS-C (23.5 x 15.7 mm) | 1/2.3" (6.17 x 4.55 mm) | 1" (13.2 x 8.8 mm) |
| LCD Size | 3 | 3 | 3 |
| LCD Dots | 614,000 | 921,000 | 1,228,800 |
| Touch Screen | No | No | No |
| Live View | Yes | Yes | Yes |
| Viewfinder | None | None | None |
| Storage | SD/SDHC/SDXC | SD/SDHC/SDXC | SD/SDHC/SDXC, Memory Stick Duo/Pro Duo/Pro-HG Duo |
Two slider buttons allow the telephoto/optical zoom to zoom in and out. Users need to use a bipod or tripod for extreme long distance use (when the optical zoom is extended the whole way), as it becomes vibration sensitive, even with the built in Vibration-Reduction Lens Shift. Nikon also gives the S9300 a 25-mm wide-angle view for great panoramic and landscape photos.
A built-in flash provides adequate lighting for indoor or assisted outdoor photo work. The downside is that the built-in flash tends to wash out subjects during outdoor use and gives red-eye to subjects during inside shooting, though a built-in photo editor allows for post-shooting red-eye removal.
The S9300 accepts SD memory cards up to 64GB. The SD card slot is housed next to the lithium-ion battery slot under the camera. SD cards up to 64GB are accepted by the camera's processor.
Video of 1080p and still photos are possible with the S9300. When shooting the video expect to get approximately 45 minutes of battery life off a fully charged cycle. Nikon says the camera and battery provides up to 300 still photos off a full charge on the battery. Battery life will begin to erode after two to three thousand charging-cycles.
Photo quality is on par for the point and shoot category. Expect fantastic mid-range photos in regards to color accuracy, crispness and accurate exposure. Any miss-shots can be edited in the internal software or via computer editing software. There is noticeable noise to the edges of the photos when the zoom is at its full extension. Distinct photo settings include fireworks, surf/sand, portrait, macro, landscape, pets, sports/action, food and flower. Use these to get better pictures when shooting such subjects.
When compared to competing cameras such as the SureShot like or the WPO line, the Coolpix more than holds its own. The fast shutter speed of 4fps (frames per second) allows fun and clear burst shooting, a handy thing when trying to capture fast pets or sporting events.
With three-color choices the Coolpix S9300 is an attractive fashion and function camera in the point and shoot category. The suggested retail price of $299 to $349 keeps it well within reach of most budgets and gives some flexibility for the aesthetically minded photographer.