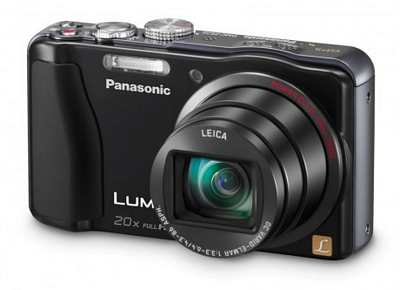 Photographers that travel frequently and want a powerful camera with advanced GPS geo-tagging abilities are well served to check out the Panasonic Lumix DMC-ZS30. The Lumix DMC-ZS30 is a smallish travel camera that takes over where the Panasonic Lumix DMC-TZ20 left off. The ZS-30 is equipped with a whopping 20x zoom lens that gives field of views that almost rival full size DSLR cameras. With a suggested retail price of $279, the Lumix ZS-30 gives a high-priced performance on a strict budget.
Panasonic Lumix DMC-ZS20 vs Nikon P7700 vs Canon SX160IS
| | Panasonic Lumix DMC-ZS20 | Nikon P7700 | Canon SX160 IS |
| --- | --- | --- | --- |
| Max Resolution | 4320 x 3240 | 4000 x 3000 | 4608 x 3456 |
| Effective Pixels | 14.1 | 12.2 | 16.0 |
| Sensor Type | CMOS | CMOS | CCD |
| Sensor Size | 1/2.33" (6.08 x 4.56 mm) | 1/1.7" (7.44 x 5.58 mm) | 1/2.3" (6.17 x 4.55 mm) |
| LCD Size | 3 | 3 | 3 |
| LCD Dots | 460,000 | 921,000 | 230,000 |
| Live View | Yes | Yes | Yes |
| Viewfinder | None | None | None |
| Max Shutter Speed | 1/1200 | 1/4000 | 1/3200 |
| Min Shutter Speed | 15 | 60 | 15 |
| Storage | SD/SDHC/SDXC, Internal | SD/SDHC/SDXC | SD/SDHC/SDXC |
Photo Quality and Performance
As a travel point and shoot style camera, the Lumix DMC-ZS30 provides seamless use out of the box. A set of very easy to use menu buttons allows intuitive scrolling through the many automatic options (nighttime, surf/sand, portrait, pets, fireworks, macro, panoramic, self-portrait) as well as a partial manual override that allows ISO and aperture precision. Holding the camera feels natural and the placement of the 3-inch LED screen lets users shoot from the hip or via the eye-viewfinder.
Photo quality is what would be expected from a point and shoot style camera. Panoramic and scenery photos have tight and precise colors with just a little noise to the outer edges when the optical zoom is maxed out. If using the 20x optical zoom all the way it pays to use a bi- or tripod to stabilize the camera as it becomes very sensitive to movement.
Memory and Battery
The Lumix DMC-ZS30 comes with a small lithium-ion battery and charger. The DMC-ZS30 gets approximately 250 shots per full charge or up to 70 minutes of standard 780p video. The 1080p video mode gets approximately 55 minutes off a full battery charge. Panasonic says the battery will go through up to two or three thousand charges before it begins to lose life and holding power.
The DMC-ZS30 accepts SD memory cards up to 64GB. Data transfer speeds are slightly sluggish but are fast enough to fire off several shots on the camera's 4fps and get them into the card before powering off the camera. The speeds do not match up to a DSLR or mini K-lens camera, but this is to be expected from a lightweight point and shoot set up.
Stacking Up Against Competitors
The Panasonic Lumix DMC-ZS30 goes up against the SureShot, PowerShot and WPiO cameras from Canon, Nikon and Pentax. The Lumix holds its own against them with minimal speed differences so small they barely register for the casual shooter. With the price point coming in below its competitors it gets an upper edge for those on limited budgets.
Verdict
When cost is a factor along with space and quality the Panasonic Lumix DMC-ZS30 is a stand out camera in this category. It has a natural feel to it that makes it easy to grip and use and has a very easy interface to keep any learning curve low. It produces high quality photos and does not require a lot of space, making it a great travel camera. Go for the DMC-ZS30 when the travel plans call for fantastic photos.