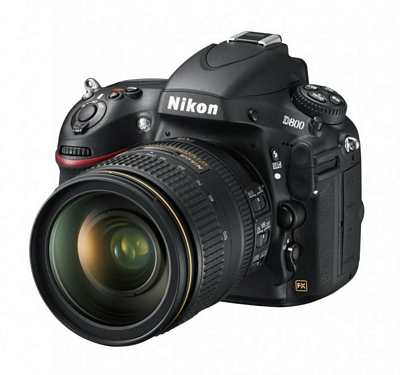 D800 uses numerous features from the D4 except, it is in a smaller body and at a more reasonable price. In addition, it has a densely populated sensor with 36.3MP. Other similar features to D4 include Multi-Cam 3500 FX Auto Focus system, EXPEED 3 processor that provides over 50 A/F points, and at a 91k pixel metering system. Many people like the D800 because it has the capability to focus right down to -2 EV and at the same time, it is able to shoot right up to ISO 25,600 with Hi2 setting. This type of capability is ideal for a low-light shoot, especially if the image noise is at a satisfactory level. Due to its effective pixel count, it is not a big surprise that it has a lower maximum continuous shooting rate compared to the D700. Nevertheless, the D800 is no slouch with its 4FPS at full resolution with a standard battery and 5FPS using a battery grip. With this camera in your hands, you can boost it even further by dropping the size of the image to capture DX format photos.
Nikon D800 vs Canon EOS 60Da vs Pentax K-30
| | Nikon D800 | Canon EOS 60Da | Pentax K-30 |
| --- | --- | --- | --- |
| Max Resolution | 7360 x 4912 | 5184 x 3456 | 4928 x 3264 |
| Image Ratio | 5:4, 3:2 | 1:1, 4:3, 3:2, 16:9 | 3:2 |
| Effective Pixels | 36.3 | 18.0 | 16.3 |
| Sensor Type | CMOS | CMOS | CMOS |
| Sensor Size | Full frame (35.9 x 24 mm) | APS-C (22.3 x 14.9 mm) | APS-C (23.7 x 15.7 mm) |
| LCD Size | 3.2 | 3 | 3 |
| LCD Dots | 921,000 | 1,040,000 | 921,000 |
| Touch Screen | No | No | No |
| Live View | Yes | Yes | Yes |
| Viewfinder | Optical (pentaprism) | Optical (pentaprism) | Optical (pentaprism) |
| Max Shutter Speed | 1/8000 | 1/8000 | 1/6000 |
| Min Shutter Speed | 30 | 30 | 30 |
| Storage | Compact Flash (Type I), SD/SDHC/SDXC UHS-I compliant | SD/SDHC/SDXC | SD/SDHC/SDXC |
Compared to the D4 camera, D800's central 11 Auto Focus is able to function at f/8, which means the A/F system will still work when the tele-converters are used to expand the reach of telephoto lenses. This feature suits wildlife photographers who want to avoid the burden and the expenditure of dragging their selection of heavy and long optics. For example, a 200-400mm f/4 fitted tele-converter is able to become a 400-800mm f/8 efficiently and yet, the D800 Auto Focus system is able to function excellently. With D700, you will not be able to switch to video mode, as it is unavailable, but with the Nikon D800, it has full high definition functionality. Additionally, it can record 1080p video at 24, 25, 30FPS frame rates, along with 50 and 60FPS rates at 720p for recording slow motion films. In D800 video mode, you will find both FX and DX crops; even though you will notice that, it lacks the useful 1920 x 1090-crop mode, which can be found in the D4.
Nikon D800 has dual memory card slots, which can be frustrating for professional photographers as they will have to carry two different cards at all times. D800 utilizes existing memory card formats such as, SD/SDHC/SDXC and Compact Flash. Its shutter has been tested for more than 200,000 cycles and the battery life is reduced to 850 shots at CIPA standard, which is in accordance to the new Japanese electronics law. Depending on the situation or shoot, the battery has the potential to last a lot longer. You should also know that the Nikon D800 has a built-in pop-up flash unit, which is truly practical for activating external lights wirelessly and to provide fill-in lights. In comparison to the Canon 5D Mark III, you will find that it does not have a built-in flash, which is one of the reasons why a large number of people prefer the D800 to the Canon DSLR.
Nikon introduced the D800 in two versions, which is the standard body and the special edition, aptly named D800E. The Nikon D800E comes with a modified filter over the sensor, which has no anti-aliasing values. Like any other special edition items, the price is a few hundred dollars more than the standard body. Without the anti-aliasing filter, it allows photographers to resolve many details, but you will come across moirÉ patterning or false color. This may result in post-capture processing, but keep in mind that with many photo editing software programs on the market; you are able to remove the interference without any difficulty. The Nikon Capture NX2 software is known to have some of the best features to remove or lessen the effect, which comes with the D800E.
The D800 possesses the ASRS (Advanced Scene Recognition System) with 91000 pixel RGB sensor with the capability to deliver unparalleled precision, face recognition, and auto white balance. The capabilities allow the DSLR camera to analyze and identify faces, track subjects, study highlights, and identify light source.
Therefore, with all the hype, was the D800 worth the wait by amateurs and professional photographers all over the world? On the whole, the Nikon D800 offers plenty of advanced features including dual memory cards, powerful video recording capability, new battery system, a 100% viewfinder, and so much more that can correspond with the existing standards. Due to many previous complaints, Nikon has listened to them and they have tripled the pixel count as well. The DLSR is highly recommended and it is certainly an exceptional upgrade.