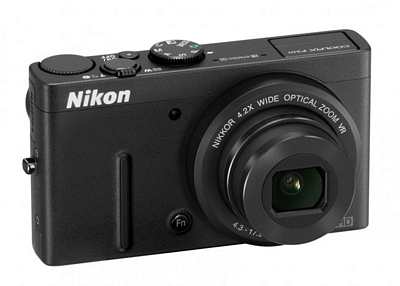 The Nikon Coolpix P310 is almost the same as its predecessor the P300 apart from the added and customisable function button which can be found at the front. Easily portable, without the bulk of a DSLR, and measuring only 103.0 x 58.3 x 32.0 mm with a weight of less than 200g, it is an ideal lightweight pocket compact camera perfectly suited to a keen amateur, and is available in both black and white with a solid feeling to its high quality construction. It compares well in size to the Olympus XZ-1 and the Panasonic Lumix LX5, being a good bit smaller than both of those models.
Image quality is fantastic for a camera of this size with a small 16MP CMOS sensor which also allows for HD videos at 1080p resolution, stereo sound and a movie-record button for ease of use. There is a NIKKOR 4. 2x optical zoom lens at the front with a good focal range of between 24 and 100 mm, making it wide enough for landscape photography but also suitable for portrait shots. One of the main features of the Nikon Coolpix P310 is its bright f/1.8 maximum aperture.
Nikon Coolpix P310 vs Canon SX160 IS vs Olympus VH-515
| | Nikon Coolpix P310 | Canon SX160 IS | Olympus VH-515 |
| --- | --- | --- | --- |
| Image Ratio | 1:1, 4:3, 3:2, 16:9 | 1:1, 4:3, 3:2, 16:9 | 4:3, 16:9 |
| Effective Pixels | 16.0 | 16.0 | 12.0 |
| Sensor Type | BSI-CMOS | CCD | BSI-CMOS |
| Sensor Size | 1/2.3" (6.17 x 4.55 mm) | 1/2.3" (6.17 x 4.55 mm) | 1/2.3" (6.17 x 4.55 mm) |
| LCD Size | 3 | 3 | 3 |
| LCD Dots | 921,000 | 230,000 | 460,000 |
| Touch Screen | No | No | Yes |
| Live View | Yes | Yes | Yes |
| Viewfinder | None | None | None |
| Storage | SD/SDHC/SDXC | SD/SDHC/SDXC | SD/SDHC/SDXC |
Nikon also have a vibration reduction system, a feature now commonly included in high-end compacts. This mechanism stabilizes images and safeguards against camera shake, helping the user to take sharper photos while utilizing slower shutter speeds than would normally be used. It is especially useful when holding the camera in poor lighting conditions. The VB system as it is known is beneficial to the sharpness of the images and often means the difference between shooting a good, sharp photo or totally missing an opportunity, and it doesn't affect the use of the camera in any noticeable way. Coolpix P310 also effectively treats noise, but only up to around ISO 400 where you will find some additional loss of color. Lack of detail, desaturation and increased noise affect the image quality, and will occur from ISO 400 and beyond.
If you plan to take photos at night, you are in luck, as the maximum shutter speed is 8 seconds. A large command dial on the top plate can be used to set the shutter speed, with dual controls for setting both the aperture and the shutter speed, an unusual feature on a compact. The top plate also features a mode dial, power switch, and a shutter release. Every camera setting is easily modified, giving the user the feeling of being in control. The macro performance is excellent, with focusing possible only 3cms away.
Using the continuous shooting mode Nikon quotes a speed of 6 frames every second, but in reality this is limited to 5 images at full resolution. A more realistic rate would be one frame per second, allowing up to 30 images. Disappointingly for some critics of advanced compacts, the RAW file format is not supported, despite being available with most of the main competitors to the P310.
The 3-inch LCD screen at the back of the camera has an impressive specification with a resolution of 921k-dots, and an anti-reflective coating which allows images to be captured even in tricky lighting conditions. It occasionally suffers from the tendency to underexpose and overexpose, and also has the odd problem with an unreliable white balance. However its credentials still put it firmly up beside some of the best compacts on the market.