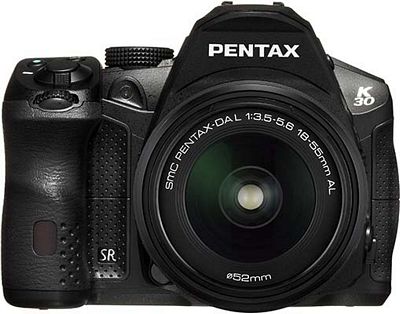 There is no denying that the Pentax K-30 has a variety of features that are similar to pricier DSLR cameras. The Digital SLR camera uses a glass pentaprism viewfinder and it can shoot photos up to six frames per second. In addition, the body is weather sealed. Photographers who prefer the visual finder to Live View should certainly consider the K-30 even though it does not provide a tilting rear LCD. As with last year's K-5, the K-30 is coalesced with solid design, great handling, and the aptitude to defy common camera-killers such as moisture and dust. Nevertheless, the Pentax K-30 does not cost more than $1,000, which makes it the first DLSR camera that is priced below the four-figure mark with weather-resistant capability.
The K-30 certainly has a lot to offer and it can rival any midrange cameras such as the Canon Rebel T3i and the Nikon D5100. Compared to the Pentax K-5, shooting with the K-30 is slightly uncomfortable due to its somewhat lighter and thinner body. While the camera has the same snap and feel of other Digital SLR cameras, it is fairly responsive despite the rubber seals around the buttons. The photos are not crisp enough even with the 18-135mm WR lens, which comes at an additional cost of $1,199. However, the colors are effervescent and the dynamic range is extensive. With low-light shooting, the photos come out rather well. The autofocus feature improved drastically with all K-series DSLR cameras. The new 11-point autofocus system enables it to lock onto stationary subjects even in extremely low light situations, which is akin to taking a portrait in a faintly lit setting.
Pentax K-30 vs Canon EOS 60Da vs Nikon D7000
| | Pentax K-30 | Canon EOS 60Da | Nikon D7000 |
| --- | --- | --- | --- |
| Max Resolution | 4928 x 3264 | 5184 x 3456 | 4928 x 3264 |
| Image Ratio | 3:2 | 1:1, 4:3, 3:2, 16:9 | 3:2 |
| Effective Pixels | 16.3 | 18.0 | 16.2 |
| Sensor Type | CMOS | CMOS | CMOS |
| Sensor Size | APS-C (23.7 x 15.7 mm) | APS-C (22.3 x 14.9 mm) | APS-C (23.6 x 15.7 mm) |
| LCD Size | 3 | 3 | 3 |
| LCD Dots | 921,000 | 1,040,000 | 921,000 |
| Touch Screen | No | No | No |
| Live View | Yes | Yes | Yes |
| Viewfinder | Optical (pentaprism) | Optical (pentaprism) | Optical (pentaprism) |
| Max Shutter Speed | 1/6000 | 1/8000 | 1/8000 |
| Min Shutter Speed | 30 | 30 | 30 |
| Storage | SD/SDHC/SDXC | SD/SDHC/SDXC | SD/SDHC/SDXC |
The Pentax K-30 comes with black, white, and blue variations. The camera stands at 3.8H x 5.1W x 2.8D and weighs 20.8oz without battery or removable memory. When the camera is loaded and ready to be used, it weighs in at 22.9oz, which is not bad at all. It is relatively smaller than the Canon EOS Rebel T3i, but it is heavier than the Rebel T3i. K-30 is heavier due to its viewfinder, which is a solid glass pentaprism. Most cameras in the same price range utilize a pentamirror finder, which saves on cost for the manufacturers and it saves on weight as well. As with a pentamirror finder, it uses a number of mirrors to transmit light to the photographer's eye that impersonates the functionality of pentaprism viewfinders. The pentamirror finder provides a small dim finder that does not cover the frame, whereas a pentaprism that is found in the Pentax K-30 camera is physically larger and it covers the entire image frame. Therefore, what a user sees when he trips the shutter button is exactly what the DLSR camera captures.
Compared to other cameras in the same class, the K-30 offers a dual dial control system with programmable capability. It offers experienced photographers the ability to assign ISO control, EV compensation, and other common settings to a dial, which will normally go underutilized when one is shooting in Shutter Priority or Aperture mode. Amateurs without extensive knowledge about the finer points of photography can easily set the camera to operate in Program or Auto mode, and take shots right away, as the camera will take control of the settings. While there are a variety of Scene modes available in the K-30, it is not as user-friendly as the Guide Mode that one can find on the Nikon D3200. Regardless, it does offer some explanation when it is being used.
Photographers will be very happy because there are plenty of physical controls packed into this compact camera, albeit not as many as its predecessor. The physical controls that are missing from the K-30 are a PC Sync socket and a control to select AF point. Nevertheless, there are functions that adjust the Flash, White Balance, Self-Timer, ISO, and AF on the rear part of the DSLR camera. In addition, the re-programmable Raw button and a switch to toggle between AF modes can be found on the left side of the camera.
Shooting from an odd angle might be a bit difficult because the 3-inch rear LCD is fixed, unlike the tilting display capability that is found in other DSLR cameras. Despite that, the display is tremendously razor-sharp and when the Live View mode is activated, there is an option to utilize Focus Peaking as an aid. This feature highlights the in-focus regions of the frame to improve precision when a user focuses manually. As mentioned above, the Pentax K-30 is a weather-sealed camera, but the 18-55mm kit lens that is included in the package is not. Therefore, it needs to be paired with any lens that has weather resistant designation or DA series lens. There is an option to buy the DSLR camera in a kit, which comes with a weather-sealed SMC DA 18-135mm F lens that is priced at $1,199.95. There is a significant difference in the price of the lens when it is bought separately. Although the K-30 can be used during a heavy downpour and in low temperatures, it is not able to submerge. Thus, it is best to take additional care when one is near the water. When buying a DSLR camera, amateur or experienced photographers need to weigh the pros and cons. Furthermore, it is best to compare several cameras on the market based on the photographer's needs. This can be done by doing some research on what is being promoted on the market via the Internet and camera stores.
Specifications
CMOS with Primary Color Filter, Integrated Shake and Dust Reduction Sensor Movement System
Effective pixels – 16.3MP, total pixels – 16.5MP
PENTAX KAF2 Bayonet Stainless Steel
TTL phase-detection 11-point wide AF System
Light Wavelength Sensor
Sensitivity Range at EC -1 to 18
Pentaprism viewfinder
100% Field of View Coverage
Natural Bright Matter III Focusing Screen (interchangeable)
-2.5m to 1.5m Diopter Adjustment