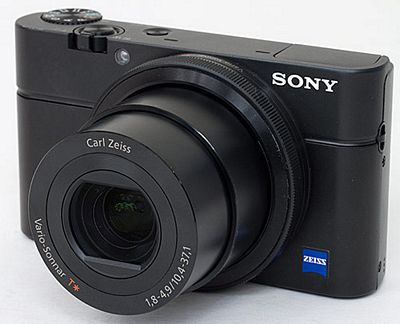 The Sony Cyber-Shot DSC-RX100 was released in July 2012 and in its short time on the market, it has already gained many fans for being a stand out high end compact camera. Let us explore its important aspects in details.
Sensor
Though smaller than the sensor in interchangeable lens cameras, the RX100 has the largest sensor in the category of fixed lens compact cameras. This allows the lens to capture more light, thereby giving a much improved image quality. The Rx100 has the same sensor size as the Nikon J1, but with double the resolution at equivalent low light performance. The only camera that exceeds the 1 inch sensor of the RX100 is the Canon G1 X, but that is as bulky as a DSLR. Sony has managed to fit a wide-angle zoom lens into a tiny camera, which is quite commendable technically.
Lens
The lens has f/1.8 focal length; in combination with the lens zoomed out wide and the aperture set low, this is ideal for low light situations without blur. There is a quick auto-focus on the lens, going from infinity to macro in bright light in just 0.13 seconds and extending to 0.23 seconds for darker ambience. The lens is given a multi-layer coating of Vario-Sonnar T to keep ghosting and flare as low as possible.
Olympus VH-515 vs Fujifilm FinePix F800EXR vs Sony DSC-RX100
| | Olympus VH-515 | Fujifilm FinePix F800EXR | Sony DSC-RX100 |
| --- | --- | --- | --- |
| Image Ratio | 4:3, 16:9 | 4:3, 3:2, 16:9 | 1:1, 4:3, 3:2, 16:9 |
| Effective Pixels | 12.0 | 16.0 | 20.2 |
| Sensor Type | BSI-CMOS | EXRCMOS | CMOS |
| Sensor Size | 1/2.3" (6.17 x 4.55 mm) | 1/2" (6.4 x 4.8 mm) | 1" (13.2 x 8.8 mm) |
| LCD Size | 3 | 3 | 3 |
| LCD Dots | 460,000 | 460,000 | 1,228,800 |
| Touch Screen | Yes | No | No |
| Live View | Yes | Yes | Yes |
| Viewfinder | None | None | None |
| Max Shutter Speed | 1/2000 | 1/2000 | 1/2000 |
| Min Shutter Speed | 4 | 8 | 30 |
| Storage | SD/SDHC/SDXC | SD/SDHC/SDXC | SD/SDHC/SDXC, Memory Stick Duo/Pro Duo/Pro-HG Duo |
Picture Quality
Sony's WhiteMagic technology is applied to the standard 640 by 480 VGA display, where the white sub-pixel added to RGB gives four sub-pixels per pixel. The result is an improved brightness that allows good screen vision in sunlight as well as a stunning 1.22 megapixel resolution that brings color pictures to life. While JPEG quality is nothing to rave about, it has the ability to capture excellent RAW image data, which has prompted Sony to retain the 'R' in the name of its original high grade fixed lens camera, the DSC-R1.
Video Quality
A 1080p video recording is possible, shot at 60 frames. The flexible settings include picture effects with filters, which can even be applied to videos. This broadens the creative possibilities for the photographer. For the first time, manual controls are provided for video in the RX100. Moreover, a live HDMI output can be used for monitoring video shooting at 1080p. The only camera in the same category / price range of compact cameras with better resolution in video mode is the Panasonic GH2. The audio experience is enhanced with stereo microphones.
Body
This camera is all black, with the silver lettering for Sony standing out. The aluminum casing ensures a solid body to handle minor scrapes and rough jostling while in your pocket. Sony, like Canon, has given the RX100 lens a control ring around the lens with eight functions that help operability. This step-less ring can be used to adjust focus mid-shot without any clicking noise due to the variable silent aperture. A bit of playing around is needed to adjust to its sensitivity.
Pros
RAW imaging works great on this camera, although it is not possible when picture effects is used. It picks up macro-level detail much better than the Canon GX1 and works well even in low light conditions. It incorporates a powerful depth of field that allows mid-ground focus while blurring the fore and background; this feature has been successfully associated only with DSLRs until now. In fact, the aperture range is ideal for bokeh photographs with blur effect. The camera has a manually extending and retracting barrel; while retracting, it goes right inside, flush with the body of the camera, which is great to pop it into the pocket of a shirt or pant. The Sony Cyber-Shot DSC-RX100 offers the right balance between image quality and portability / convenience.
The design is simple yet classy and has an advanced yet user friendly interface. It is possible to set quick access to certain functions that are used more often than others. It includes an internal pop-up flash that tilts backwards like the Sony NEX 7. In this way, light from the wall or ceiling can be bounced onto the subject for a softer lighting effect in the photograph. The shutter speed is quite fast at almost all ISO settings. It has sufficient IQ with intelligent auto settings as well as a programmable lens. This camera is ideal as an on-the-go second camera for professionals who already possess the heavy DSLR. It is also beneficial for amateur photographers who wish to upgrade from a basic compact camera to try out the full range of manual controls.
Cons
Its small size can work at a disadvantage for people with bigger fingers. This camera does not have an electronic viewfinder, but this is a technical limitation of its compact size rather than a flaw. Its internal flash is of average quality; the lack of a hot shoe means that no external flash unit can be mounted either. Charging the battery can be slightly inconvenient as there is no external charger. Also, the cover for the USB connector port is flimsy. However, the battery can be charged in the car using the universal phone charger cord. Although the functions are easy enough to understand after investing a little time and patience, the RX100 does not come with a manual either in print or CD form.
Here is a quick look at the main technical specifications for the Sony RX100:
1 inch CMOS sensor by Exmor
20 megapixel resolution
3.6x optical zoom
10 to 37 mm Carl Zeiss lens (2.7x crop sensor makes it equivalent to 28 to 100 mm)
Lens aperture is f/1.8 at the widest end, going up to f/4.9
10 fps burst mode
Sensitivity ranges from ISO 125 to ISO 6400
Step-less control ring around the lens
Customizable function menu
1 lithium-iron battery, lasting 330 shots
Dimensions of 4 x 1.4 x 2.4 inches
Weight of 8.5 ounces