Introduction
Sigma recently expanded its commitment to the "DC" line of lenses for digital cameras, introducing three new lenses designed for digital SLRs with APS-C size sensors. APS-C sensors give a narrower field of view than full-size 35mm sensors, resulting in what some refer to as a 1.5x or 1.6x "magnification factor." The new lenses, which will include a 10-20mm f/4-5.6, an 18-200mm f/3.5-6.3 and a 30mm f/1.4 prime, complement the current selection which includes an 18-50mm f/2.8, 18-50mm f/3.5-5.6, an 18-125mm f/3.5-5.6, and a 55-200mm f/4-5.6 lenses.
Perhaps because they already had an 18-50mm offering, the launch of Sigma's 18-50mm f/2.8 EX DC lens in July 2004 didn't receive much fanfare. This standard zoom lens targets the higher end of the market – with features such as a constant maximum aperture throughout the zoom range, internal focusing and high grade optics.
The Sigma 18-50 f/2.8 EX DC is available in Canon, Nikon, Pentax and Sigma mount versions.
Design top
The 18-50 f/2.8 EX DC is very different from its "slower" sibling. The larger maximum aperture allows more light in and enables higher shutter speeds in equivalent lighting. In terms of construction, the f/2.8 has 15 lens elements in 13 groups, compared to 8 elements in 8 groups for the f/3.5-5.6 version. Notable is the EX designation, reserved for Sigma's higher-performance line of lenses. The lens construction includes a Special Low Dispersion (SLD) glass lens element and two aspherical lens elements: the former compensates for chromatic aberration in images, while the latter deals with various aberrations throughout the entire zoom range.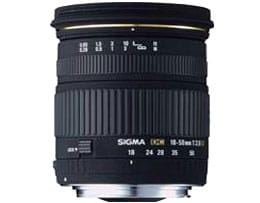 Sigma's f/2.8 EX is a whole inch longer than the f/3.5-5.6 with the lens fully retracted, and weighs almost 5 ounces more (15.7 oz. vs. 10.9 oz.). The former takes 67mm filters which tend to be more expensive, while the latter has smaller 58mm threads.
Also, the lens is equipped with an inner focusing system, which means that the front lens element does not rotate. This makes it easier to use circular polarizing filters and allows for a petal-shaped hood that comes standard with the lens.
We're fans of the finish and build quality on Sigma EX lenses, and the 18-50 f/2.8 seems to live up to the standard. Though the lens itself is quite small compared to lenses designed for 35mm film cameras, it feels heavier and more solid than expected.
Usability top
In this article, we evaluate the lens' performance with "real world" shots, taken in normal shooting circumstances, which gives a better indication of how a lens will behave for the average consumer. After a few days of shooting, the 18-50 f/2.8 does show itself to be a favourable performer. Auto focus has been speedy and accurate, even without Sigma's HSM motor. However, because of the lack of HSM, it is not exactly a quiet lens – there is a notable "zip!" as the AF kicks into gear.
At f/2.8 the 18-50 f/2.8 is pleasantly surprising. The following images and the 100% crops that follow were shot at f/2.8 and f/4 for comparison: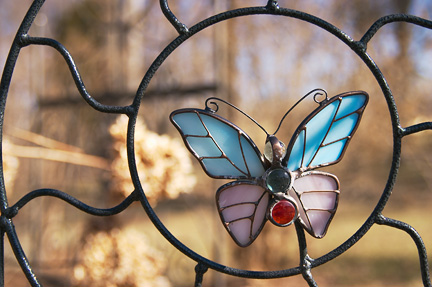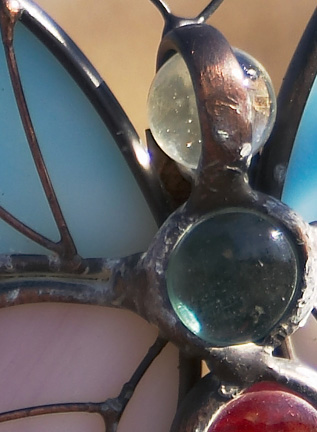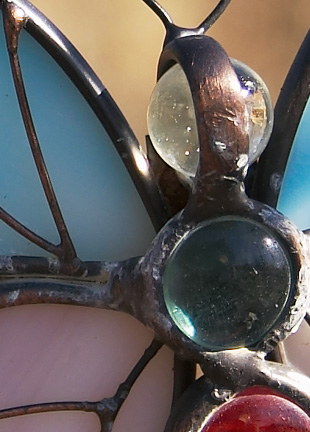 Despite a little softness, the wide-open shots are definitely usable, and at f/4 they sharpen up very nicely. This is a significant improvement over other Sigma wide-angle lenses we've tried – in comparison, the Sigma 17-35mm f/2.8-4 EX is soft all the way up to f/8.
Overall resolution appears to be very good. We were pleased to see the easily discernible flag in the window in the following image: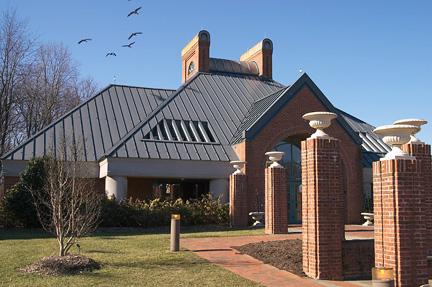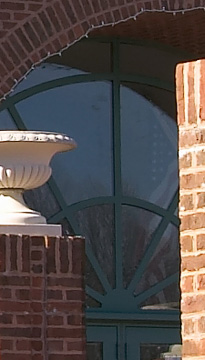 While the ability to see the flag is probably more a function of the camera sensor's resolving power, it is fair to say that the lens doesn't detract from camera performance as many consumer-grade wide-angle lenses might.
Past experience shows that the 17-35mm Sigma exhibited some distortion and softness around the edges, even on a camera with an APS-C size sensor and resultant crop factor. It was good therefore, to find the 18-50mm f/2.8 lens reasonably sharp along the edges and corners when stopped down, with only moderate distortion at the wider-angle settings. Edge distortion was barely evident at full zoom.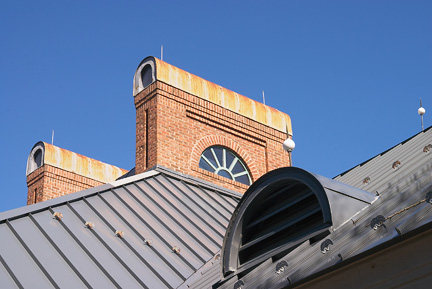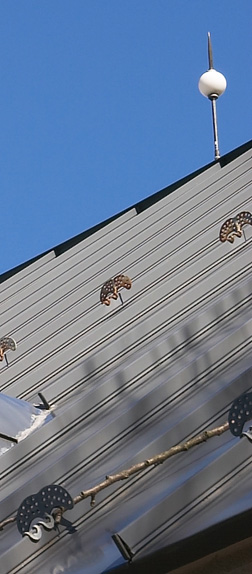 Some minor purple fringing in high-contrast areas was visible, especially aside specular highlights. This is evident along the left edge of the small sign captured in the lower left corner of this image: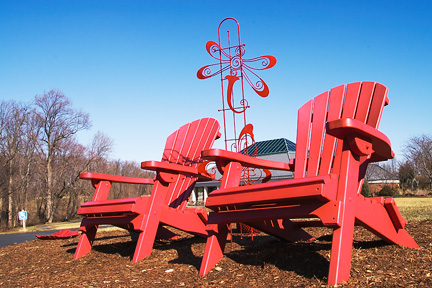 Conclusion top
In our opinion, the Sigma 18-50 f/2.8 EX DC is one of the best consumer/prosumer wide-angle zoom lenses we've used. While the price is a little higher than some lenses in this category, the constant – and usable! – f/2.8 aperture makes the lens a real winner in terms of value. While it would have been nice to have a HSM motor and a depth of field scale, the missing elements do not detract from its otherwise strong performance. If you are considering a wide-angle "digital lens," do consider giving the Sigma 18-50mm f/2.8 a try.
| | |
| --- | --- |
| Design: | (7/10) |
| Usability: | (8/10) |
| Performance: | (8/10) |
| Value: | (9/10) |
More info on the Sigma 18-50 f/2.8 EX DC can be found on their web site.
Was this article helpful? Feel free to leave any feedback or comments.