Introduction
One of my pet peeves in the modern world of technology, is the abundance of messy cables and tangles of wires that seem to accompany every shiny device and gadget. No matter how neatly I attempt to wind them up when I put them away, they inevitably manage to get themselves into a mess when I pull them out again. Don't even get me started on the hook type earphones which I put into my gym bag.
I was quite excited, naturally, when I came across the Cable Turtle, a Dutch company called Cleverline. It touts itself as a convenient and good-looking solution to excess cabling, which piqued my attention, and I just had to get my hands on them for a review. How do they measure up? Read on…
Design top
The Cable Turtle somewhat resembles a rubberized yoyo, only the sides flex open like an hourglass to expose the core inside. The idea is to take a cable and wind it around the core, and then snap the sides shut to neatly pack the cable away. There are also raised lips on two of the edges of the turtle, to allow bulky cable ends to protrude out out.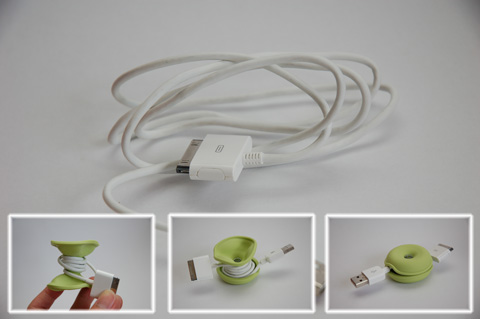 The Cable Turtle conveniently comes in three sizes:
Mini cable turtle: perfect for hiding earphones, iPod cables, etc.
Cable Turtle: able to hold approximately 1 metre of wire
Giant Cable Turtle: capable of storing up to 5 metres of cable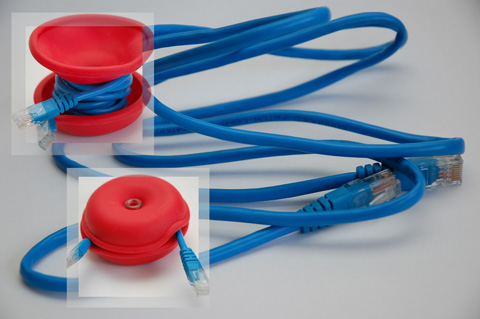 The cable turtles also come in a variety of colours, ranging from red, black, blue, yellow, green, orange and even white, to easily match any equipment you may have.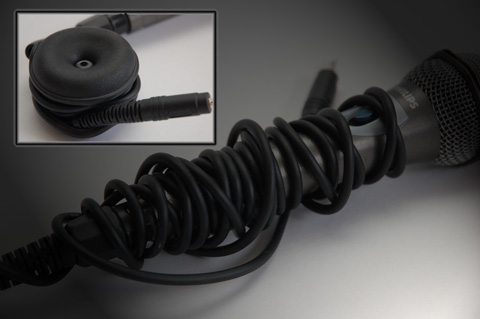 Conclusion top
I found the Cable Turtle both practical and easy to use. The design is simple with no moving parts to break or things to go wrong. The construction itself is of quality rubberized material, stands up well to wear and tear, and keeps the wires protected inside.
Once packed inside the Cable Turtle, cables were very neatly packed away for storage in a small, neat package.