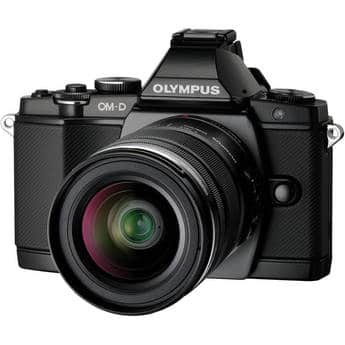 Overview
The Olympus OM-D E-M5 camera is a Micro Four Thirds camera expressly designed to bridge the gap between point-and-shoot cameras and full-size DSLR cameras. It is aimed at serious enthusiasts: it offers much higher performance and control than point-and-shoot cameras, but is not intended to be a professional camera. Its principal strength can be seen as its small size and portability combined with an image quality that is comparable to that of full-size DSLRs, along with full weatherproofing.
It must be emphasized that although the OM-D E-M5 is inspired by the glorious OM series, it is not a true OM camera and is not an SLR. It uses instead a built-in electronic viewfinder. Nevertheless, this camera has elicited considerable excitement among photography enthusiasts, for reasons that will be made apparent in this review.
Panasonic Lumix DMC-G5 vs Pentax K-01 vs Olympus OM-D E-M5
| | Panasonic Lumix DMC-G5 | Pentax K-01 | Olympus OM-D E-M5 |
| --- | --- | --- | --- |
| Max Resolution | 4608 x 3456 | 4928 x 3264 | 4608 x 3456 |
| Image Ratio | 1:1, 4:3, 3:2, 16:9 | 1:1, 4:3, 3:2, 16:9 | 1:1, 4:3, 3:2, 16:9 |
| Effective Pixels | 16.1 | 16.3 | 16.1 |
| Sensor Type | CMOS | CMOS | CMOS |
| Sensor Size | Four Thirds (17.3 x 13 mm) | APS-C (23.7 x 15.7 mm) | Four Thirds (17.3 x 13 mm) |
| LCD Size | 3 | 3 | 3 |
| LCD Dots | 920,000 | 921,000 | 610,000 |
| Touch Screen | Yes | No | Yes |
| Live View | Yes | Yes | Yes |
| Viewfinder | Electronic | None | Electronic |
| Max Shutter Speed | 1/4000 | 1/4000 | 1/4000 |
| Min Shutter Speed | 60 | 30 | 60 |
| Storage | SD/SDHC/SDXC | SD/SDHC/SDXC | SD/SDHC/SDXC |
Features
Image sensor – The chip in this camera is much larger than in point-and-shoot cameras, and is in fact the same size as that of the E-5, the top of the range camera of Olympus. It is a 16-Megapixel TruePic VI sensor, which yields the characteristic and much-loved Olympus look and texture.
Iso rating – The OM-D E-M5 has a significantly improved ISO rating, and can be rated at up to 25,600 ISO, giving it exceptional performance under low light conditions.
Image stabilization – Perhaps the most groundbreaking feature of the OM-D E-M5 is its five-axis image stabilization. In addition to stabilizing the image along the x and y axes, it also stabilizes the image with respect to three additional movements: pitch, yaw and roll. This can come in particularly useful when using long lenses, which amplify camera movement and consequently make it more difficult to take a steady shot.
Lenses – The OM-D E-M5 comes equipped with a 12-50 mm F3.5-6.3 EZ lens, and a selection of other lenses are also available. However, it should be noted that the OM-D E-M5 does not accept the old OM lenses, much to the disappointment of those who were hoping that the OM-D E-M5 would be the successor of that glorious line.
Screen – It has a 1.44 million dot LCD screen that can be retracted and tilted up by 80° and down by 50°.
Weatherproofing – This is another feature that truly distinguishes the OM-D E-M5 from point-and-shoot cameras: the OM-D E-M5 has full weather and splash proofing, making it a strong candidate for photography under difficult conditions.
Frame rate – The OM-D E-M5 is able to shoot at a frame rate of up to 9fps, a virtually indispensable feature for those who are serious about capturing the perfect shot in sports or nature photography, when taking a good sample of photographs in rapid succession is a better bet than attempting to get it in a single shot.
Mirrorless – The OM-D E-M5 is mirrorless, and this absence of the mirror box is what allows it to be significantly smaller than the sometimes unwieldy full-size DSLRs. The absence of the mirror also has a huge additional advantage: when shooting at full burst (nine frames per second) – as one might do in sports or nature photography – the absence of the mirror allows the photographer to maintain a clear view of what is being photographed. Conversely, with the mirror, the frequency at which the mirror blocks the view makes it almost impossible to follow the subject when shooting at high frame rates. This particular detail is a big deal to anyone who foresees doing a lot of photography at the higher frame rates.
Autofocus – The OM-D E-M5 has significantly improved autofocus, with the added benefit of 3-D tracking. A feature that ambitious enthusiasts will definitely relish is the ability to determine the autofocus point in the frame with a simple touch on the LCD screen. You can simply put your finger on the point in the frame that you want the camera to automatically focus on, and it happens very quickly.
HD video – This camera can shoot high-quality HD video in both the 4:3 and 16:9 aspect ratios.
Pros
Size – The OM-D E-M5 is a small camera – even smaller than the OM-4Ti, on which it is clearly based. The small size makes it a very strong candidate for serious enthusiasts and anyone who wants to take exceptional photographs without lugging around bulky full-size DSLRs.
Image quality – There is always some huffing and puffing by hardcore photographers, but the bottom line is that the OM-D E-M5 offers truly impressive image quality – certainly a quality that cannot be distinguished from the full-size DSLRs by anyone other than highly discerning users. After all, it does have a chip that is the same size as that of the Olympus E-5!
Weatherproofing – The OM-D E-M5 has real, heavy-duty weatherproofing, secured by multiple rubber rings, making it exceedingly reliable under difficult weather conditions.
Controls – The twin control dials offer all the manual control that serious enthusiasts demand.
Autofocus – Very fast and accurate, and controllable with a single touch on the LCD screen.
Lenses – The availability of some very serious lenses once again makes the OM-D E-M5 a very promising candidate for demanding enthusiasts.
Cons
Size – The camera can sometimes feel a bit too small, and this may be particularly frustrating for enthusiasts who will not be using it under demanding conditions and are therefore left wondering if they would have been happier with a larger camera
Expensive – When all is said and done, we think that this camera is a little on the pricey side, particularly in view of the fact that the optional grip extension will cost you in the region of $300, if you want it.
Noise –The camera tends to emit a low-level hum that is only audible in quiet conditions but can be a little annoying, particularly for the old-school types who sorely miss the dead-quiet OM cameras.
Battery life – At only 300 shots, the battery life leaves a little to be desired.
Not an SLR – We feel that this deserves to be included in the "cons" section because the camera clearly models itself on the OM line, but is not an SLR and does not accept the old OM lenses.
Conclusion
The OM-D E-M5 is a very visually appealing, compact little camera whose image sensor is so good that it competes very aggressively with full-size DSLR cameras, making it exceedingly enticing for demanding enthusiasts who want top-notch image quality without being burdened with large and clunky DSLR cameras. It bridges the gap between DSLR cameras and point-and-shoot cameras very well, offering features that are head and shoulders above those of consumer point-and-shoot cameras.
Despite the short battery life, high price and other shortcomings that may discourage potential buyers to different extents depending on their personal preferences, the portability, high-tech features and sheer image quality of the OM-D E-M5 make it very attractive for serious amateurs, particularly those who plan to do a lot of sports or nature photography under challenging weather conditions.