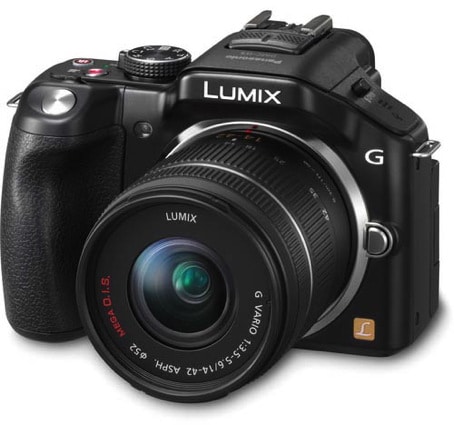 First Impressions
Panasonic's newest release to the realm of the mid range DSLR is the Lumix DMC-G5. Normally we have seen some pretty positive things from Panasonic and the Lumix range, catering for all budgets and level of enthusiasm for photography. Now the DMC-G5 is set to compete with cameras such as the Fuji X10, Nikon 3200 as well as the new Canon EOS M set to release in September. Priced at $700 the Panasonic offering fits neatly in this group at a fairly average price and similar specification to boot:
New 16.05 megapixel Live MOS sensor
Micro Four Thirds lens mount
Panasonic Lumix G Vario X 14-42mm Lens
3 inch 920k touch screen
1.44m dot EVF: Eye detection sensor with diopter adjustment
Venus Engine 7 FHD
Full HD video AVCHD Progressive
ISO160 – 12800
6fps continuous shooting
3.7fps continuous shooting with AF
Level gauge
This new camera certainly looks promising with its full HD video capability matching the heavily anticipated EOS M. Though it features a slightly lower megapixel amount, we all know of course that this isn't the be all and end all of a quality photograph. If the Lumix DMC-G5 gives a good account of itself here, it could really cause problems for its competitors.
Design and Ease of Use
The Lumix DMC-G5 looks much like what we have come to expect of a DSLR, with its general bulk and bulbous nature, though this is the price we pay for the accommodation of quality components that allow us some quality photography. In black the Panasonic looks very unassuming and you wouldn't necessarily pick it out of a line based on its aesthetics – however this is not important in the grand scheme of things, most of us are more interested in its ergonomic design.
The Panasonic grips well, helped by the design including a leather portion on the front left hand side of the camera that allows a comfortable hold. This is especially helpful toward the latter part of the day when your focus begins to slip and the potential to drop the camera increases. The ease of use of the camera extends beyond this and Panasonic have cleverly included both a touch screen and non-touch option of controlling the camera. For those who prefer the newer technology of the touch screen, you can swipe through photos, focus upon certain aspects and expand already existing images – all through the touch screen. However, for those preferring a classical setup there is also the option to simply use the dials and buttons to sort through the menus and items you have taken or recorded. Overall it is very intuitive and easy to use, a job well done by Panasonic here with some powerful software behind a good quality DSLR.
Panasonic Lumix DMC-G5 vs Pentax K-01 vs Olympus OM-D E-M5
| | Panasonic Lumix DMC-G5 | Pentax K-01 | Olympus OM-D E-M5 |
| --- | --- | --- | --- |
| Max Resolution | 4608 x 3456 | 4928 x 3264 | 4608 x 3456 |
| Image Ratio | 1:1, 4:3, 3:2, 16:9 | 1:1, 4:3, 3:2, 16:9 | 1:1, 4:3, 3:2, 16:9 |
| Effective Pixels | 16.1 | 16.3 | 16.1 |
| Sensor Type | CMOS | CMOS | CMOS |
| Sensor Size | Four Thirds (17.3 x 13 mm) | APS-C (23.7 x 15.7 mm) | Four Thirds (17.3 x 13 mm) |
| LCD Size | 3 | 3 | 3 |
| LCD Dots | 920,000 | 921,000 | 610,000 |
| Touch Screen | Yes | No | Yes |
| Live View | Yes | Yes | Yes |
| Viewfinder | Electronic | None | Electronic |
| Max Shutter Speed | 1/4000 | 1/4000 | 1/4000 |
| Min Shutter Speed | 60 | 30 | 60 |
| Storage | SD/SDHC/SDXC | SD/SDHC/SDXC | SD/SDHC/SDXC |
Picture Quality
Overall, with 16.05 megapixels behind the Lumix DMC-G5 and a quality image sensor that we have come to know and love from higher range Panasonic cameras. However, when it comes down to actually taking photographs with the Lumix DMC-G5, it somehow seems lacking with the final image quality. The best place to demonstrate this is if you take a look at the sample images provided by Panasonic themselves at their website. Here you can see a clear difference between the pure Lumix DMC-G5 photos compared with those fitted with an extra lens. While there is no doubt that on its own the DMC-G5 produces some fantastic images, in darker environments and shadowy areas it does sometimes struggle. Viewed alone it is subtle enough to not really see any issues, however when stood next to a similar image captured with a lens, you can really see how the added light adds to the picture. Of course this can be expected with any DSLR, otherwise lenses would become obsolete. Just be prepared to fork out for an added lens if you really want to capture some magnificent pictures.
Video Quality
The Lumix DMC-G5 does incredibly well to add high quality video to its arsenal and the HD video that it boasts in its specification is a great asset. Video from this camera is crystal clear and a joy to watch and take. For a real idea of how this camera fairs up with video, take a look at some of the many Youtube videos available for yourself – you will not be disappointed. The Lumix DMC-G5 goes above and beyond what you would expect of a DSLR camera, delivering quite extraordinary audio quality. Audio from this camera is just so clear and I was truly impressed by how well it captured sound, which is overlooked by so many other brands of DSLR. Overall the video quality returned by the Lumix DMC-G5 is one of the best I have seen for a camera of this price, if you are looking for a DSLR which is accompanied by strong video capabilities, as is so often overlooked, then the DMC-G5 is definitely worth a look.
Conclusions
There is no question that the Panasonic Lumix DMC-G5 is a very promising DSLR camera with a very strong image taking capability coupled with extremely high quality video for the price. The $700-$800 price tag should not deter you, for a mid range camera and the specification that comes with it, the GMC-D5 is priced just right. This replacement for the G5, which was an incredibly good camera in its own right, will most certainly give the Canon EOS M a run for its money when that is released later this year. While based solely on image quality the Lumic DMC-G5 may not perform so well without added accessories, its ergonomic performance was impressive and Panasonic have once again coupled a quality piece of hardware with some software to match it. The package produced is a fierce little DSLR that performs well all round in the field.