Introduction
In this review article, we take a look at the FocalBlade sharpening plug-in, published by Harald Heim at "The Plugin Site". From their website:
"FocalBlade lets you sharpen your photos for screen display and print as well as produce great looking blur, soft focus and glow effects. It is a Photoshop-compatible plugin which can be used in dozens of graphics applications including Photoshop, Paint Shop Pro, PhotoImpact, Photo-Paint, Fireworks and Photoshop Elements. It works with 8bit and 16bit RGB images."
FocalBlade has been around since 2003, and met with favorable reviews early on. As I was quite satisfied with my sharpening workflow at the time, I was hesitant to pay for yet another program claiming to be the holy grail of digital image sharpening. Having already tried Nik Sharpener, modifications of Fred Miranda's old EdgeSharpen action, and numerous other techniques, I wasn't fully satisfied with any of them and expected FocalBlade to also disappoint. Now that I've gotten my hands on a review copy, I've decided to put it to the test.
FocalBlade is compatible with most of the popular imaging editors, including Photoshop, Photoshop Elements, PhotoPaint, PaintShop Pro, IrfanView, PictureIt, PhotoExpress. It costs US$50, and at this time is only available for the Windows platform.
Getting Started top
I keep a folder of "test shots" that I save for trying out new post-processing techniques. This one was shot with a Canon 10D using a 70-200mm f/4L lens at 131mm, exposure at f/5.0 for 1/1000s, ISO set to 200.
I typically apply a small amount of "capture sharpening" upon conversion from RAW. For those who don't shoot in RAW, this step is usually done by the camera.
For this example my image was converted using Adobe's Camera RAW converter in Photoshop CS. I converted to 8-bit sRGB, added +0.65 exposure compensation, picked a custom white balance with the eye-dropper on the lower right window pane. I set luma smoothing to 20 to counter the small amount of ISO noise, and left color noise reduction and sharpness at the default settings of 25.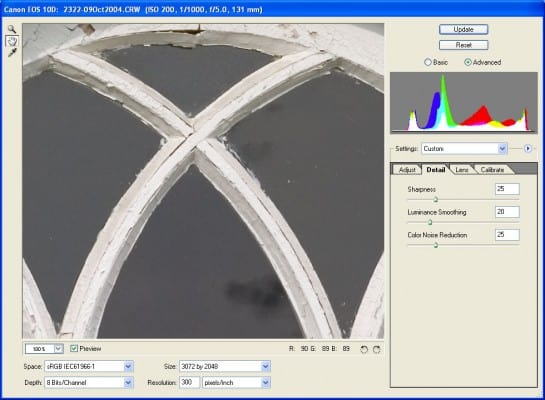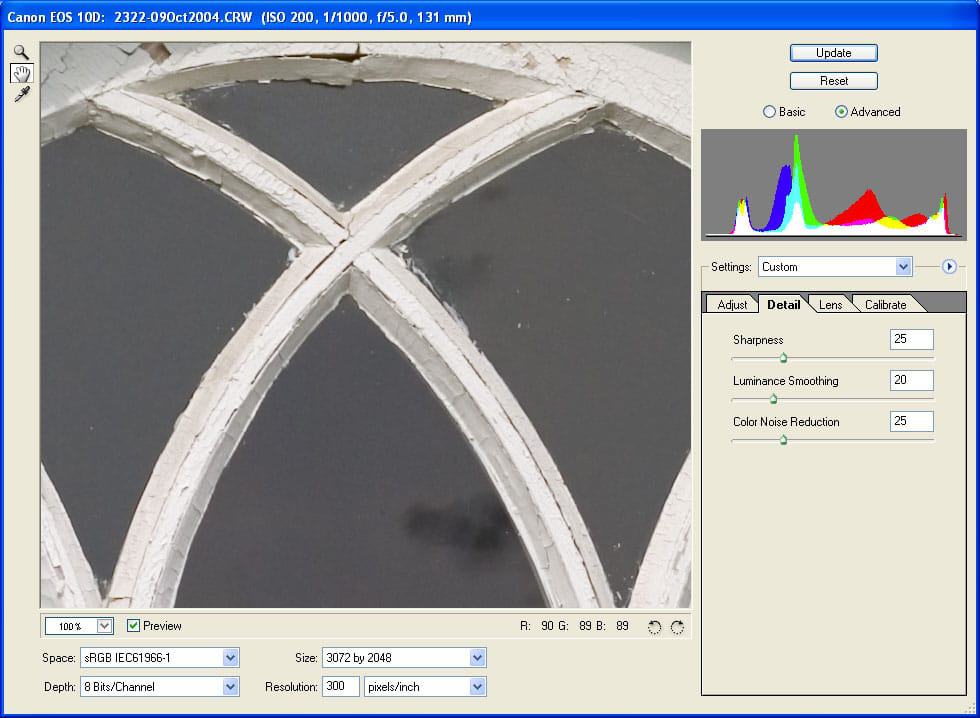 The converted JPEG image looks acceptable. If it had a different subject, it might even be printable at smaller sizes, say 4×6 inches, with no further processing necessary. (If that were the intent I would have likely increased the sharpening amount during conversion, but for this test I did not want to go beyond the small amount used.)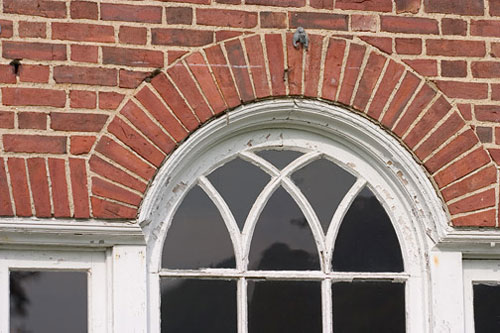 However, upon closer inspection, the image still seems a little soft and wouldn't be good for larger prints.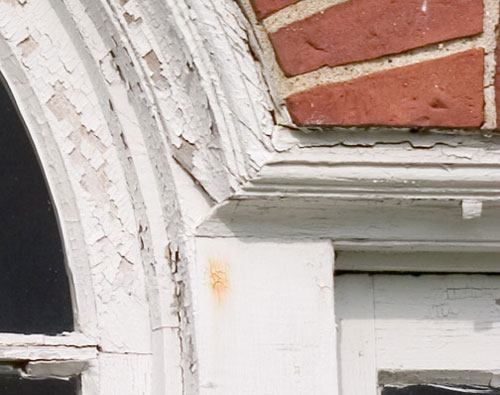 Time to break out the sharpening toolkit!
Workflow top
Novice Mode – Automatic Pilot
FocalBlade starts up in Novice mode – think of this as an "auto" sharpening mode, which for many users is all they'll need. I made a duplicate layer in Photoshop so that the bottom ("background") layer remained untouched, and all further processing was done on the new layer. The FocalBlade plug-in appears in the Filters menu in Photoshop, and here is the initial screen: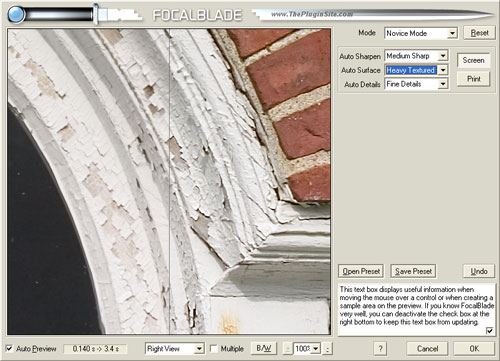 The right side of the screen can be set to show the sharpening effect, while the left side shows the original. In this shot, I have selected medium sharpening, heavy texture, fine details.
By default, the auto modes evaluate the entire preview area to set the sharpening levels. The auto modes can be made a little smarter by simply clicking and dragging the mouse cursor across a sample area. When this is done, the sample area will be the only area evaluated by the program.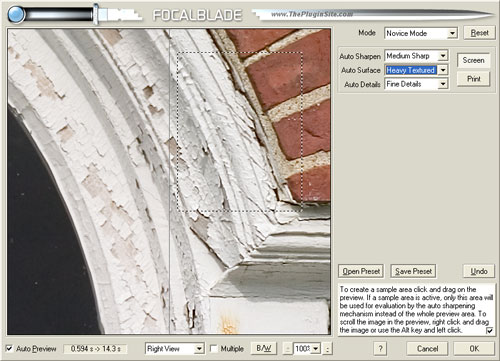 Sharpening settings can also be modified for screen display or print.
At the lower right corner of the FocalBlade window is a real gem – a text box with contextual help that automatically changes as you move the mouse over the various buttons. This is extremely helpful to someone just getting started, and makes reading the 60-page PDF user's manual unnecessary.
The program also allows you to save your settings as a preset, making workflow much faster. This is especially helpful if one moves beyond the "auto" modes.
If this is all the program did, I'd conclude that it's a very good but somewhat overpriced sharpening plug-in. The algorithms seem to do a good job with minimal artifacting, but there are many alternatives available, most at a lower cost. There are also some good sharpening actions available for free.
But FocalBlade does much more, and digital camera enthusiasts concerned with getting the most out of their images should read on.
Expert Mode – It's Not For Experts Only!
Pop down the "mode" button and you'll see numerous alternatives to the novice mode: there are several "semi-automatic" modes in which you can sharpen only edges or surfaces, you can blur an overly-sharpened image, you can add a soft focus effect (one of the best I've seen, by the way) and more. Despite having played with FocalBlade for only an hour or so prior to running this test, I leapt straight to the last and most complex option: the completely manual "expert mode."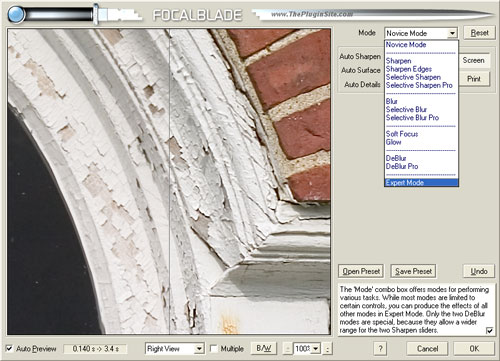 On the right side of the FocalBlade window we can now see the many different settings available: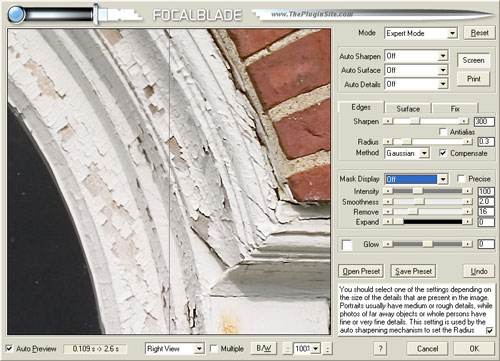 Note the three tabs labeled Edges, Surface and Fix. The first two allow you to set the amount of sharpening applied to edges and surfaces independent of each other. The Fix tab is a great feature that I'll explain below.
As a control freak, the first thing I did was set all of the "auto" modes off.
With Photoshop's unsharp mask, I favor a high amount of sharpening applied with a very small radius setting, which seems to minimize haloing. So with the FocalBlade "edges" tab active I dialed in an amount of 300 and a radius of 0.3. (Note that the amount in FocalBlade seems less aggressive than the corresponding amount in Photoshop's USM.)
One handy feature is the ability to see and control the edge mask: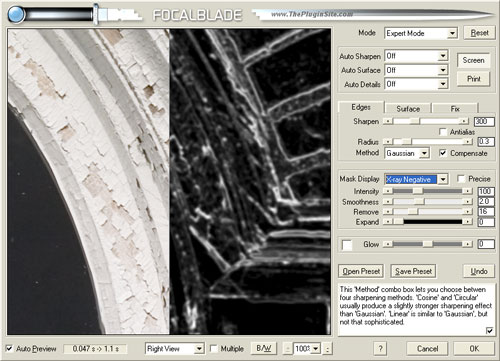 Next, I adjusted the settings on the Surface tab to my liking: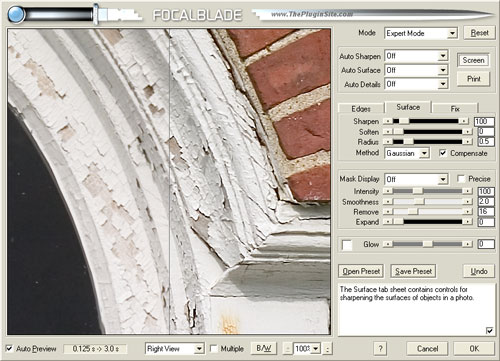 Initially, FocalBade does a great job of controlling halos. For complete control, switch over to the Fix tab where you can adjust reduce the halo effect to your liking by tweaking the white and black halos: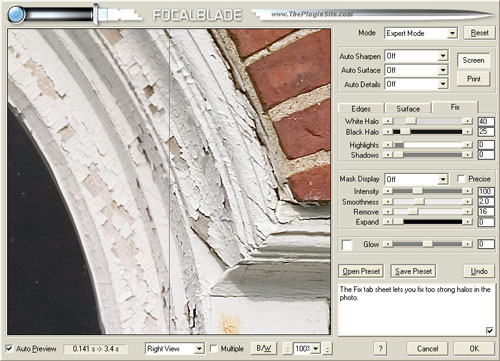 A simple click of the "OK" button and the process is complete. The end result is very impressive: edges are crisp with little to no haloing, and there does not seem to be any color noise.
Recall that I did this on a layer, so if I find the resultant image too crisp, I can simply reduce the layer opacity. I would also recommend setting this layer to "luminosity" simply to ensure that only the luma channel is sharpened, not a color channel. (It's worth noting that FB can be run on a single color channel, as some portrait photographers like to sharpen only the red channel.)
Conclusion top
Overall, I found the FocalBlade interface very intuitive and easy to navigate. I didn't need to access the included help documentation, as the text box at the bottom of the window gave sufficient information to help me along.
Compared to other sharpening plug-ins and actions I've tried, FocalBlade is simply the best. That having been said, it's worth noting that Fred Miranda recently launched a new version of his popular Intellisharpen plug-in, and it is getting rave reviews. At half the price of FocalBlade, it may offer some serious competition. But given its user-friendly interface, I'd say FocalBlade still has the edge. (Pardon the pun!)
| | |
| --- | --- |
| Usability: | (10/10) |
| Features: | (10/10) |
| Performance: | (10/10) |
| Value: | (8/10) |
Bottom line: I wish I had tried it earlier! Without a doubt, this is the best sharpening plug-in I've tried, and it beats the pants off the many sharpening actions I've found on the web. Its user-friendly interface and powerful sharpening algorithms make it a good investment for digital imaging newbies, and a must-have tool for advanced users.
FocalBlade costs US$50 and can be obtained from The Plugin Site:
http://thepluginsite.com/products/photowiz/focalblade/ (2mb download).
Was this review helpful? Feel free to leave any feedback or comments.