Introduction
So what's a guy to do? You start innocently enough, buying a camera and lens. As time goes by, you buy more and more; along the way you accumulate camera bags to put all the stuff in. Eventually you end up carrying a double armful of camera bags, lens cases, tripods, and other assorted junk. At the airport, the security guards glare at you and your pile of "must-carry-on" and "oh-so-fragile" photo necessities.
Enough is enough – time for a new bag that meets my needs for organization, storage, transportation, security, and protection. After about 6 weeks of research, I decided on the Kata R-102 photo rucksack. I also looked seriously at cases from Lowepro, Tenba, Tamrac, Dakine, Crumpler, and Bogen, but for my needs, I chose the Kata.
Getting Started top
I decided early on that I wanted a backpack style of camera bag – sling and messenger bags feel heavy and awkward to me when they are fully loaded, and I find them hard to carry for extended periods.
My list of requirements in a photo pack:
Big enough for all my essential photo gear – any gear that I would take on a 3 week trip to a photogenic spot.
Enough extra space for the non-photography extras that you need on a long flight. I don't need to carry this stuff all the time but I want it with me on the plane.
Pack should not be immediately identifiable as containing camera equipment – no Nikon or Canon logos please!
Compact enough to carry down the aisle of a crowded train in Europe.
Qualifies as carry-on luggage at an airport – worst case – it will actually fit under the seat in front of me.
Will protect my gear – I want the bag to be able to take a beating.
Is not too difficult to get into and allows quick access to gear.
Easy to carry for hours at a time – like on a photo hike in the mountains.
Let's take a closer look at how the R-102 meets these needs.
Design top
Features
For those of you not familiar with Kata, they manufacture body amour, bullet proof vests, and helmets for the Israeli Elite forces. They also make tough video and camera bags, and some of their bags are designed to work in conjunction with their body amour – they are a favorite of war-zone photo correspondents.
The styling and construction of their bags reflect their experience in body armor. The front and back are constructed of padded ribs that absorb impact. I read reviews that describe the ribs as egg-carton like, but that gives a false impression of fragility – these bags are tough. The ribbing feels more like hockey or baseball padding than egg cartons. The bags are also light – the R-102 ways just over 2 lbs – less than half what most photo backpacks weigh.
The pack is part of a camera bag system that includes a chest pouch and a waist pack – designed to be worn either separately or together – for those photographers with a lot of gear, or who want more flexibility in what they carry on any given day. At some point, I will likely invest in the chest pouch for quick lens changes- or to use standalone with my digital camera.
Here's what the R-102 looks like: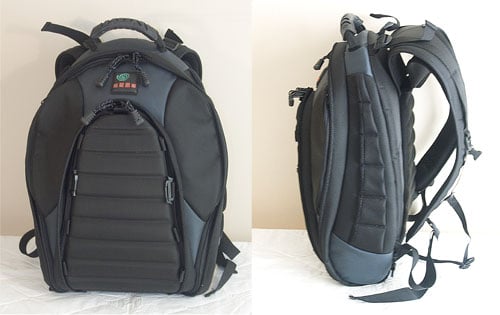 The bag is significantly deeper (back to front) in the center than on the edges. More about this later.
The rucksack straps are quite comfortable and distribute the weight well. A chest strap greatly improves the carrying characteristics of the pack – I have carried it fully loaded for up to 3 hours at a stretch. The pack has no included waist strap.
Even fully loaded the Kata retains a nice trim profile – unlike the author modeling it. The photo on the right shows the included tripod carrier. The carrier attaches to either side of the pack or to the back as shown.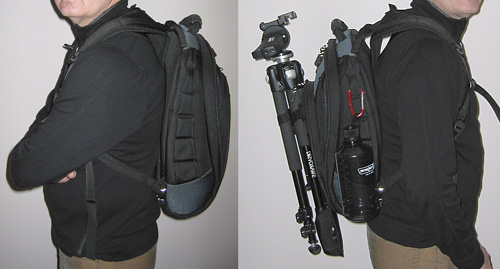 One very cool feature is the rapid access port on the back of the pack – this allows you to quickly get at your camera(s) without having to open the whole pack. Note: you can even open the access port when the tripod is securely mounted (as shown below).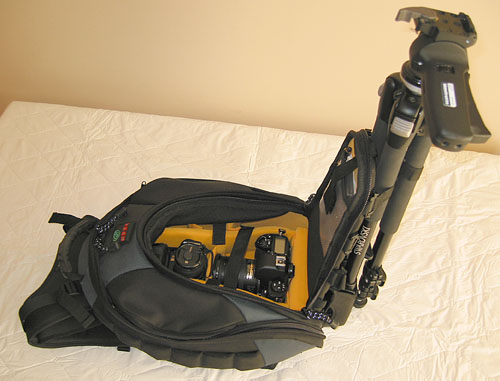 The R-102 also comes with a reversible rain cover – black for rain (and advertising) and silver to reflect the sun in hot conditions.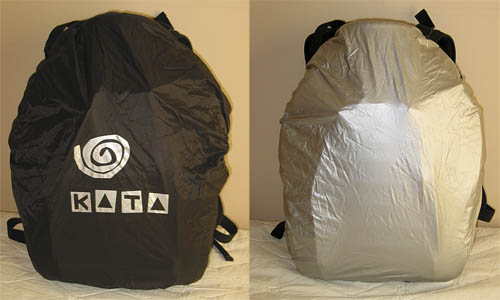 Storage
The Kata R-102 has plenty of space to store your photo equipment. On the inside, there is a large padded compartment – like most photo packs you can configure the dividers as needed.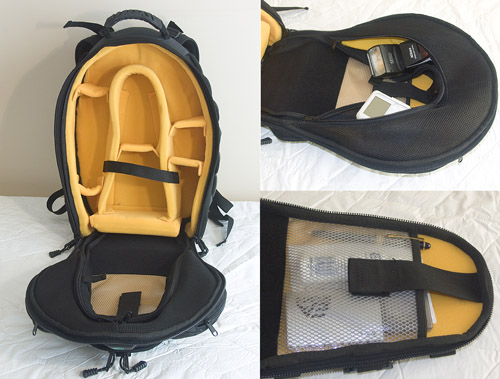 In addition, the "lid" of the bag has a large zippered pouch (top/right photo) for storing cables, or smaller equipment. I have shown it here with my SB-800 flash and Apple IPOD for size reference. In the center of the lid (behind the access port) is a small mesh pocket.
Unfortunately, the Kata R-102 does not have dedicated space for a laptop computer. I don't carry a laptop when I travel, but this will be a significant problem for photographers who need this functionality. It is also not a pack that is appropriate for serious back-country hiking. On a day hike, it is possible to store your lunch, some rudimentary first aid / survival items and a light coat in the pack by removing some non-essential photo gear – but that's about it.
On the back of the pack, there are 2 small (very small when pack is fully loaded) zip pockets, and a number of loops for attaching additional gear such as lens cases or a water bottle.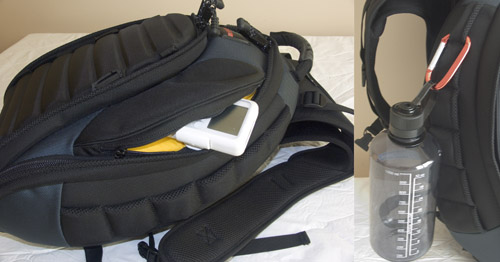 Kata provides special camera straps and D rings on the rucksack that allow you to hang your camera from the shoulders of the pack (rather than around your neck). This is handy when shooting with a heavy lens for extended periods.
Usability top
OK – enough talk – what will the bag hold?
Here is the essential photo gear that I need my Kata R-102 to hold:
Nikon F100 SLR with attached 24-85 AFS zoom – lens hood reversed; tripod mounting plate attached
Konica Minolta A2 digital camera – lens hood reversed
Nikon 28-200 F2.8 ED zoom lens; tripod mounting leg and mounting plate attached
Tamron 90mm F2.8 macro lens; lens hood reversed.
5 rolls film
Extra 340 Mb MicroDrive
Battery charger and cord for A2
10GB Image Tank with battery pack, charger cord, car charger kit
Nikon SB-800 flash and diffusion cap
10 AA batteries
USB cable
Model release forms and pen
Lens cleaning paper, fluid, and brush
Case for business cards
77mm circular polarizing filter (usually in plastic case)
Cokin filter holder and small case of glass Cokin filters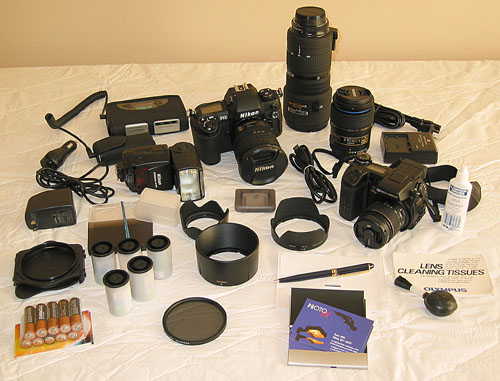 I also want sufficient space in my carry-on photo bag for the following non-photography-related essentials:
Tickets, passport: I carry these in the blue pouch
Sunglasses
Reading glasses (you'll be old one day too!)
Paperback book
PDA
Cell phone and charger
Keys
Flashlight
Swiss army knife (Yes – I know I can't carry this on)
Headphone kit with various connectors
Apple IPOD MP3 player (in armored case) with charger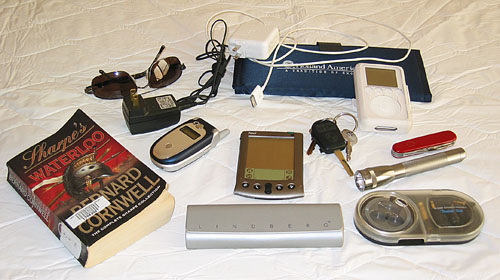 Will it all fit? First the easy part – the camera gear.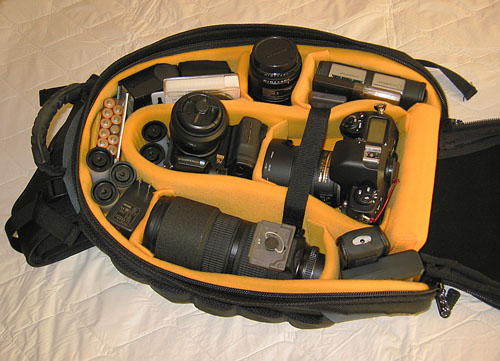 The cables, diffusion cap, and the Cokin filter holder are in the zippered lid compartment. The lens cleaning kit, pen, model release forms, and business cards are in the small mesh pocket in the lid.
Looks pretty full, you say. What about the other essentials for carry-on? This is where the extra height in the center area below the quick access port comes in.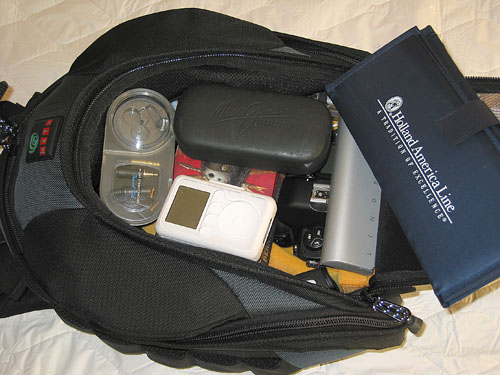 The book fits between the 2 cameras. All the other quick access things for the trip fit on top. The sunglasses are in the black case. The chargers, flashlight and jackknife go in the zippered lid pouch with the photo cables. The PDA, keys and cell phone go in the small outside pockets.
Everything fits. Total weight completely loaded 18 lbs (without tripod). Light enough for a run through an airport. Compact enough to go under your seat, and tough enough to rest your feet on.
Conclusion top
I'm always fascinated by innovation, and the Kata R-102 is no exception. Kata's unique low profile design and protective armor allow me to transport a medium size photo kit (and non-photo accessories) in a stylish, lightweight and durable package that is compact enough to comply with airline carry-on restrictions.
This compactness requires some tradeoffs however – the most noticeable is the lack of storage space for a laptop computer. Laptop users, particularly those who travel a lot, may find this a deal-breaker, and I hope that Kata keeps this in mind for their next generation of the product.
I am particularly impressed by the thought that has gone into making the pack useable in the field – I suspect that this is largely due to Kata's experience manufacturing combat gear. Examples of usability include the rapid access port (even with a tripod attached), the gear attachment loops on the sides of the pack, and the modular ability to combine the R-102 with other Kata camera bags.
Price-wise, the R-102 falls roughly in the middle of the camera bags that I considered – higher than my choices from Lowepro and Tamrac, but significantly less than those from Tenba and Crumpler. I paid $174 Canadian and I have seen the R-102 offered online for approximately $135 US.
| | |
| --- | --- |
| Features: | (8/10) |
| Usability: | (10/10) |
| Build Quality: | (10/10) |
| Value: | (9/10) |
Rob's recommendation: Buy it – you'll like it!
More info on the Kata R-102 Photo Rucksack can be found on their website.
Was this review helpful? Feel free to leave any feedback or comments.