With a growing market for photographers, there is also a growing number of online courses to help you along the way. Traditionally, you would have to go to college and take classes on photography, but that isn't the case anymore. Many colleges offer online versions of their classes, but there are also sites that are dedicated to teaching you about photography.
Online photography classes are definitely a great way to learn a new skill without having to leave your house. Keep reading below to find out about the 7 best online photography courses that are currently offered! This list includes paid and free courses, so you will have plenty of options.
Udemy Photography Courses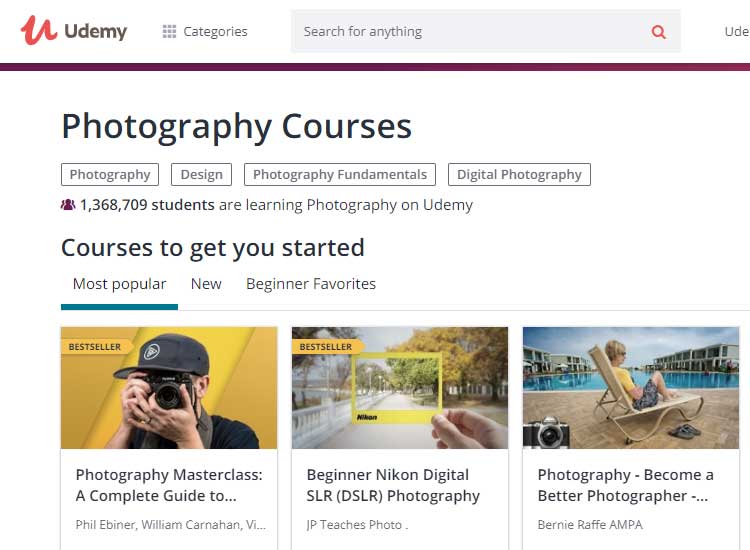 Price: Free and Paid (varies depending on course)
Duration: Varies depending on course
There are thousands of course options to choose from with Udemy. The site covers digital photography, fundamentals, portraits, tools, commercial photography, video design, and many other topics. There are even classes for drone photography.
The classes in the image above all cost some money, but if you don't feel like spending money, don't worry! You can filter classes based on price, and there are plenty of free options.
Because there are thousands of classes to choose from, they all vary in length. Many lectures are around 20 hours, but some can be as short as 2-3 hours.
If you are completely new to photography, be sure to check out the Photography Masterclass: A Complete Guide to Photography on Udemy as well. This is one of the highest rated courses in photography and covers everything you need to know to get started. You don't need any prior knowledge and you can even start with the camera on your phone.
Reddit Photoclass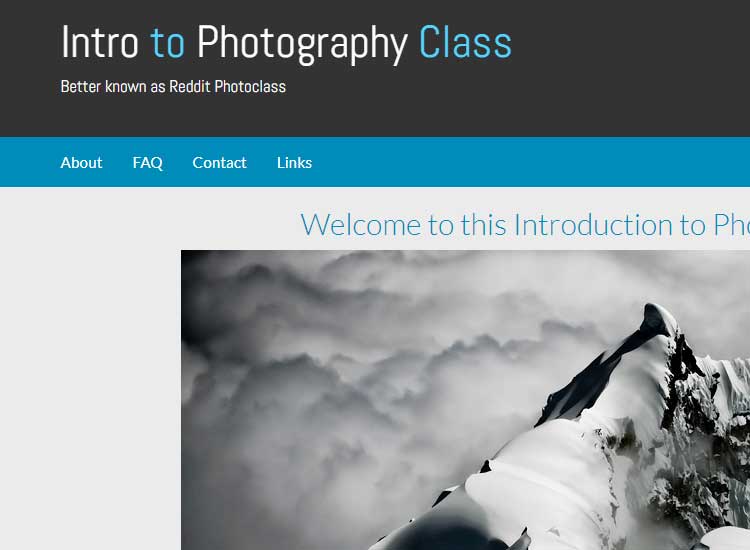 Price: Free
Duration: Self-paced (30 lessons in total)
Although this is Reddit Photoclass, the course itself has no affiliation with Reddit. In 2010, a Reddit user decided to create a subreddit dedicated to teaching others about photography. Each lesson was completely free, and over the course of nine years, about 12,000 users subscribed to the page.
The course now has its own website, but the lessons are all the same. You can find all 30 lessons on the site for free. The courses have little assignments that are paired along with them as well. You don't have to complete them, but they definitely help you gain more experience and become a better photographer.
These lessons were designed for the average person who wants to learn photography, so you don't need to have a nice camera to begin learning. There is even a section on the site dedicated to other materials to help you learn, including books and informative websites.
Harvard's Introduction to Digital Photography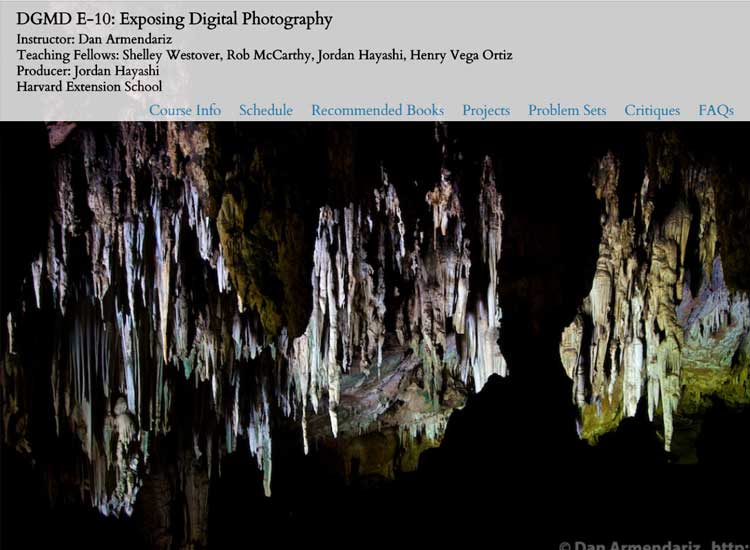 Price: Free
Duration: Self-paced
In the Fall of 2015, Harvard University offered a Digital Photography course. The class was in-person; however, all the course contents are available online.
Even though this course was taught in-person, you can watch each lecture on YouTube. You can even download all the PowerPoints that were used in class! The course is set up like a semester long college course, but it still offers great resources and experience for those of you at home looking to learn more about photography.
The lessons are spaced out to fill an entire semester, but since the content is free, you can pick which topics you want to learn about, or how fast you want to learn them. If you only want to learn about software tools, you can just learn that!
This is an amazing chance to learn photography from a professor at an Ivy League University. Harvard offers a number of free and paid online classes, so if you are interested in learning more, visit their site with all the online courses being offered to those not currently attending the school.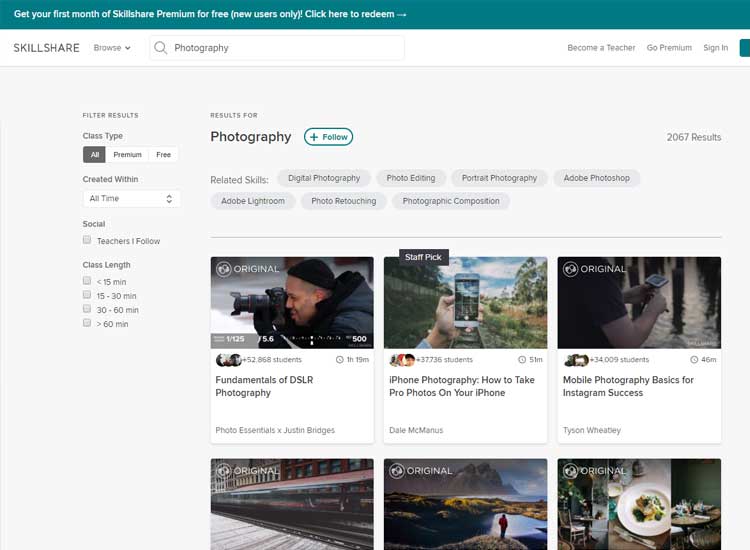 Price: 2-Month Free Trial, then $15/month
Duration: Self-paced
Skillshare has dozens of photography courses to choose from. You can access the first lesson of most courses for free, but if you sign up for a 2-month free trial, or pay $15 a month for Skillshare Premium, you can access every lesson.
There are many photography courses, but a great one to start with is 'The Ultimate Photography Course for Beginners'. The course reviews are all fantastic. Jellis Vaes is praised in reviews for this course for being entertaining and a great teacher. Through this course, you'll get to learn about the history of photography while also refining your own skills.
If this course sounds too broad for you, there are specialized classes offered as well. Specialized classes include;
Mobile Photography Basics for Instagram Success
Visual Appeal: The Art of Model Photography
iPhone Food Photography: Capturing Coffee, Dessert, and More
Mirror Image: Using Reflections in Photography
There are many topics covered on Skillshare, so if you want to broaden your photography horizons, get a free trial and start learning!
Phlearn: Photoshop, Lightroom, and Photography Courses
Price: $12.99/month or $99.95/year
Duration: Self-paced
Unlike the other sites mentioned, Phlearn covers Photoshop and Lightroom as well as photography. With a Phlearn Pro membership, you have access to over 600 different tutorials. Tutorials were all filmed by Phlearn professionals, so you don't have to worry about courses where users submit their own content.
Phlearn courses are great for those interested in Photoshop as well as photography. Learning how to use Photoshop is a great skill that will help you with little things like removing a blemish from an image, to retouching a model's makeup for a magazine cover.
The tutorials offered on the site can be very specific. You can even learn how to retouch hair in Photoshop or add fire effects. If you want a site that just teaches photography, look into other options besides Phlearn. With a Phlearn membership, you get editing tutorials that may not be helpful if you don't use Photoshop. There are still plenty of other options out there!
Photography Basics and Beyond: From Smartphone to DSLR Specialization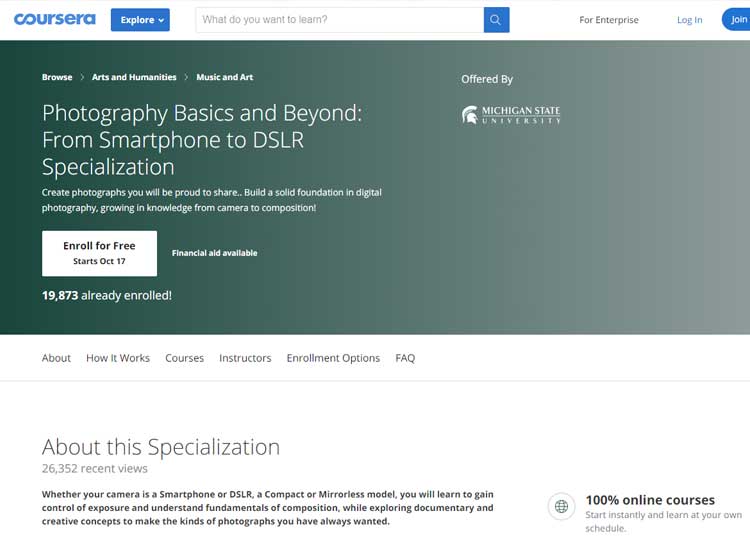 Price: Free
Duration: about 7 months
This course is offered by Michigan State University on Coursera. Overall, it will take you about 7 months to complete if you work at a pace of 4 hours a day. This is flexible though; you can work as little or as much as you want, which alters the overall length of the course.
This course is broken down into 5 different sections, which include;
Cameras, Expose, and Photography
Camera Control
Principles of Photography Composition and Digital Image Post-Production
Photography Techniques: Light, Content, and Sharing
Photography Capstone Project
The capstone project pulls together everything you have learned into one final assignment. This will consist of "10 well-formed photographs based in your passion for artistic expression, or a subject for documentary exploration, insightful portraiture, imaging for work-related subjects, or some other aspect of photography". Ultimately, when you finish this course you will have a great piece for your photography portfolio.
Fundamentals of Photography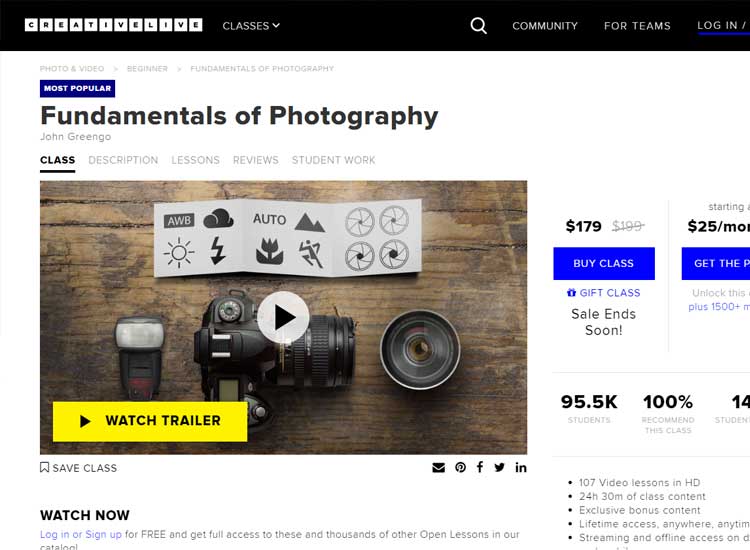 Price: $199
Duration: Self-paced
CreativeLive offers hundreds of courses, including a wide selection of courses on photography. One of their most popular photography courses is 'Fundamentals of Photography', taught by John Greengo.
This course has 107 lessons in total, making the $199 spent totally worth it. There is a gallery on the course page so you can see photographs taken by past students as well. Reviews for this course are amazing as well! 100% of past students would recommend it.
If you finish this course and want more, or get the CreativeLive pass to unlock more classes, there are plenty of additional courses that you can take. Topics range from business photography to Photoshop, and even newborn photography. Some of the unique courses CreativeLive has to offer, include The Art of Photographing Birds, Capturing Food in Motion and Newborn Posing.
You will definitely find the course you are looking for on CreativeLive so sign up for a class now!
Final Thoughts
Overall, taking an online photography course is a great idea and will help you gain experience. There are countless free courses online that you can sign up for, so don't feel like you won't learn as much as you would in a paid class. Free classes let you learn as much or as little as you want and take more classes in the future without worrying about spending too much money.
Now that you know about 7 different online photography courses, get out there and start learning!