Vlogging has become more popular than ever, so it's about time you got yourself a vlogging camera with a flip out screen! With a vlogging camera, you can share just about any aspect of your life; from your daily routine to vacations you go on, the possibilities are endless.
There are tons of options for you to choose from, but many of them are quite expensive. Some cameras listed on Amazon and other online electronic stores are upwards to $1,000. This is definitely not practical for your first camera. You need something a bit cheaper, that still delivers quality video.
Maybe you're reading this right now thinking, 'I want to vlog, but what's the big deal with flip out screens?' Keep reading to find out why these little screens will be super helpful on your vlogging adventures.
Why a Flip out Screen?
There are plenty of affordable options out there, but many of them don't have flip screens. Don't settle for any old camera to do your vlogs! You want a flip screen so you can see what you are filming at all times, whether it be yourself or recording from an angle where you can't really see the screen.
Now imagine this. You film an entire vlog and while editing it, you notice you're a little off centered and your hair is a mess. It's noticeable enough that you have to record your vlog again. With a flip screen, this won't be a problem.
A flip screen allows you to see exactly what you look like in real time. You can stand up and change positions without worrying about going offscreen. This is also helpful if you film in a place that has weird lighting. If light completely blocks out your face, you can easily adjust and continue filming.
Many people use iPhones for vlogging too. While this is a great option if you don't have a real camera, it is not ideal. If you are vlogging outdoors, you may not want to constantly be flipping a video between front and back camera, which can disturb your vlog. With a flip screen, you can just turn the entire device around and reposition the screen.
Keep reading below to find out about 6 vlogging cameras that are affordable and reliable.
Nikon Coolpix S6600B K
The first option on our list is the Nikon Coolpix. While $168 may be a bit on the pricier end of 'cheap cameras', this is definitely worth it. Keep in mind that there are cameras for upwards to $1,000 that offer all the same features as the Nikon Coolpix.
Many cheap cameras are from unknown brands that have no credibility, but Nikon is a huge name in the camera industry. Chances are, if you have previously owned a camera, it was Nikon or Canon. My very first camera was the original Nikon Coolpix; I felt like a professional holding my tiny pink camera.
This camera will definitely fulfill all of your vlogging needs and will last a long time. Amazon reviewers note that the camera is sturdy, with batteries that last a long time. If you want to get the most out of this, consider buying yourself a 32 GB memory card as well.
Features include:
7" screen
12x Optical Zoom
FHD 1080p Video Capture Resolution
Optical Viewfinder
Wi-Fi (you can transfer pictures to a computer)
GordVE Digital Vlogging Camera
The GordVE Digital Vlogging Camera is meant for your YouTube vlogs, it's even in the title given by Amazon. While this makes a great vlogging camera, it's also great for photography. Features on the device can help you take amazing pictures to accompany your vlogs.
Reviews for this camera are very positive as well. Customers agree that this camera is ideal for traveling. It is very compact, while still delivering high quality picture and video to you. If you want to vlog about an upcoming trip, be sure to check out the GordVE Digital Vlogging Camera!
There are plenty of pictures attached to reviews as well, so if you want to check out users using this, there are tons of examples to help you make your decision.
Features include:
180-degree rotating screen
Wide-angle lens
0 Inch LCD
4 Mega pixels CMOS sensor
4X digital zoom (no optical zoom)
LED Fill Light
Internal Microphone
Anti-shake
Vivitar 410 / 610 Digital Video Camera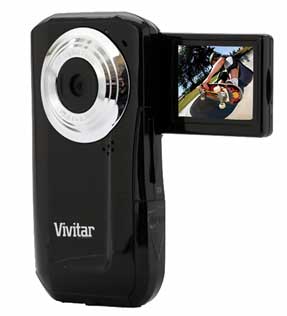 At just $20, the Vivitar Digital Video Camera is definitely an affordable option for a beginning vlogger. If you are brand new to vlogging and don't want to spend too much money on an expensive camera, this is a great option for you.
This camera only includes the essentials of video recording. There are no extra features that you may not use. With this, you can take videos and upload them to your computer; the two most essential things when it comes to vlogging.
While this is a great price, keep in mind that it isn't great for long term vlogging and many Amazon reviewers rate it as average. This camera is great for simple videos and would be a perfect gift for any child or complete beginner who wants to record what's going on around them. Consider buying a different camera if you are a little more serious about vlogging and want more features.
Features include:
Video Clip: 640 x 480 pixels (30fps) / 320 x 240 pixels (30fps)
4x Digital Zoom
8″ TFT LCD
Super Compact
Supported OS: Window XP/Vista/Mac OS X (10.4.6 or higher)
Nonchargeable (takes AAA batteries)
Aurho Digital Vlogging Camera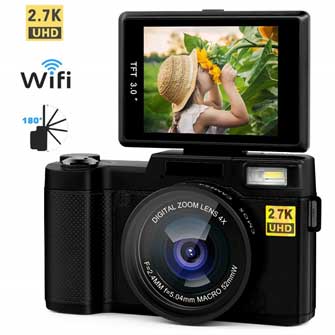 The Aurho Digital Vlogging Camera is very simple to use, so you can create amazing vlogs in no time. If you have never used a camera like this before, you will get the hang of it in no time because of its simple interface.
This camera has built-in Wi-Fi letting you control the camera through your phone. The 'PPShow' app allows you to use your phone as a remote control for the camera. When you purchase this, there will be a QR code attached to help you find the app. This is great for group shots, or even those moments where you want to snap a quick picture but there is no one to take it for you.
Reviews for this product explain how great this camera is, and many users mention that this is a great camera for selfies too! There is even a pop-up flash light that helps illuminate a larger area.
Features include:
Anti-shake
4X digital zoom
Wi-Fi (real-time remote control with your smart phone or tablet to take pictures or record videos)
7K HD video resolution
0″ TFT LCD screen display
180-degree rotating scree
KMASHI Digital Vlogging Camera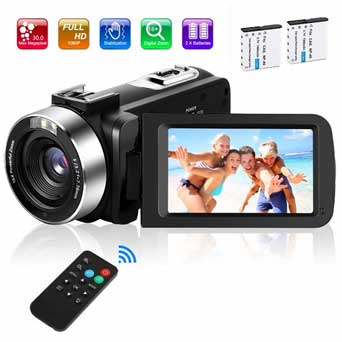 While the KMASHI Digital Vlogging Camera isn't a traditional option like the others on this list, it is still a great camera to vlog with. At first glance, it may seem like the camcorder we all had growing up to record family moments, but it is packed with way more features to enhance your vlogging experiences.
This camera also has a webcam function. You can't video chat with someone directly from the device, but it can be connected to a computer or laptop and be used as the webcam. This is especially great if you have a computer without a built-in camera.
Although it is a bit bigger than a normal vlogging camera, the KMASHI is still lightweight and great for travel.
Features include:
1080p resolution
Anti-shake
Slow-motion record
Motion-detecting recording
Video lapse mode
HDMI Output
270-degree rotating screen
Webcam function
YEEHAO Digital Camera
The last camera on our list is the YEEHAO Digital Camera. This little camera packs many features while being lightweight with a classic appearance.
Many cameras cannot be used while charging, but this one can! The batteries can charge while you are filming so you don't have to worry about the camera dying on you. This is great for longer vlogs.
If you have any questions about this camera, you can rest assured knowing that there are 64 answered questions about this product on Amazon. With a 4/5 star rating out of 127 reviews, there is plenty of real feedback about the YEEHAO Digital Camera to help you make you decision.
Features include:
Wide angle lens (1.35X)
Wi-Fi (you can control the camera with an app on your phone)
HDMI cable for enhanced viewing
24MP resolution JPEG images
1080p resolution MOV videos
Webcam Function
Final Thoughts
There are tons of cameras for you to pick from. Overall, it comes down to personal preference. The six cameras listed are affordable while delivering great quality video to you. Don't think that you need an expensive camera to be a great vlogger.
Now, you know all about 6 cheap vlogging cameras with flip screens. Get out there and start vlogging!